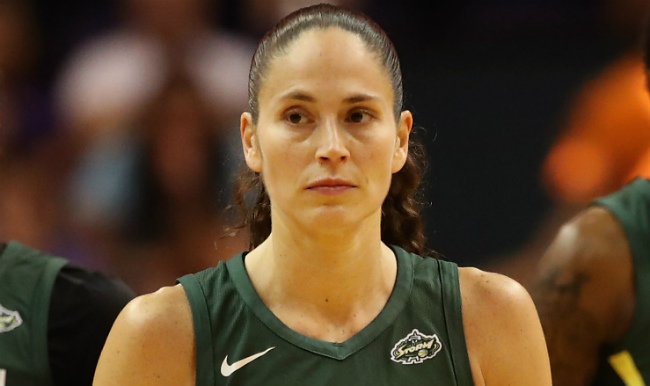 The WNBA had a pair of Game 5s in the league semifinals on Tuesday night to determine the teams that will play for a title. In the first game, Elena Delle Donne and the third-seed Washington Mystics took down the No. 2 Atlanta Dream, 86-81, to punch their tickets to the finals for the first time in franchise history.
Game number two featured a fascinating dynamic: The Seattle Storm were the best team in the league this year and boasted both home-court advantage in Game 5 and the league MVP in Breanna Stewart. The fifth-seeded Phoenix Mercury, however, had the greatest trump card in league history in Diana Taurasi, who had never lost a winner-take-all game in her career.
Ultimately, though, neither of those players stole the show in the game. That honor went to Sue Bird, who broke her nose in Game 4 but took the floor on Tuesday. Despite a slow start, Bird turned into a human flamethrower down the stretch, carrying the Storm to a 94-84 victory and an appearance in the finals.

Bird scored eight points on 3-for-12 shooting and a 1-for-6 mark from deep during the game's first three quarters. She went to the bench to start the fourth, checked back in with 6:41 left and the Storm down by four, and then ascended to a higher plane of basketball consciousness. Bird scored 14 points down the stretch, highlighted by making four of her five attempts from three.
The three that gave Seattle some breathing room came with 2:51 left, as Bird pulled up from way downtown to stretch the Storm's lead to eight.

The dagger came in the final minute, when Bird used a screen by Stewart to get open before firing away, getting all net to ignite the crowd.
It was a Herculean effort by Bird, who has won rings with the Storm in 2004 and 2010. Stewart made her impact felt, too, going for 28 points and seven rebounds. Taurasi (17 points) was flanked by solid outings from Brittney Griner (21 points, nine rebounds, six assists) and Yvonne Turner (19 points), but her unblemished 13-0 mark in the biggest games came to an end at the hands of her best friend.
Game 1 of the 2018 WNBA Finals tips off at 9 p.m. EST on Friday, Sept. 7. The game will be broadcast on ESPNews.