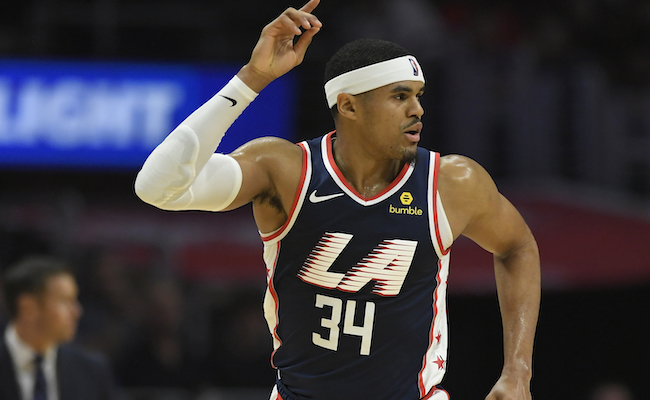 The Philadelphia 76ers already made an "all-in" trade during the 2018-19 season, acquiring soon-to-be free agent swingman Jimmy Butler after his relationship with the Minnesota Timberwolves deteriorated. However, Sixers GM Elton Brand and company didn't stop there in pursuit of a title run this season, as Philadelphia reportedly pulled the trigger on a six-player deal involving the acquisition of Los Angeles Clippers forward Tobias Harris.
The deal hasn't been announced by either side just yet but Harris essentially "confirmed" the reporting in an amusing way.

While Butler technically has a player option (one he is wholly unlikely to exercise) for the 2019-20 season, Harris is a sure-fire expiring contract. The 26-year-old forward is enjoying a fantastic season, averaging 20.9 points and 7.9 rebounds per game in Los Angeles, and he is seemingly a snug fit alongside Philadelphia's trio of Butler, Ben Simmons and Joel Embiid. However, the Sixers paid a (very) lofty price to acquire a very good, but not elite, player that could theoretically leave in free agency when July arrives.
As noted by ESPN's Adrian Wojnarowski, the Sixers will acquire big man Boban Marjanovic and sweet-shooting forward Mike Scott, but Philadelphia is sending quite a haul to Los Angeles. In terms of pieces for this season alone, the Clippers acquire rookie shooter Landry Shamet, veteran forward Wilson Chandler and versatile big man Mike Muscala. While Shamet is certainly an intriguing future piece, both Chandler and Muscala are on expiring deals, placing a significant emphasis on the draft capital involved in the swap.
ESPN's reporting indicates that Philadelphia will send its own 2020 first round pick and a 2021 unprotected first round pick (by way of the Miami Heat) in the deal. In addition, two second round picks in 2021 and 2023 are involved and, in total, the Sixers are seemingly paying a very steep price for a player that is only under team control for a few months.
As a result, this is not a deal that would be made by a non-contending team and, beyond that, the Sixers almost certainly have plans to re-sign both Harris and Butler in pursuit of a long-term core of four players. It remains to be seen as to how this season will play out and what contract offers look like for both upcoming free agents but, in the wee hours of Wednesday morning, Brand and the Sixers took a massive swing, while the Clippers pressed the reset button in adding to their war chest of assets and clearing the decks for big-picture runs at high-profile players (including a potential pursuit of Anthony Davis) in the near future.