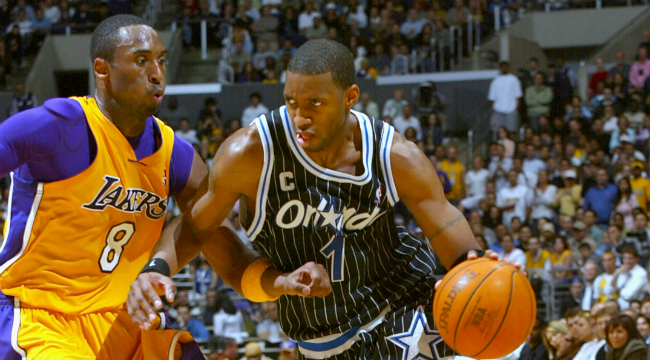 The lead up to Kobe Bryant's extravagant jersey retirement on Monday spawned a lot of fantastic conversations from NBA legends and analysts regarding Bryant's NBA legacy and career. Among them was the revelation by former Lakers coach Del Harris in an article for The New York Times where Harris revealed that the Lakers nearly traded for Tracy McGrady on draft night in 1997.
Harris told Marc Stein that Jerry West had become obsessed with McGrady after a few impressive pre-draft workouts, and was willing to dismantle the contending team the Lakers already had if it meant he could get Kobe Bryant, Shaquille O'Neal, and Tracy McGrady on the same roster. Unfortunately for West and the Lakers, then-owner Jerry Buss that shot the idea down.
It's impossible to know how McGrady would work with Bryant and O'Neal, or how McGrady's presence would help or hurt the relationship between Byant and O'Neal, but it's a fantastic NBA "what if" to ponder. With that much talent, it'd be easy to assume that the Lakers would figure things out and be wildly successful. Instead, they had to settle for being wildly successful without McGrady. Oh well.

While most of the speculation after Harris' revelation focused on what that trade would mean for the Lakers, Rachel Nichols asked Tracy McGrady on ESPN's The Jump what that trade would mean for him, and he was pretty blown away by the proposition.
Listen man, you know how much more of a complete player, from the maturity, from the professionalism, I could have gained from playing with these two guys for my career. The turn that it could have took? Man, I mean, we're talking about two of the greatest, one of the most dominant, and arguably one of the best to ever lace up in Kobe, and to team up with these two guys. What that could have done for me personally? Oh my gosh, man.
McGrady really had a tough time collecting some of his thoughts here, which makes for a fascinating clip. He's right, though — with as much raw talent as McGrady had, there is no telling what kind of player he would have become if he had that kind of support system around him.
This is especially fun to think about because McGrady considered himself as more of a facilitator/defender and less of a scorer, and speculated that with Kobe and Shaq, he'd be able to comfortably fit the "Pippen role" he was destined to play. It's hard to think he would not have thrived if he got the chance to set up the Lakers' dynamic duo to start his career.