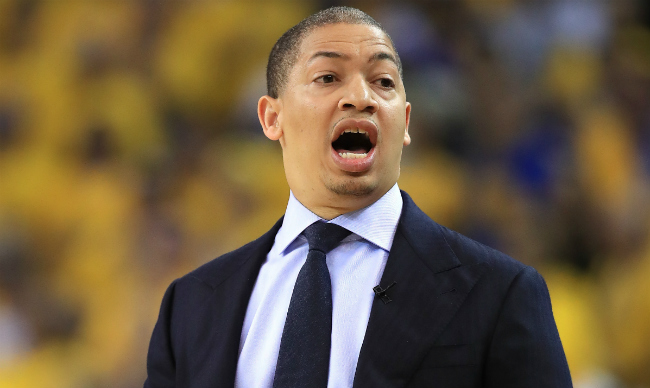 There are times that teams want to put their best foot forward, but for NBA contenders, mid-January is usually not a time when that's of primary concern. The Cavs are notorious for going through the motions in the regular season – and especially in January – but this year, at least more than any since LeBron James returned, has featured more concerning play from Cleveland than usual.
Cleveland is set to host the Warriors on Monday in their second and final matchup of the regular season. What's been troublesome for the Cavaliers is that in two of their last three games, they've been absolutely dismal on the defensive end, giving up 127 and 133 points to Minnesota and Toronto, leading to some snippiness from LeBron.
It stands to reason that these defensive lapses would set off alarm bells. Yet, as we've seen at times this season, the Cavs do have another gear. Cavaliers head coach Tyronn Lue said during a Sunday press conference that his squad needs to shake out of this current funk or else they'll risk serious embarrassment at the hands of Golden State.

"I mean they gotta get up," Lue told the media. "If not, it'll be embarrassing. We're playing the defending champs, they're a tough team, a good team. We'll be up for the challenge."
To be fair to the Cavaliers, last season they didn't really flip the proverbial switch on a defensive level until the playoffs. After being competitive in Oakland on Christmas, the Cavs proved they can hang with Golden State, but if they don't offer more effort — something that's frustrated Isaiah Thomas as well recently — it could get ugly in Cleveland.
Have you checked out the DIME podcast? Subscribe on iTunes or Google.