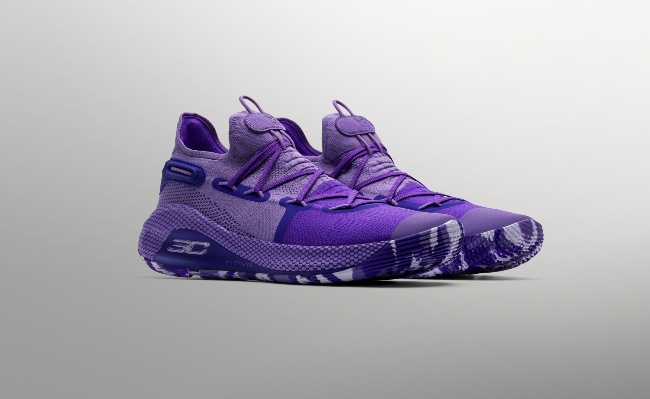 Friday marks International Women's Day and to celebrate, Under Armour is releasing a special pair of signature sneakers for its most prominent basketball player. The company announced that Curry 6s in a unique colorway will be released on March 8 to celebrate the day. Unlike past editions of Steph Curry's signature kicks, though, these will have an extra special touch.
You might recall a few months back that Curry received a letter from Riley Morrison, a 9-year-old girl who wrote about her dismay about Curry's last sneaker being unavailable in girls sizes. Seeing this letter from Morrison resonated with Curry, who wrote back and spoke to Under Armour for two days, promising to correct this and have something special in the cards for International Women's Day.
According to a release, Morrison helped design some details on the upcoming sneakers, which feature a purple, deep orchid, and white color scheme.
In addition to a "United We Win" sockliner, Riley designed a sockliner that features two girls playing basketball, surrounded by the words that inspired Riley to play the role of a Uniter, such as "Be Fearless," "Girl Power," "Be the Change," Girls Hoop Too," and "Rock the Currys."

Here are a few pictures of the special sockliner: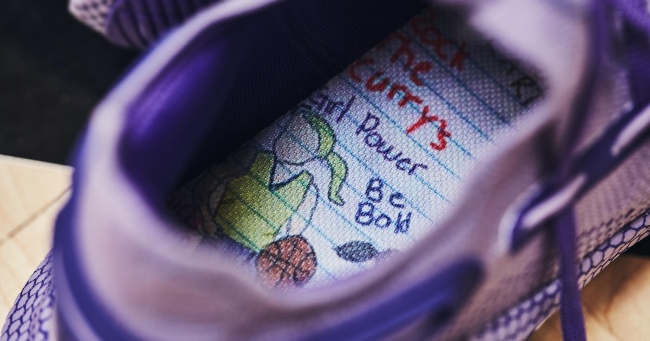 Beyond getting Morrison involved in the creation of the sneakers, proceeds will go towards a scholarship that Stephen and Ayesha Curry Family Foundation and Under Armour created in her honor, and on Thursday, she met Curry at a pop-up shop in Oakland. Morrison will also be in attendance for the Golden State Warriors' game on Friday against the Denver Nuggets.