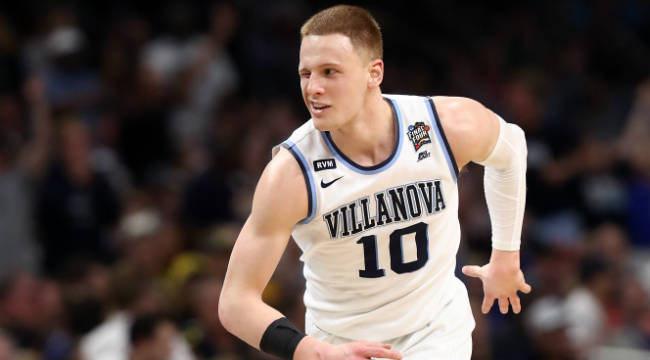 The crazy thing about the 2017-18 Villanova Wildcats is that the team can beat you in so many different ways. The depth the Wildcats possess is second to none in the sport this year, and even if their starters are just a little off, Jay Wright can turn to his bench and find someone who can pick up the slack.
That happened on Monday night as the Wildcats stomped Michigan, 79-62, to win their second national title in three years. Villanova marched through March Madness like a team on a mission, winning every game on its path to a championship by double-digits.
On Monday, the star of the show was Donte DiVincenzo, a redshirt sophomore guard who comes off the bench and is capable of absolutely lighting up opponents. The Wolverines learned this the hard way as DiVincenzo put the Wildcats on his back, scoring 31 points on 10-for-15 shooting from the field and a 5-for-7 mark from three. He also pitched in five rebounds, three assists, and a pair of blocks.

DiVincenzo was out of his mind, impacting the game on both ends of the floor. His shooting was the thing that left the biggest mark, but his timely blocks electrified the crowd at the Alamodome.
He was even getting praise from NBA players who were checking out the title game.
Beyond DiVincenzo, presumed lottery pick Mikal Bridges pitched in 19 points of his own. As for Michigan, it looked early on like their key was going to be getting the ball to big man Moe Wagner, who scored nine points early on.
Wagner ended up finishing the night with 16 points and seven boards. Muhammad Ali Abdur-Rahkman paced the Wolverines, though, scoring 23 points on the evening.
It was a valiant effort by Michigan, but ultimately, Villanova was just too much. It was clearly the best team in the nation this year, and while it's expected to lose a few players (Bridges and point guard Jalen Brunson) to the draft, the team has no seniors in its rotation. The Wildcats should be dangerous next year as they go for their third title in four years.