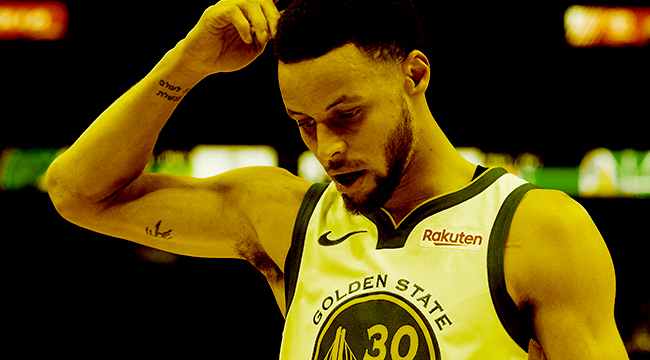 The Golden State Warriors suffered one of the more shocking playoff losses in recent memory, squandering a 31-point third-quarter lead to the Clippers on Monday, allowing the road team to even the series 1-1 heading to Los Angeles. Adding to the indignity of defeat, Warriors center DeMarcus Cousins suffered a torn quad during Game 2, and his availability for the remainder of the postseason is in question.
We're only two games into the playoffs, and there are more cracks in Golden State's armor than anyone would have thought possible a week ago. Does all of this mean that there is real intrigue in who will emerge as the Western Conference champion, or will the Warriors happily accept this as a blip on the radar while ownership cashes gate receipts from a now-certain Game 5 en route to another Finals appearance?
Championship teams getting blown out isn't all that uncommon. Golden State has made it a habit of mailing in road games on occasion during their title runs. Cleveland memorably laid an egg in Toronto during the 2016 Eastern Conference finals. Losing uncomfortably isn't uncommon.
But it's hard to remember a team getting embarrassed like this, on its home floor no less, on the way to winning a title. The list of the biggest blown leads in playoff history consists mostly of teams that lost the series, and none that have rebounded to win it all. Only the Nets managed to make the Finals after losing a 26-point lead in the Eastern Conference Finals, but they were swept away by the Los Angeles Lakers, who came back from a 24-point deficit in their conference finals series.
However, this Warriors team is a historical anomaly. The level of talent Golden State possesses, even without Cousins for the foreseeable future, is far superior to the average NBA champion. Even after capturing homecourt advantage, the Clippers aren't close to being favored to beat the Warriors, though there may be something revealed from this latest defeat that can give another opponent some hope against Golden State.
First and foremost, getting Stephen Curry into foul trouble remains one of the most fool-proof ways of throwing the Warriors off their rhythm. Curry played less than four minutes in the pivotal third quarter that allowed LA to discover its offensive groove. He left the game after picking up his fourth foul with a 25-point lead, came back for one possession at the end of the period and immediately turned the ball over, and the Clippers were within 14 heading into the fourth.
This season, when Curry had at least four fouls in a game, Golden State was 10-7. That's still a winning record, but having Curry in foul trouble at least makes the Warriors more mortal. There's also the fact that having Curry off the floor allowed the LA to bring in Lou Williams earlier without fear of defensive repercussions, and that's another problem that Golden State is still unprepared to deal with.
Dating back to the 2015 NBA Finals, it's clear that the Warriors have difficulties with small, slithery guards who can run the pick-and-roll or score in isolation, like Kyrie Irving, and now Williams. Klay Thompson, Andre Iguodala, and Kevin Durant form just about the most terrifying perimeter defensive tandem you could dream up, but none of them are well-suited to guard much smaller players, giving Williams and guards like him a slight advantage, pun intended. Williams has had two of his best games ever at Oracle Arena, including Game 2 and a 50-point explosion on Jan. 10, 2018.
The Houston Rockets, for example, who are in line to meet up with Golden State in the next round, feature 6'0″ Chris Paul, another smaller guard who has given the Warriors fits – his scoring average of 22.5 points per game against Golden State is his highest against any team in the NBA throughout his career. Paul was magnificent in the Western Conference finals last year, and figures to be healthier this year should the two teams meet again.
Then again, the Warriors' main problem Monday was arguably their lack of focus after building a 31-point lead. It's not unreasonable for a team to let its guard down after going up by what appears to be an insurmountable margin, and Golden State has shown a capacity to flip the switch when necessary throughout each of the last three seasons.
But this regular season seemed to indicate more fissures within the Warriors locker room than years past. And even the death lineup of Curry, Thompson, Iguodala, Durant, and Draymond Green wasn't immune against the Clippers. That five-man group played during their collapse for over four minutes with a minus-29.1 net rating. They turned the ball over 4 times, committed 5 personal fouls, and only hit 2-of-5 shots. With or without Cousins, this lineup has been Golden State's ace in the hole for five years, and if the death lineup is no longer unbeatable, then that could be the most dangerous indicator of the team's vulnerability.
Nevertheless, it's just one game against an L,A. team that prides itself on being "roaches" that just don't die. There is a good chance the Warriors re-establish their dominance against the Clippers in Game 3, and the series resets on their terms. But for now, Golden State isn't playing the role of Goliath as well as it can, and the two-time defending champs are leaving an opening for David sooner or later.