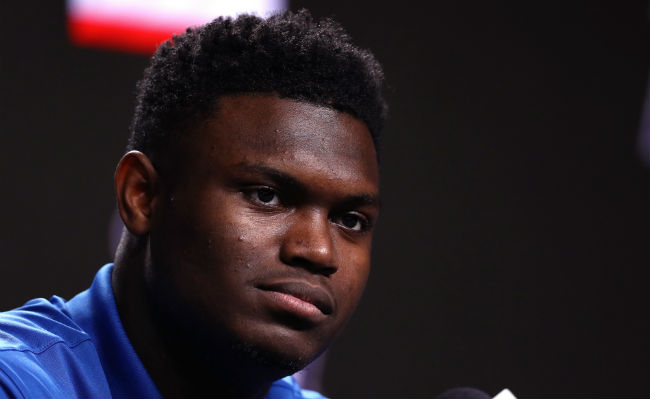 Amid the free agency frenzy, NBA Summer League quietly got underway this week at the Thomas & Mack Center in Las Vegas. But on Friday night, the volume got turned up to 11 as perhaps the most anticipated rookie of the last 15 years prepared to make his professional debut.
On Friday night, the New Orleans Pelicans took on the New York Knicks in the second game of the night's triple-header, which featured a showdown between former Duke teammates R.J. Barrett and, of course, the man of the night, Zion Williamson.
The whole arena was ready to explode from the moment he stepped onto the court sporting the signature Nike Kyrie Irving 4s he wore in college, and Zion heard the jeers in the layup line every time he opted for a simple layup instead of a world-shattering jam. But ever the showman, he eventually obliged.
And he was only getting started. Out of the gate, Zion's conditioning looked like it might be an issue, as Knicks defenders cordoned off every attempted roll to the rim, but the otherworldly athletic specimen eventually freed himself for a quartet of highlight reel jams in the opening quarter for 10 points.
Unfortunately, all that excitement would be short-lived, as Zion would sustain a minor knee injury that would keep him out for the rest of the game.
Despite his hot first half, the Knicks as a team got off to an even hotter start, racing out to a 20-point first-half lead. New York knocked down six three-pointers in the opening quarter, on 3-of-4 shooting from Kevin Knox and 2-of-3 from distance from Allonzo Trier. Mitchell Robinson also had a highlight-reel dunk of his own with this jam off the beautiful lob pass.
The second half would be a different story, as New Orleans would stage a massive comeback to take an 11-point lead into the final period, behind a 30-point explosion from Frank Jackson. Zion's former teammate Barrett struggled in his own debut, shooting just 4-of-18 overall for the game, including a dreadful 1-of-8 from behind the arc.
The game, however, would be postponed as the effects of a reported 7.1 magnitude earthquake that hit California. Broadcasters inside the arena reported that the entire building shook and left the speakers and scoreboard shaking, prompting officials to delay the game. The Pelicans led the game 80-74 over the Knicks when the quake happened, and there was no time table for the game to return to action as the focus remained on the safety of everyone inside the building.