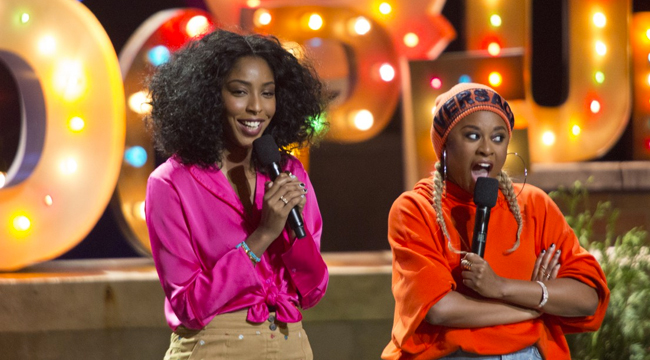 Welcome to Comedy Now, a weekly column cataloging what comedy fans should know about what's available in the streaming world. Whether it's a brand new special, an old classic, or the oddball show that defies categorization, we'll list as many as we can for your enjoyment right here. Who knows? We may even throw in a few non-streamable bits on occasion, like tour announcements from our favorite comics. You can check out the previous column here.
What's Now
The 2 Dope Queens come to HBO
Beginning tonight at 11:30 pm ET, the 2 Dope Queens will reign supreme on HBO every Friday in February. The popular podcast-turned-comedy special co-hosted by Jessica Williams (The Daily Show) and Phoebe Robinson (Broad City) features a friendly, inclusive showcase format that provides a wide range of comedians a space to perform their best routines. It also includes a rotation of celebrity guests, like Williams' former Daily Show boss Jon Stewart. Yet the main attraction is the co-hosts themselves, who — as Williams told Uproxx — wield their black female identity as the ultimate "superpower."
Kavin Jay exclaims Everybody Calm Down! on Netflix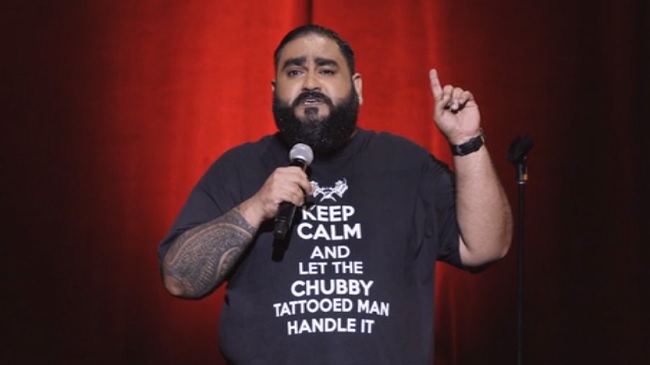 Between Harith Iskander's I Told You So and Fakkah Fuzz's Almost Banner, Netflix's international comedic output has taken a decidedly Asian Pacific turn. Malaysian comic Kavin Jay is the latest addition to this growing roster with Everybody Calm Down!, which began streaming today. Filmed in Singapore, Jay's first-ever stand-up special endeavor to "defy stereotypes" of all kinds with "stories about growing up in the VHS era" and the typical body size of Malay peoples when compared to Americans and Europeans.

What's News(s)
Ali Siddiq says It's Bigger Than These Bars on Comedy Central
Houston comedian Ali Siddiq is quite forthcoming about how he got his start in stand-up. "Most people don't know that I was incarcerated for six years," he says in the preview for It's Bigger Than These Bars. "That's why I came back to do my special here." That's because Siddiq didn't hone his craft at open mic nights or college coffee shops. Instead, he began telling jokes while serving time for a 15-year drug trafficking sentence. So the comic filmed his first Comedy Central special at the Bell County Jail in Belton, Texas, and it premieres Friday, February 23rd at 11 p.m. ET.
Jena Friedman reviews everything with a Soft Focus for Adult Swim
Netflix made waves when it announced its upcoming slate of 15-minute specials, but they're by no means the first purveyor of short-form comedy. Adult Swim has been playing this particular game for quite some time, and they're about to do it again with Jena Friedman's Soft Focus. Set to premiere on Sunday, February 18th at midnight ET, the former Daily Show producer's follow-up to the criminally underrated American C*nt "is a live-action comedic human-interest program where fact and fiction blend in a harmonious union of what the f***."
Eric Andre invades Paris for Adult Swim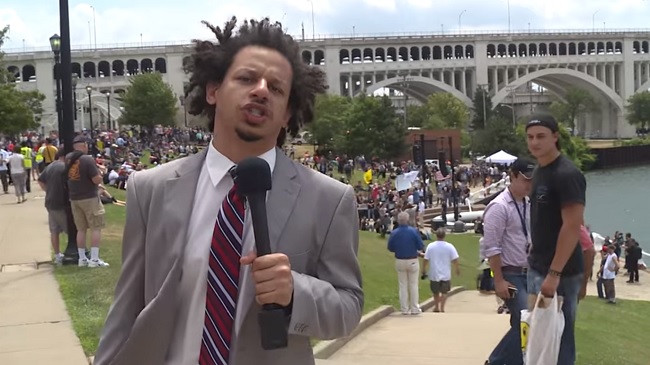 Right after Friedman's Soft Focus concludes, Adult Swim staple Eric Andre's new special Eric Andre Does Paris will premiere at 12:15 a.m. ET. He won't be surprising Alex Jones and other Republican National Contention attendees again, but his infamous public hijinks will be unleased on the unsuspecting citizens of France's most famous city. According to the press release, "Eric Andre hits the streets of Paris, France to ponder existential questions with French people. This award-winning documentary f**king sucks." Sounds like a winner.

Russell Brand gets a Netflix special
American audiences haven't heard much from British comic Russell Brand since he finished promiting his book Recovery late last year. That's all about to change, as Netflix has acquired the streaming rights to his forthcoming stand-up special Re:Birth. Brand's latest tour is currently on a break, but when it returns in mid-February, he will continue performing throughout the United Kingdom, Europe, and elsewhere until November 2018. Before it ends, he will tape shows at London's Hackney Empire on April 18th and 19th for the Netflix special.
The Moontower Comedy Festival announces its full lineup
Austin's annual Moontower Comedy Festival announced its full lineup of headliners and performers this week. David Cross, Tig Notaro, Jo Koy, Tiffany Haddish, "Weird Al" Yankovic, and Mike Birbiglia will perform at the Paramount Theatre. Meanwhile, Nikki Glaser, Ali Siddiq, Janeane Garofalo, Ryan Hamilton, Colin Quinn, and Preacher Lawson will headline at the Stateside Theatre. Badges for the festival, which is happening April 18th through the 21st, are now on sale. Single tickets will be available later in February.
Comedy Central goes for a second Clusterfest
Comedy Central's Clusterfest, a massive three-day festival for comedy and music aficionados in San Francisco, returns for a second go-round June 1st through the 3rd. An official lineup has not yet been announced, but ticket presales have opened up to the general public. Last year's inaugural festival featured the likes of Jerry Seinfeld, Kevin Hart, Bill Burr, Sarah Silverman, Ice Cube, and Broad City's Abbi Jacobson and Ilana Glazer, and drew over 45,000 attendees for a long weekend of music and comedy.

What's Later
Fred Armisen: Standup for Drummers (Netflix)
Next Tuesday, February 6th, Portlandia co-creator and co-star Fred Armisen's first-ever comedy special Standup for Drummers will begin streaming on Netflix. Since he's known for the satirical IFC program and Saturday Night Live, it may come as a surprise to you that the 51-year-old performer has never done a stand-up special. Despite his improvisation and musical backgrounds, however, Armisen has been doing stand-up for several years. Enter Standup for Drummers, which will feature a heavy dose of traditional comedy, all kinds of sketches and impressions, and — of course — drums.
My Next Guest Needs No Introduction with David Letterman (Netflix)
It's great to see David Letterman on television again. Sure, My Next Guest Needs No Introduction is by no means the same as Late Night or The Late Show, but the talk show host's new venture on Netflix is a nonetheless welcome addition. The series premieres a new episode every month. January's premiere featured President Barack Obama while this month's — which hits next Friday — consists of a longform conversation with George Clooney. Future guests include Malala Yousafzai, Jay-Z, Tina Fey, and Howard Stern.