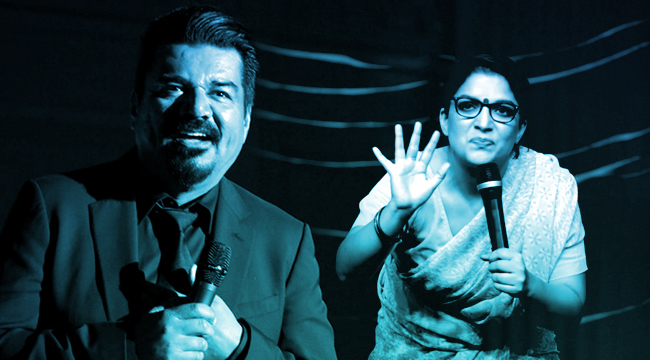 Welcome to Comedy Now, a weekly column cataloging what comedy fans should know about what's available in the streaming world. Whether it's a brand new special, an old classic, or the oddball show that defies categorization, we'll list as many as we can for your enjoyment right here. Who knows? We may even throw in a few non-streamable bits on occasion, like tour announcements from our favorite comics. You can check out last week's column here.
What's New
Aditi Mittal: Things They Wouldn't Let Me Say (Netflix)
Netflix broke ground in April when it released Indian comedian Vir Das' new special, Abroad Understanding as American comics Aziz Ansari and Hasan Minhaj, whose families also hail from India, have enjoyed greater success in the United States due to their work on popular programs like Parks and Recreation and The Daily Show. The global streaming giant is increasing its international efforts with by turning the spotlight on Aditi Mittal, one of the first successful female stand-ups in India. In her new comedy special Things They Wouldn't Let Me Say (out July 18th), she skewers "the taboos of being a woman in India today."

Ari Shaffir: Double Negative (Netflix)
When he's not too busy getting himself into trouble, comedian Ari Shaffir busies himself with podcasts (Punch Drunk Sports, The Joe Rogan Experience) and the Comedy Central series This Isn't Happening, which he created and formerly hosted. The same day Mittal's new Netflix special drops, however, Shaffir will release his own "double feature" of sorts on the streaming platform, Double Negative. Divided into to parts, "Children" and "Adulthood," Shaffir's new stand-up concert film will tease the comic's stark sense of humor about growing up (or not), having a family (or not), and being a responsible person (or not).
Gabriel Iglesias Presents The Gentleman Jerry Rocha (Netflix)
If you kept up with NBC's reality competition Last Comic Standing during its seventh season, then you'll recognize Dallas-born performer Jerry Rocha. The comedian has since performed on Conan and Gabriel Iglesias Presents Stand-Up Revolution, and thanks to the host of the latter, he now has his own hour-long stand-up special on Netflix, Gabriel Iglesias Presents The Gentleman Jerry Rocha. An occasionally darker comic with a delightfully twisted sense of humor, Rocha's Gentleman concert film lampoons just about everything he can cram into its running time.
George Lopez: The Wall, Live from Washington D.C. (HBO)
The former star of his own self-titled ABC sitcom and TBS talk show, George Lopez is no stranger to comedy aficionados. After all, he's one of the five members of The Original Latin Kings of Comedy, the successful 2002 spin-off of The Original Kings of Comedy, which initiated the decade's fascination with ensemble stand-up concert films. Yet Lopez also has three HBO specials (America's Mexican, Tall, Dark & Chicano and It's Not Me, It's You) to his name, and he's about to get a fourth. Titled The Wall, Lopez's next HBO comedy special will broadcast live from Washington D.C. on August 5th at 10pm ET.

Norm Macdonald Live (Amazon Prime and YouTube)
Did you know Norm Macdonald has his own talk show? Because if you didn't, well now you know that yes, Norm Macdonald does in fact have his own talk show. Titled Norm Macdonald Live, the irreverent comedy hour premiered as a combination podcast and YouTube series in 2013, and after a few setbacks, it returns with a whole new batch of episodes and guests on July 25th. If that weren't enough good news for fans of the Saturday Night Live alum, one of his first guests will be former talk show host and longtime friend David Letterman.
Michael Kosta joins The Daily Show with Trevor Noah (Comedy Central)
In the wake of Gina Yashere's addition in March and the news of Jordan Klepper's coming departure (for his own program), The Daily Show with Trevor Noah is hard at work to re-up its roster of correspondents. Cue Michael Kosta (The Comment Section, Crowd Goes Wild), the latest addition to the long-running fake news show's team of totally qualified reporters. The host of the Worst Birthday Podcast, and a past participant on Comedy Central Presents and @midnight, Kosta made his debut on the July 11th episode with a report that somehow combined Alex Jones' Infowars and Gwyneth Paltrow's Goop.
What's Not
The Standups (Netflix)
The constant deluge of hour-long (or longer) comedy specials on streaming services is great, as it gives audiences more options. It's also bad, since viewers might find themselves inundated with too many choices and opt for something else entirely. This is especially the case since binge-watching is the name of the game these days, but thanks to Netflix's new The Standups, comedy fans can do precisely that while skimming through half-hour routines by Deon Cole, Nikki Glaser, Dan Soder, Nate Bargatze, Fortune Feimster and Beth Stelling. It's like watching a marathon of televised 30-minute specials, but on Netflix.

Funny How? (Viceland)
All this week, stand-up comedy historian (and real-life human encyclopedia) Kliph Nesteroff is hosting Funny How? on Viceland. Nesteroff's the author of the 2015 book The Comedians: Drunks, Thieves, Scoundrels, and the History of American Comedy, which any fan of comedy should read, and his week-long program endeavors to "reveal the humanity behind the craft of comedy." The first episode premiered on Monday, July 10th, and the last will air tonight at 10:30pm ET/PT on the Viceland channel. It's definitely worth a look.
What's Live
The Monster Energy Outbreak Comedy Tour featuring Tony Hinchcliffe (Tour)
One of the writers behind three of Comedy Central's recent roast specials, and the star of One Shot on Netflix, a 2016 special "presented in one continuous shot of witty stand-up," Tony Hinchcliffe is quickly making a name for himself. That's why he's been named as the headliner of the upcoming Monster Energy Outbreak Tour's comedy half, an 18-city tour that kicks off on August 2nd in St. Louis. Set to conclude on September 5th in Los Angeles, tickets are now on sale for the tour here. Previous Monster tours have featured the comedy of popular acts like Garfunkel and Oates.