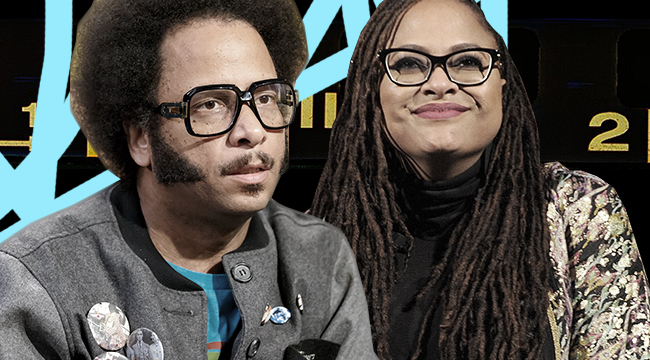 For the longest time, the path from hip-hop stardom to Hollywood seemed set. The blueprint offered by trailblazers like Ice Cube, Will Smith, Queen Latifah, and LL Cool J became the most reliable post-rap retirement plan around.
Once a rapper had reached a certain level of musical achievement, their audience of fans could be flipped for roles in action blockbusters or family comedies, resulting in a comfortable second act as a movie and television star. However, in recent years, with the success of freestylers-turned-film-directors like Ava DuVernay and Boots Riley, it appears that a new path has emerged, one that hadn't been as evident, but is no less fulfilling creatively. Whereas before, rappers major route to post hip-hop success was as a box-office draw, now there is another road to Hollywood's heralded halls: Direction.
This past week, Bay Area rapper and activist Boots Riley released his directorial debut, Sorry To Bother You to rave reviews from both critics and general audiences after a near 30-year career as frontman of political hip-hop band The Coup. The group has released six albums and two EPs, as well as countless music videos, yet Boots is currently experiencing the heights of mainstream success as he promotes the film, which tackles much of the same subject matter as his socially conscious music. The Coup often critiqued capitalism, police brutality, and American politics, Sorry To Bother You does the same, just in a different medium, one with an arguably much greater reach.
Meanwhile, Ava DuVernay has become the toast of the town as a director of the multicultural, big-budget adaptation of popular children's novel A Wrinkle In Time starring Oprah Winfrey, Mindy Kaling, and Gugu Mbatha-Raw. Its global box office take of $132.7 million makes DuVernay the first Black woman to direct a film that earned at least $100 million at the box office. She was also the first Black female director to be nominated for both a Golden Globe and an Academy Award for Best Picture for her Martin Luther King Jr. biopic, Selma.
Yet, a somewhat overlooked part of her narrative is one of the most intriguing. Before any of her successes as a director, she was a member of jazz-rap duo Figures Of Speech as MC Eve, performing at open mics at the legendary Good Life Cafe in Los Angeles alongside underground rap luminaries like Jurassic 5 and Freestyle Fellowship. In fact, her very first film as a director was a documentary about the open mic sessions there titled This Is The Life, released ten years almost to the day before A Wrinkle In Time. Her next big project? Helming another adaptation, this time of DC Comics' The New Gods.
Ava and Boots' recent successes are a testament to the new pathways opening up for rappers seeking new creative outlets or jobs in entertainment. It's no longer necessary to step in front of the camera; there are expanding opportunities for aspiring hip-hop entertainers to tell their stories behind the camera as well. It wasn't always like this, but as hip-hop has increasingly become the language and the look of modern pop culture, it's less and less strange to see former rappers branching out into an expanded pool of possibilities for life after rap.
In the nineties, almost anyone could recite the theme song from Fresh Prince Of Bel-Air. On modern social media, Ice Cube's "Bye, Felicia" quote from Friday is common parlance.
LL Cool J is more recognizable to an entire generation as undercover agent Sam Hanna on NCIS: Los Angeles than as the rapper who once rocked bells, walked like a panther, and/or needed love. Queen Latifah's Oscar nomination for Chicago win highlights a 20-year career as the anchor of television sitcoms like Living Single and uproarious comedy films like last year's standout Girls Trip. For each of these rap icons, acting provided the next step toward expansive media careers that have made them household names.
Complex's Shawn Setaro penned an intriguing exploration of the reasons why earlier this year, but rappers making the jump to celluloid isn't a new concept by any means. A turn in a Hollywood blockbuster always felt like the natural career progression for entertainers in a genre that always showed a degree of hostility for its aging stars. Ludacris, Xzibit, Common, Rah Digga, Busta Rhymes, Ja Rule, DMX, Tupac, and Eve all found their next lives — either at the height of their rap stardom or after it had begun to wane — in front of the camera.
Even aspiring rappers who never quite caught flame, like Ice Cube's son O'Shea Jackson Jr. (Straight Outta Compton; Ingrid Goes West) or Brooklyn rapper Gravy (Notorious; Barbershop: The Next Cut) found success pursuing acting roles when fickle rap fans passed them by for shinier offerings. Drake turned this trope on its ear, making the leap in reverse by bringing his Degrassi fanbase with him to the world of rap, despite early skepticism about his reception among existing rap fans.
Now, as Sorry To Bother You has become a bonafide hit in the vein of last year's social thriller Get Out, taking in nearly four times its budget at the box office, it seems that acting is no longer the only natural progression of a career that began in rhythm and rhymes. Rap is all about storytelling, after all. The most compelling rappers of the last two generations, the Jay-Zs, the Kanyes, the Nas', the Kendrick Lamars, the Drakes, and yes, the Tupacs and Biggies, have all been masterful storytellers, capable of weaving engrossing narratives from their imaginations and experiences to comment on society's shortcomings.
They've related their rags-to-riches tales via their words, often penning scripts and mental movies without even trying to. The transition from rhyme spitter to administrator of actors and camera crews isn't as long of a leap as it may seem. It's just another language to learn, and if there's one thing rappers must have to succeed in their field, it's a proclivity for learning the ins and outs of language.
So, don't be surprised if the floodgates open within the next few years. Once the door has been cracked, the entrepreneurial spirits of the game's best rappers may very well draw them to enter a whole new wheelhouse of creativity. After all, there are only so many roles out there for rappers vying for their next career evolution, roles many of them will need to compete for with seasoned veterans. Why fight for roles when they can write their own and control many other aspects of the creation process, which only requires skills which many of them have already developed through the creation of their own pieces?
Of course, that isn't to say directing is easy or that they'll automatically be good at it, but the option is there for any ambitious and dedicated enough to take it. Life after rap isn't just restricted to typecast roles in action movies anymore. Thanks to the efforts of directors like Ava DuVernay and Boots Riley, rappers looking for their next move can continue to lay their tales to tape, just a different kind.