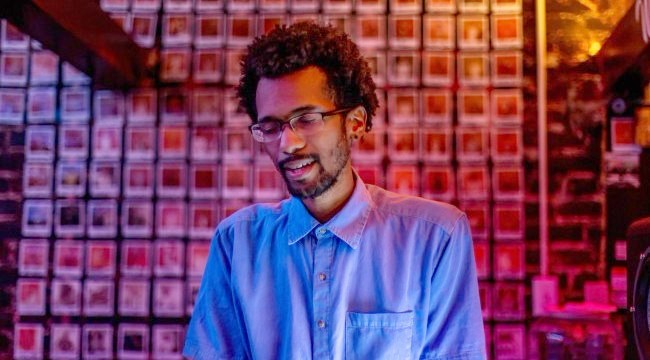 The name Cam O'bi may not be well-known yet, but the producer-rapper-singer has been all over some of hip-hop's most soulful hits in the past few years. Now, he's ready to step from behind the boards and become a star in his own right, leading off with the heartfelt nostalgia of "TenderHeaded," featuring fellow up-and-coming rapper Smino, with whom he previously worked on an early, unreleased version of Big Sean's "Living Single."
The beat is built on a harmonious, vocal "ooh, ah" sample, complete with smooth keys, and the giggling of Cam's own nephew, providing an original, innovative backdrop for Cam and Smino's reminisces. Cam reels off a humorous, relatable narrative of trying to match his own "nappy beady-beads" to the silky locks of his childhood heroes Michael Jackson and Superman. A strong message of self-acceptance and self-love underlies the humor, proving the level of depth Cam will be aiming for on his debut album, Grown Ass Kid, from which "TenderHeaded" is taken.
If the title Grown Ass Kid sounds familiar, it should. It's the name of the song Cam produced for Chance The Rapper which never made it on Chance's Grammy Award-winning LP Coloring Book. Fortunately for Cam, the sample issues that kept the song from Chance's groundbreaking album have been cleared, and to honor the achievement, Cam has assigned the title to his first full-length solo project.
Cam's previous work can be heard on tracks from Chance, Vic Mensa, Noname, Isaiah Rashad, J. Cole, SZA, and Twenty88, the group project from Big Sean and Jhene Aiko. He even still picked up a Grammy for Coloring Book, thanks to his work on the album's closer featuring Ty Dolla Sign and BJ The Chicago Kid. With the impressive resume he's already built, Cam's debut should be one of hip-hop's most anticipated releases of 2018. Remember the name.