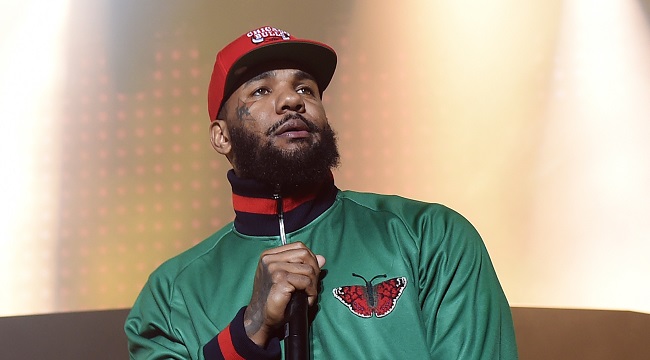 It was only a matter of time before Tekashi 6ix9ine and The Game crossed paths. Given hip-hop's arbitrary and relationship-based criteria for who's fit to flout their gang ties and who's not, we could have expected to see one of two things: The Game jumping on a remix of one of Tekashi's gang-banging, Billboard charters, or what we saw over the weekend, a relentless onslaught of IG posts calling out Tekashi for perceived false flagging in his chase for viral fame from LA to Texas. Who knows what the straw was that broke the camel's back, as Tekashi has been engaged in a war of words with LA-based artists and personalities for months now. He got in a fight at LAX in February, though the conflict was with Houston-based artists.
Now, Tekashi, who invites everyone to "test his gangsta," is in conflict with one of LA's biggest rappers. It started with Game screaming "f*ck 6ix9ine" at a concert in Slovenia, which spurred Tekashi to make an Instagram post making light of Game's one-time appearance on the Change Of Heart dating show.
The Game then made several incendiary IG posts, calling Tekashi out for "[disrespecting] my city & a rag I put in my pocket, lost countless homies, relatives & my own brother over." He posted pictures of Tekashi, who claims to be a blood, wearing blue and throwing a "C" sign, then went in some more.
https://www.instagram.com/p/BgcHTn7g7vq/
"Just cut all the shenanigans & jokes & just be the nice boy you are inside Daniel," The Game said to Tekashi, whose real name is Daniel Hernandez. "Little kids out here following this weirdo & gone end up hurt tryna be what they think this bum is….. & them bloods you paying to hide behind gone disappear when that lil money run out then you gone have to stand behind all the shit you talkin on ya own," The Game further admonished in another post.
Tekashi didn't back down, however, pleading, I WONT EVER LOSE…I GET UNDER THESE N—— SKIN. THERE GANGSTA I DONT RESPECTTTTTT NOT THEY CITY…I GOT RAINBOW HAIR AND U BEEFIN WITH ME THATS HOW I KNOW YA LIFE AINT TOGETHER."