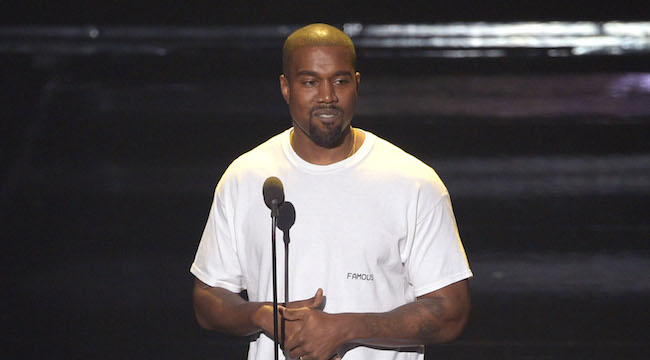 Kanye West's Twitter feed is setting the world on fire. The mercurial hip-hop star is involved in five albums dropping this June, including his solo album, and he's promoting it in the most controversial way possible – with a firestorm of tweets. Today alone, he's called President Trump his "brother," posted a picture of himself with a Make America Great Again hat, and claimed to have made more money than Michael Jordan from shoes this year. Those controversial tweets have caused a lot of people to talk — and a lot of people to apparently unfollow him. Kanye lost roughly 10 million followers after his pro-Trump tweets — including some big time affiliates.
A brief check on the Does Follow website shows that Teyana Taylor, Travis Scott, Cyhi The Prynce, Pusha T, Kylie Jenner, 2 Chainz, and even the official Adidas Twitter account have unfollowed Kanye today. The site also indicates that Big Sean's account unfollowed him on April 23rd. Ditto Common's account, which unfollowed Kanye on April 22nd. It's been speculated that since Kanye has returned to Twitter, his follower count has been glitchy. Kanye West fan account TeamKanyeDaily has said, "anytime you check his page and refresh…change happens." Even Jaden Smith sent a cryptic "False Idols" tweet after unplugging from the Kanye matrix.
We reached out to Twitter for word on whether Kanye truly lost 10 million followers based off of today's tweets or whether his account is glitching. In the meantime, we'll see how many of the accounts that unfollowed Kanye decide to follow back and subject themselves to the frenzy of attention caused by his tweets.
Update [7:18 PM EST]: A Twitter spokesperson confirmed that Kanye's account holds strong at 27.8 million followers and that "any fluctuation that people might be seeing is an inconsistency and should be resolved soon."