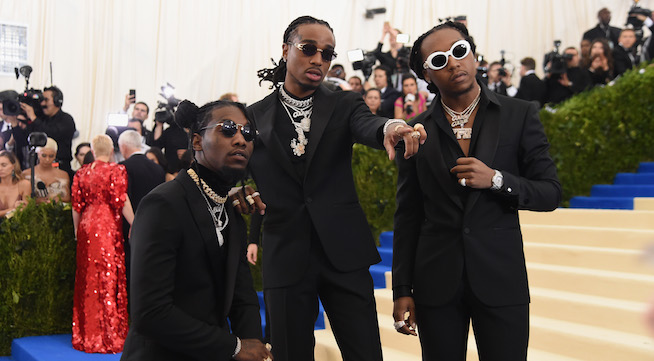 Atlanta trio Migos have spent 2017 blossoming into bonafide superstars. A platinum, No. 1 album, a smash No. 1 record that became a cultural moment, a plethora of bangers, some pop star guest appearances, a few huge festival performances and a spot on the hottest rap tour of the summer so far and you've got the makings of a career year. Well, Takeoff, Offset and Quavo aren't resting on their laurels because it looks like they're just getting ready to get right back at it with Culture 2.
Culture was already a hailed smash earlier this year, and with an album full of single-worthy cuts the Migos are still pumping out videos from the LP even six months later, but by the looks of it the sequel is coming, and soon. The chatter began when Quavo was kicking a freestyle during the group's set at the Sacramento stop of Future's Nobody Safe Tour. There, over the "Bad And Boujee" beat, Quavo dropped a few bars and blurted out "Culture 2, coming soon," near the end.
It could have just been a slip of the tongue, except these flyers popped up in Atlanta at the site of Atlanta radio station Hot 107.9's annual Birthday Bash show, and it seems there may be some more weight to Quavo's words.
Apparently owning the first six months of 2017 wasn't enough for Migos, they want the rest of the year too.