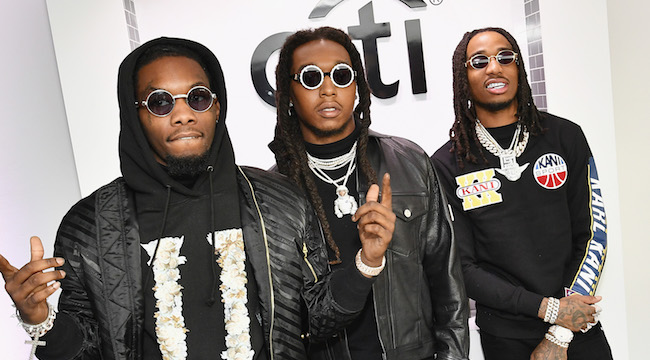 Few music fans would mistake Migos for big-time political voices, but sometimes it's a matter of perspective to set it straight. The Culture 2 trio made waves with their "Walk It Talk It" video, which took us back to the '70s, where Soul Train and funky styles reigned. President Trump is in some ways like Migos, as it sometimes seem like he wants to take us back to the '70s – the 1870s. That's why MSNBC political analyst Ari Melber used one of his go-to techniques and slammed Trump using none other than Migos' "Walk It Talk It" lyrics to drive home his point.
First, Melber referenced Shakespeare. Then, he dropped the flames: "Take a more modern bar, Quavo, from the musical group Migos, who says, 'Walk it like I talk it.' Cause if you don't walk the walk, it's just not real."
Quavo was impressed with being namedropped in the political monologue, as he had the clip snipped and posted it on his Instagram page. It's a true sign of Migos pop culture standing when they're being casually namedropped by pundits. The practice isn't new to Melber however, as he's previously quoted Jay-Z and 50 Cent. I guess he's a fan of all regions of rap.