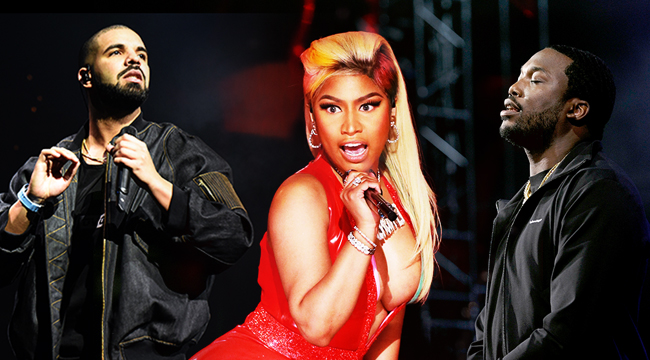 There's a long tradition of gamesmanship in rap. When 50 Cent first came on the scene he set the rap world abuzz, naming names on "How To Rob." Kendrick Lamar turned social media upside down with his fiery, competitive verse on Big Sean's "Control." Now, Nicki Minaj has turned the trope on its ear with "Barbie Dreams" from her long-awaited comeback album, Queen, and it's already shot to the top of the daily discussion, despite only being several minutes old.
Over a sample of James Brown's "Blues And Pants" — most famous among rap heads as the musical backdrop for The Notorious BIG's "Just Playing (Dreams)," where he fantasized about "f*cking an R&B chick" and which Lil Kim once appropriated to relate her own "Dreams" — Nicki dishes up a cascade of clever bars about her male counterparts and their supposedly thirsty ways, from Drake and Meek Mill to newcomers like Lil Uzi Vert and Swae Lee. She even playfully tosses a few lines at some of her fellow women in rap like Young MA and Lady Luck, who are both known for repping hard for queer identity in hip-hop.
It's clear from the throwback reference and the overall silliness of some of the lines that Nicki is just having some fun by throwing some of her admirers and exes' names in the song, but that hasn't stopped her Barbs from freaking all the way out online with the usual cavalcade of jokes, memes, and gifs because the song does have plenty of whiplash-and-spit-take-inducing moments. Check them out below, and listen to Queen now via Young Money here.