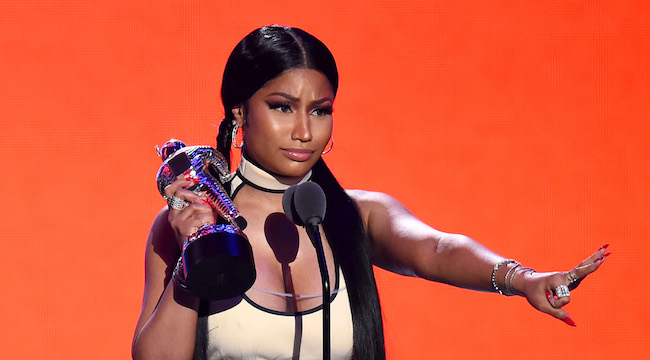 As Nicki Minaj continues her tirade against industry rules on her Queen Radio show for Apple Music, Spotify has responded to her allegations that the company deliberately sabotaged the release of her album Queen.
"Spotify supported Nicki Minaj with a Times Square billboard, a host of the largest playlists, New Music Friday and the new music release shelf," the company stated in a press release to Variety magazine. "Her song 'Bed' actually saw an increase based on the promotions put behind the campaign. The company continues to be big fans of Nicki."
This, of course, contradicts Nicki's assertions that "Spotify had to teach me a lesson" for releasing certain Queen songs early on Queen Radio as the show appeared on a rival service. Nicki began making the accusations after it was reported by Billboard that Nicki's Queen was bested in its first-week sales by Travis Scott's Astroworld in its second week.
The irate Nicki took to Twitter to voice her displeasure at the outcome, stating that Travis had gamed the rules by packaging his album with early access tour passes and other merchandise in order to beat her. For this perceived slight, Nicki "awarded" Travis "Ho N—a Of The Week" on the latest episode of Queen Radio, wherein she also continued to call out industry practices.