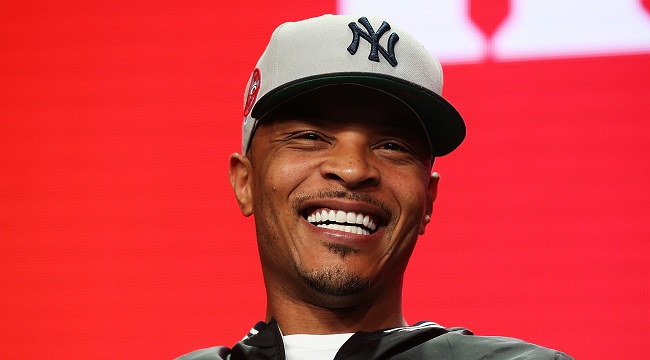 On 2007's T.I. Vs TIP, Atlanta rap legend T.I. sought to explore the dichotomy of the two different personalities inside of him. 11 years later on his upcoming Dime Trap album, he's looking to do some further exploration, this time using comedian Dave Chappelle as "the voice in his head," as he explained in a trailer that dropped yesterday.
Dime Trap is coming "freakishly soon," according to him, and features Chappelle in the role that he plays in the trailer, delivering a solemn monologue. T.I.'s already dropped "Wraith" with Yo Gotti and "Jefe" with Meek Mill, but it looks like the album's turn up moments are going to be balanced with T.I.'s introspection on his decade-plus long career in the rap game.
The trailer showcases an impressive sculpture featuring accouterments such as a large headstone of T.I., a pair of assault rifles, and a man sitting on a stoop, perhaps representing his days in the trap. The imagery is significant to T.I. for various reasons that may be explored on the album. An ominous organ starts off the clip before Dave Chappelle begins reflecting, as T.I.'s conscience, on how "all my life, all I wanted to do was be great" and "everything I say is the truth…and that's a lie…and that's the motherf*cking truth." We're guessing T.I.'s wife Tiny wasn't in the studio during the conception of this particular monologue.
As the trailer he kicks into a reflective rhyme, telling his listeners "I'm a made man, look what I made…man." Many are clamoring to hear what he made with Dime Trap.