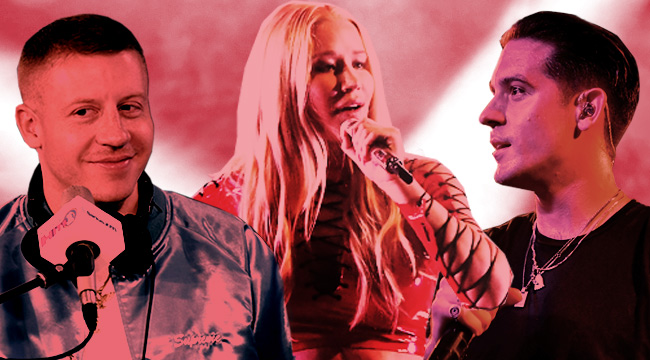 Back when I was a kid, rap was more of a "Black" thing. Sure, other groups listened to and loved the genre, but it was unusual for any rapper who wasn't of African descent to even get a shot, let alone become successful, within hip-hop. For almost a decade, the biggest name associated with the term "white rapper" was Vanilla Ice, and he was (and is, despite some late career rehabilitation from nostalgic fans) largely recognized as a joke, a shill, and a straight-up fraud.
I think it's safe to say those days are over. White folks are flourishing in hip-hop… but, while there are more fair-skinned MC's than ever, the attitude that dogged Ice and others throughout early days of rap still persists, even though the days of "All right stop / Collaborate and listen" as a rhyme scheme have thankfully gone out the window along with gimmicky tracks like "Ninja Rap."
There is a downright impressive slate of albums by Anglo rappers coming down the pike; G-Eazy and Macklemore are both set to release albums sometime this year. However, neither has generated anything remotely resembling the level of anticipation we've seen for other rappers who've announced albums this year, despite Eazy and Macklemore putting out solid material in the past, and turning in some frankly excellent promo singles in "No Limit" and "Marmalade"
Meanwhile, Mac Miller's The Divine Feminine, released in September of last year, was genuinely creative and interesting, but came and went. Iggy Azalea, for all her faults, can actually rap (check out her verse on "No Mediocre" if you don't believe me), but has seen Digital Distortion, the follow-up to her 2014 debut The New Classic, increasingly pushed back as her singles have failed to generate a buzz, despite being the same sort of catchy, innocuous pop rap as "Black Widow" and her past mega-smash "Fancy." Post Malone weaves back and forth between covers of Nirvana and off-the-wall rap-singing, but his love for both genres shines through in everything he does.
From Kreayshawn to Lil Dicky, and everywhere in between, it often seems that whenever a person of European descent decides to dip a toe into hip-hop's muddy waters, they face the prospect of either backlash or straight up neglect from the culture's originators, even when they do manage to garner success that's generally unprecedented for their darker-skinned counterparts. While any number of viral stars receive a less-than-enthused response from rap gatekeepers, it seems that a special level of frustration is reserved for — there really isn't a polite way to put this — white rappers. But why?
Consider the online thrashing of Iggy Azalea; every accusation from cultural appropriation to outright bigotry has been leveled at the Australian pop-rapper, despite what appears to be a genuine love of the genre, exacerbated by her own inability to simply not react to criticism.
Even the great Eminem faced incredible levels of pushback in his early career, avoiding the sort of pitfalls Iggy's unwittingly walked into by dint of his fortunate association with Dr. Dre, and fortuitous timing; he came of age, so to speak, far before the era of social media, where missteps are magnified and multiplied in real time by the screaming echo chambers of the internet.
Macklemore's Grammy win was considered an affront to Kendrick Lamar's supreme effort with Good Kid, MAAD City, even prompting a highly-publicized and widely-derided apology from Macklemore to Kendrick. The Heist may not have been the fan favorite, but it was by no means a bad, unoriginal, or poorly-executed album, so why the negative reaction to his win, or any "white" rapper's commercial or critical success?
The answer doesn't quite rest in "appropriation"; it's more nuanced than that. Rather, it seems inherently unfair that white rappers receive more robust promotion budgets, that they win awards that they may not necessarily deserve, and that they can be perceived as "pop" music, while ethnic minority rappers are viewed as unmarketable "thugs," demeaned by mainstream culture, and generally do not see the same level of success outside of the best-selling big names.
https://www.instagram.com/p/BXuKR5SgvL5/
I don't think that a single person would argue that "white" people can't or shouldn't rap. And to assume that there is no genuine appreciation runs the risk of stereotyping and silencing potentially important voices. Consider that Bhad Bhabie has literally never known a world where hip-hop is not the dominant genre on the radio; for her and other young kids, rap is pop, and they never had Q-Tip to tell them that it's not. Even adult white rappers grew up on hip-hop; Mac, G, Macklemore, Dicky, Post Malone, and more are '90s kids who grew up as much on Biggie as No Doubt.
That stereotyping certainly detracts from some legitimate mic skills; Macklemore, G-Eazy, Mac Miller, and yes, even Iggy Azalea all worked hard to master the craft to varying degrees, and none of them are particularly bad rappers — although, like any entertainer, they each have a few duds in their respective catalogs. The hang-up is that it feels like those missteps are held over their heads as some kind of "proof" that they don't belong.
However, the ire directed at Iggy, Kreayshawn, G-Eazy, Macklemore, and others might be better served if it were refocused on the industry itself. After all, they have all — for the most part — done their best to attribute credit for their success. While in some cases they do disproportionately benefit — even Eminem credits much of his success to the fact that he's not a Black rapper rhyming about killing sprees and threatening celebrities — they also use their platforms to enlighten, not exploit. They learned the skills of a "Black" genre, and credit the Black people around them, sharing their platform and often taking to task the biased power structures of our country, like Macklemore does with his "conscious" offerings such as "White Privilege" and "Same Love."
Mac Miller was praised for using his appearance on The Nightly Show to excoriate supporters of Donald Trump's racist Presidential campaign, and G-Eazy often features Bay Area rappers on his songs, and lent guest verses to Cardi B and ASAP Rocky on his latest single, big-upping Black enterprise by paying homage to Master P, who pioneered Black ownership in the music industry.
Even on Fergie's new album, she raps surprisingly well, delving deep into rap's history to salute Big Daddy Kane and Rob Base & DJ EZ Rock alongside Nicki Minaj, kicking an old school flow that is sure to inspire at least some kids to delve into hip-hop's past to find out more, leading to another generation of old-school hip-hop fans.
And there is no doubt in my mind that just by embracing rap as a genre, fans can be guided to engage with Black culture and history. Are white kids more likely to engage with artists who look like them? Absolutely, and where is the fault in that? Most of us specifically seek out art and entertainment that reflects ourselves. If that makes Asher Roth or Lil Dicky a gateway drug into more straightforward rap, what's the harm?
As they dig into the context of the subject matter, they can also engage with our current social plights and political fights, if they're exposed to right songs and artists. A deep dive into Mac Miller's catalog will almost certainly lead to his collaboration with Joey Badass, which will lead to Joey's excellent and politically-minded All-Amerikkkan Badass, and so on.
And this is where it becomes incumbent on the industry to do better. If there isn't enough balance on the radio, it's up to programmers and A&Rs to find and play more politically aware, socially conscious rap.
Signing a Bhad Bhabie just for the shock appeal of "Hey, look! White female rapper!" is dumb, but so is automatically writing her off just because she's a white rapper — even if we know already that's she's more gimmick than authentic. At the very least, she deserves a chance to flop on her own, like Kreayshawn (even though I will maintain that "You ain't no Barbie, I see you work at Arby's / Number two, super-sized, hurry up I'm starving" was a BAR and proved Kreay had the knack, if not the drive, for rhyming).
And if the promo budgets for two rappers are different based solely on the ethnicity of the rappers, the label exec who writes the checks owes it not just to those artists to make the money match, but to the label as well. Throw as much money behind any of the dozens of kids rapping to make their way out a bad situation as behind a Chris Webby or a Hoodie Allen, because who knows what a Big KRIT or a Vince Staples could have done with the same sort of resources.
Selling anyone short based on prejudice hurts the person doing the judging just as much as the judged. When artists show genuine appreciation for the culture, the culture can stand to show a little back, because a little can go a long way. Rap has always brought people together, and one of the best things about it is that pretty much anybody can do it.