As fans awaited the first of two Coldplay stadium concerts at San Diego's new-ish Snapdragon Stadium to begin, the large screens on both sides of the stage steadily cycled through messaging about the sustainability efforts of the legendary British band. They even went as far as to present a short film right before they took the stage, going over a wealth of ways that they have committed to making their touring as low-carbon as possible.
Fans cheered as initiatives like ocean preservation and renewable energy flashed across the screen, while also noting the ways that the audience themselves could help with the efforts — it was as simple as jumping up and down on the stadium floor or using provided stationary bikes to help charge batteries.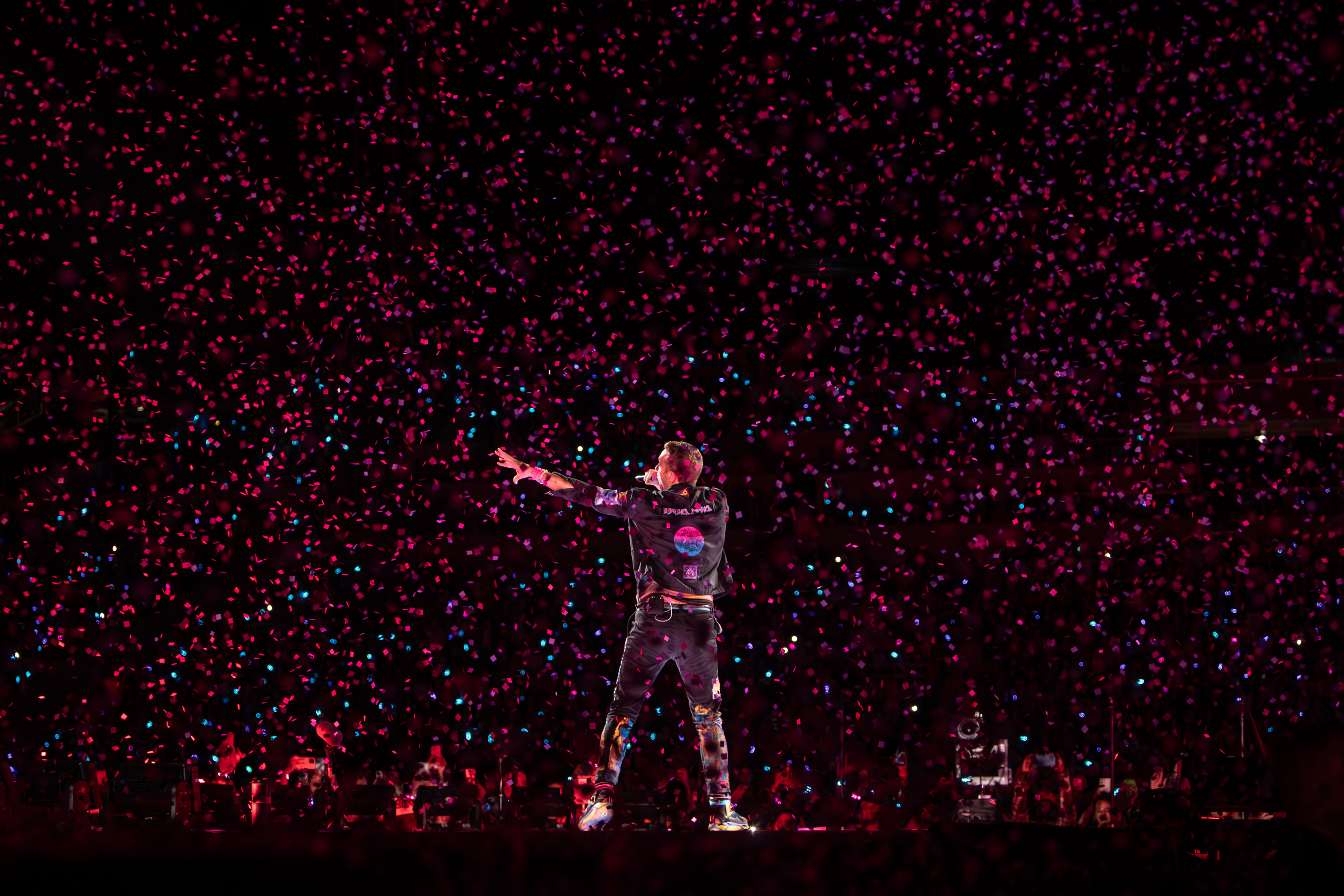 Coldplay is not the only artist with concerns for the planet, as people like Dave Matthews and Billie Eilish have also made it a focal point of their touring efforts. But no one is making the messaging as central to the concert experience as Coldplay, tasking their fans to consider just how much entertainment can take a toll on our planet, and how possible it is for major artists to try to mitigate the effects.
It's a message that goes beyond the recycled light-up wristbands that flashed a rainbows-worth of colors throughout the show. It also fits with Coldplay's general arc as a band.
Since first coming to the public's attention with their 2000 release Parachutes and that album's breakout single "Yellow," the band quickly ascended to the stadium level that they currently maintain. They are one of few in-their-prime artists that could have conceivably headlined Coachella in both 2003 and 2023 without some caveat of a reunion or nostalgia driving the booking.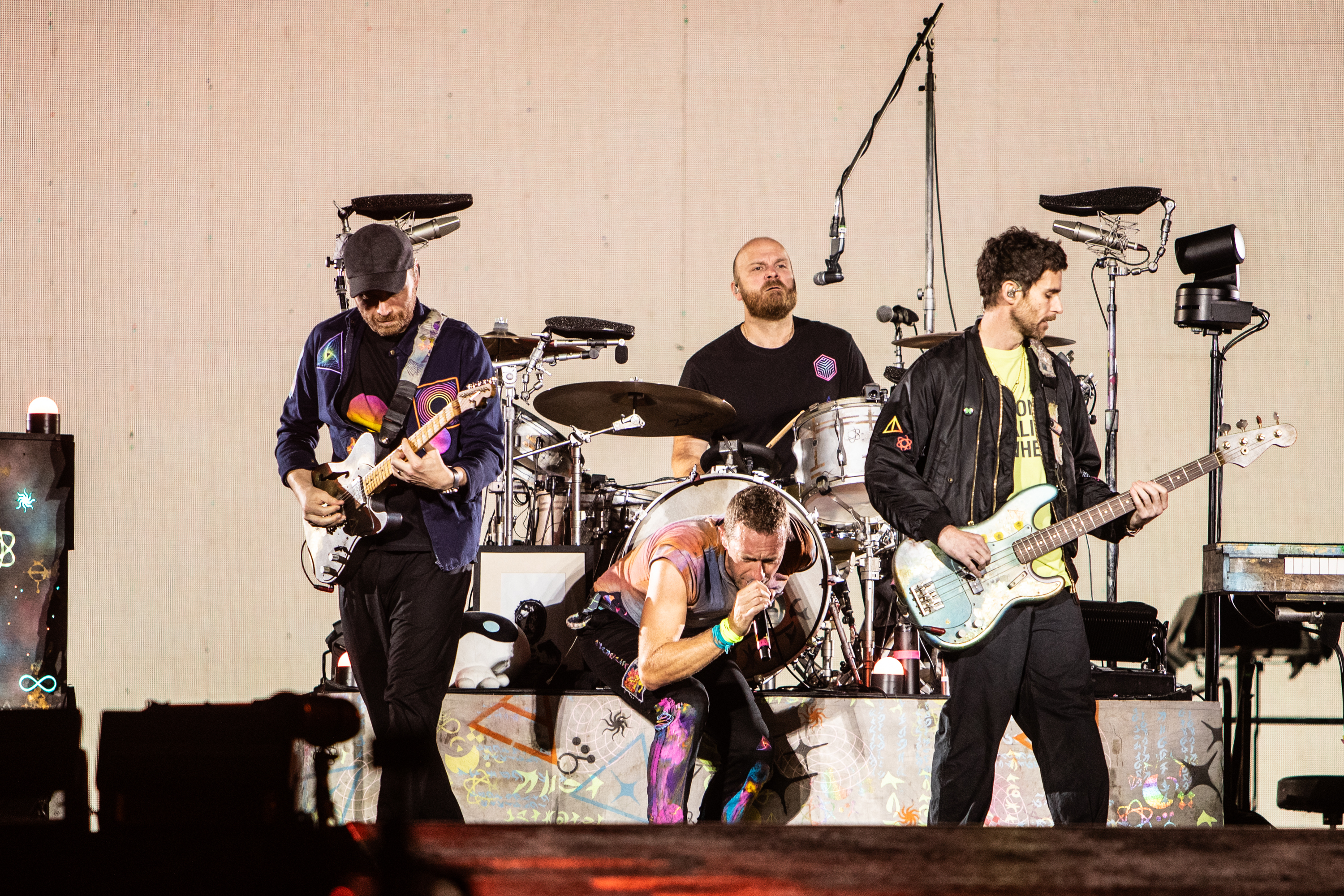 While they were once seen by the most cynical as a more palatable version of Radiohead, the truth is that commercial appeal has long eclipsed that comparison manifold times, while still delivering songs that should become setlist staples ("Higher Power," "My Universe") on even their most recent offering, 2021's Music Of The Spheres. In the marathon that is the music industry, they have successfully navigated and remained relevant in the worlds of CDs, MP3s, and, now, streaming, where they are in the top 20 of all-time artists on Spotify.
So, how does Coldplay do it? It's not just through their library of massive, stadium-worthy hits — though that helps. Chris Martin, Jonny Buckland, Guy Berryman, and Will Champion offer up an earnestness that had them labeled as corny early in their career, but now strikes are deeply endearing. In many ways, they let the music world come to them without drastically changing who they are or what they stand for. Plus, they are particularly savvy to embrace current trends and let their music evolve with the times.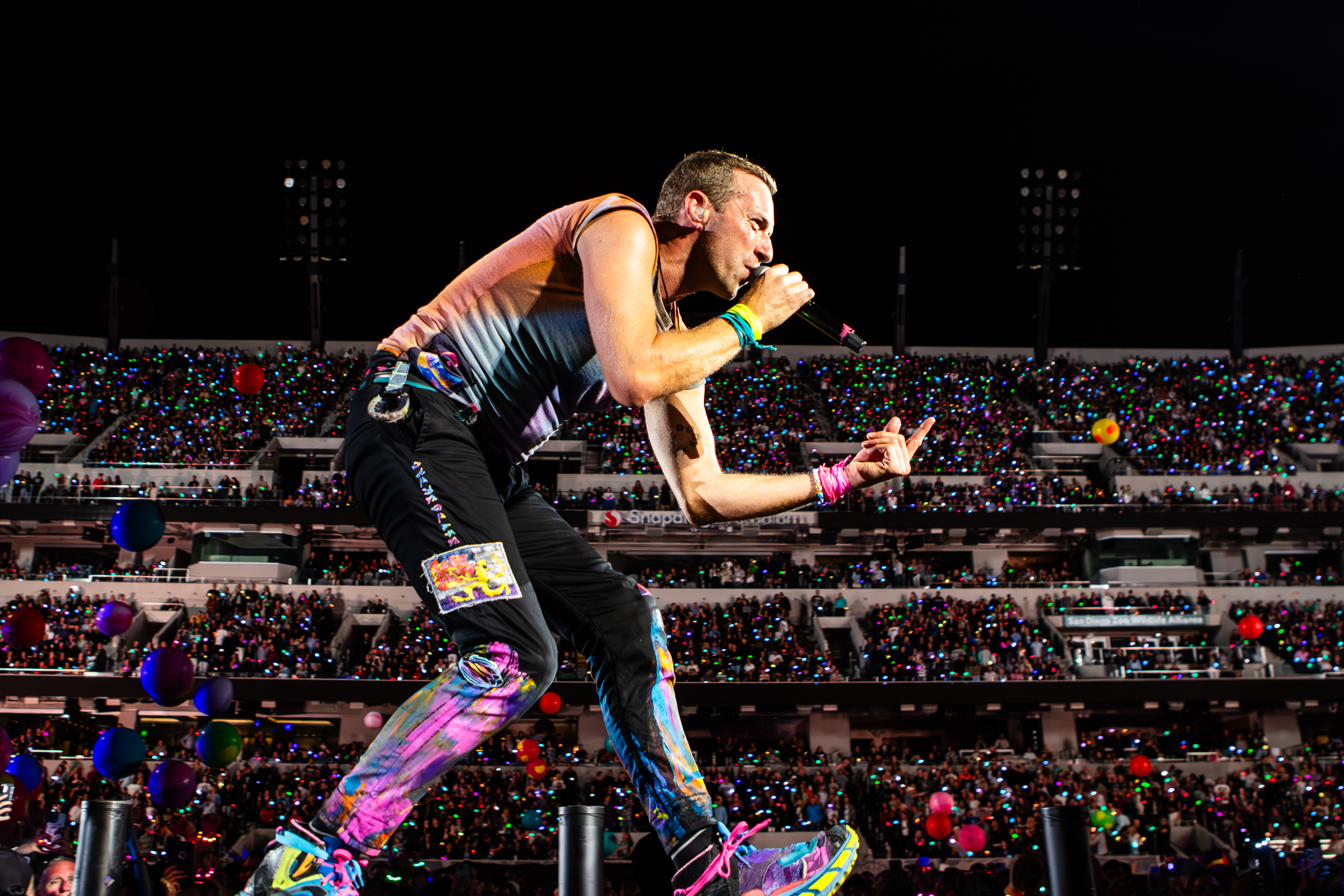 This was on full display in San Diego. One crucial element of their maintained relevance is in their global appeal. Simply travel and see a show in Latin America or Europe and you'll find that their brand of big emotions and big communal moments has long resonated with those audiences. Thus, the stadium floor was full of flags from the home countries of their fans, which Martin was sure to call out during his "read the fans' signs" portion of the evening. From the stage, Martin at various times spoke and sang in English, Spanish (a smart move considering the amount of Coldplay fans who drove across the border for the concert), sign language, and Korean, feeling very of the moment as K-pop, Latin music, and other global sounds break down sonic borders.
Fans were also reminded of how Coldplay has long been at the center of popular music's narrative. "Hymn For The Weekend" was performed without the need to underscore that Beyoncé supplied backing vocals to the song, but "My Universe" did offer BTS in video-display format for their portion of that hit. "Something Just Like This," which Coldplay released with The Chainsmokers, felt like a snapshot of a moment in time when EDM collaborations were the backbone of pop. And "A Sky Full Of Stars," notably produced by Avicii among others, gave the night its biggest cathartic moment, as Martin stopped the song just before its climax to ask the audience to put away their phones for one song and feel the power of being together with tens of thousands of people. Everyone obliged and was rewarded with an unforgettable four minutes that culminated in a stunning fireworks display.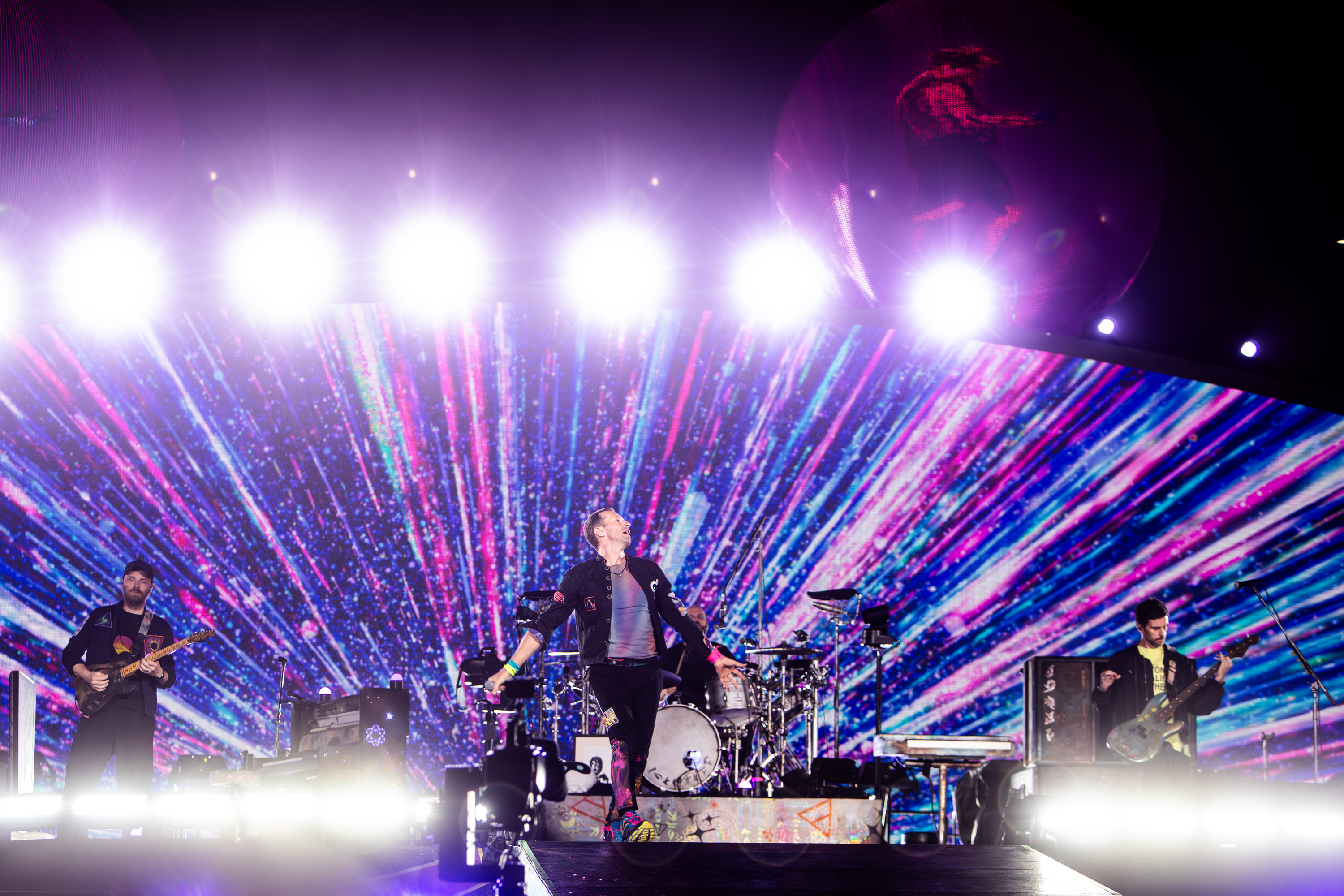 A Coldplay concert can feel like they are playing every trick in the book: confetti, giant beach balls, pyro, the aforementioned wristbands, multiple satellite stages, and lasers. There were even a few tricks that weren't in any book, including the band wearing Masked Singer-esque alien costumes for multiple numbers and Martin performing with Angel Moon the muppet, a Henson creature that I'm only just becoming aware of and have many questions about.
With this 'Music Of The Spheres' Tour, there is no wasted energy, with every bit of the set time used to create memories and impact the audience. That is sustainability personified, and evidence that more than 20 years into their career, Coldplay's cultural impact seeks to be the opposite of their environmental one. And if their concerns for our planet can be adopted as the norm for touring by more artists of their stature, Coldplay's status as one of the essential artists of our time will take on greater meaning than just the legacy of their music.
Check out some exclusive photos of Coldplay's 'Music Of The Spheres' Tour from San Diego's Snapdragon Stadium.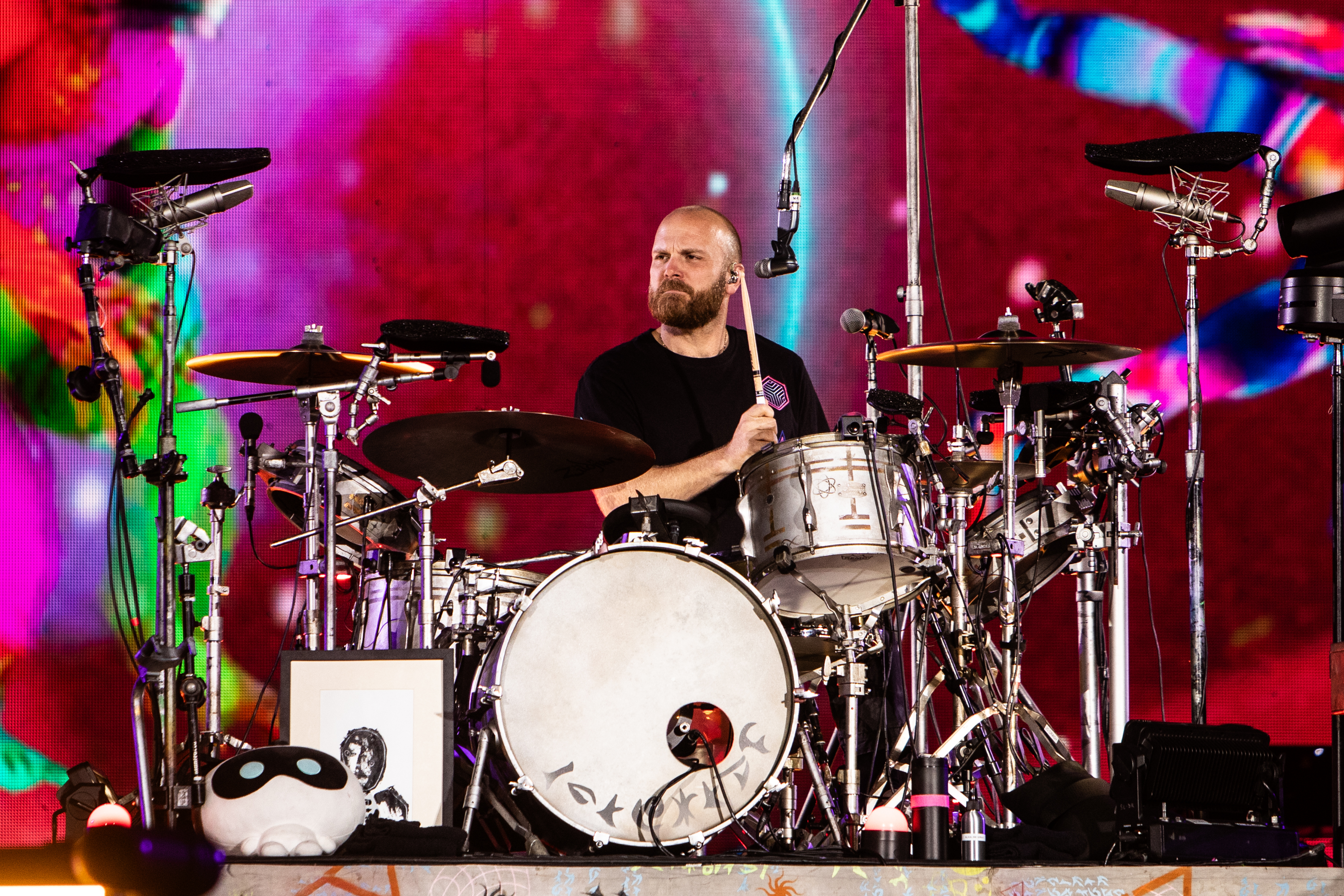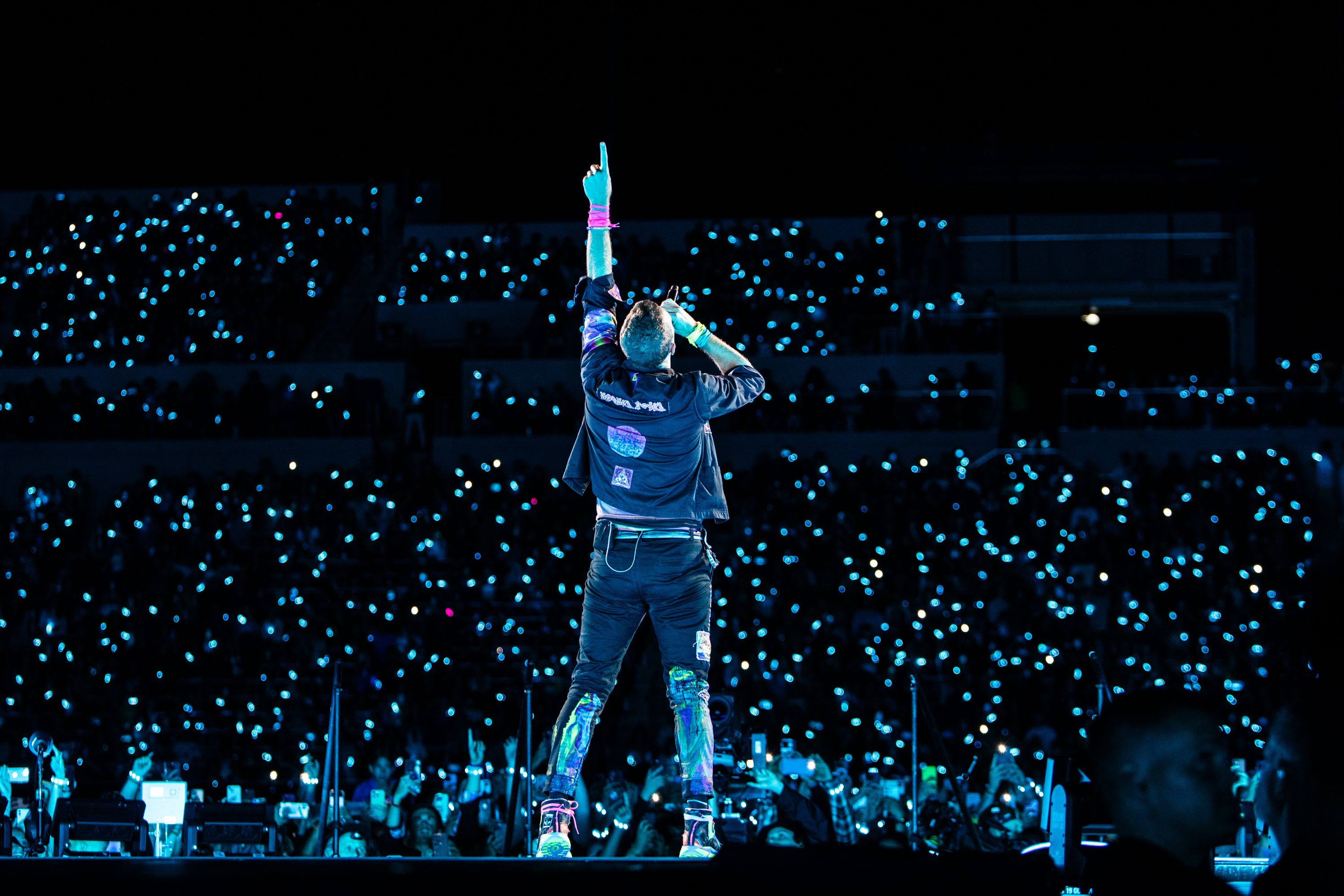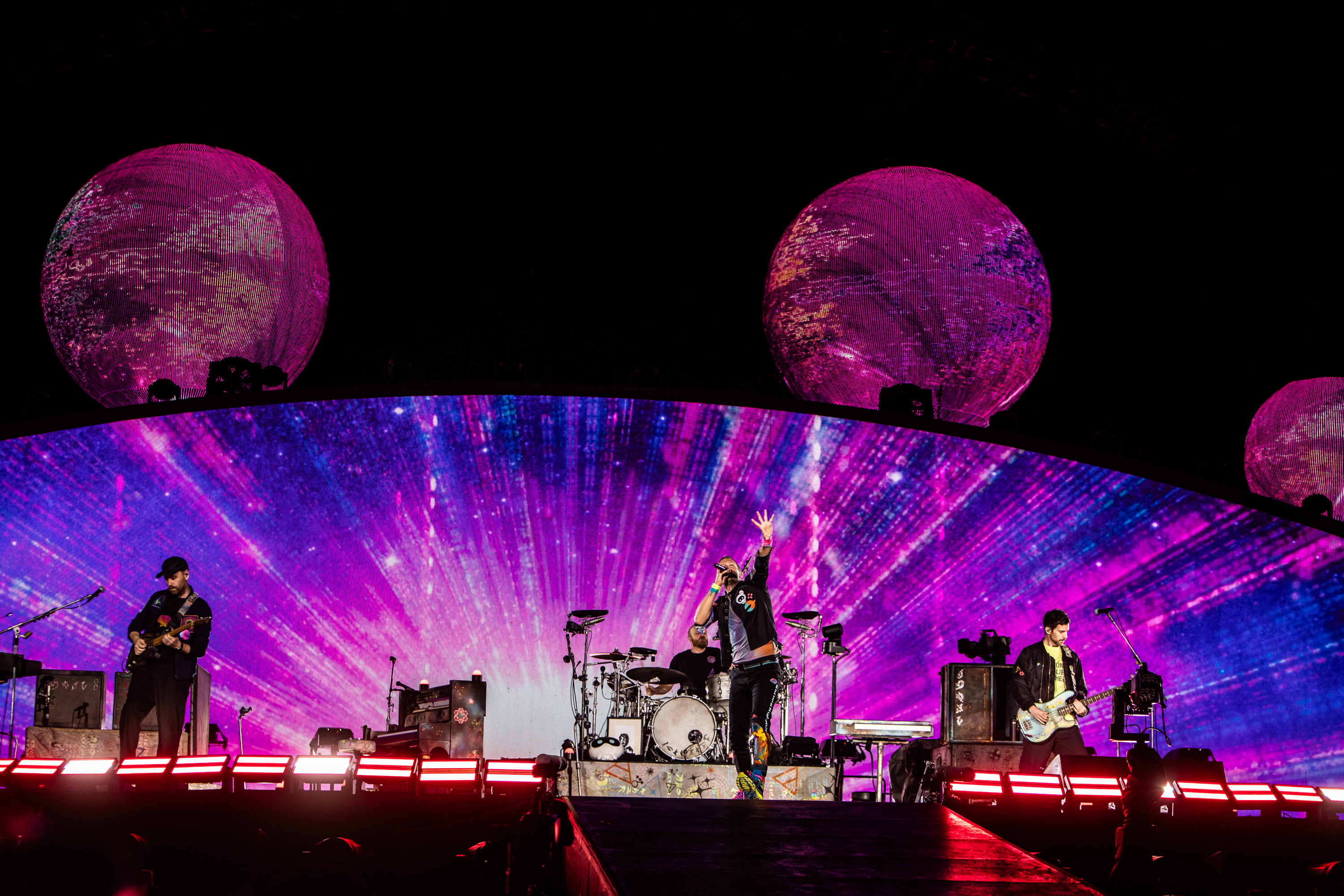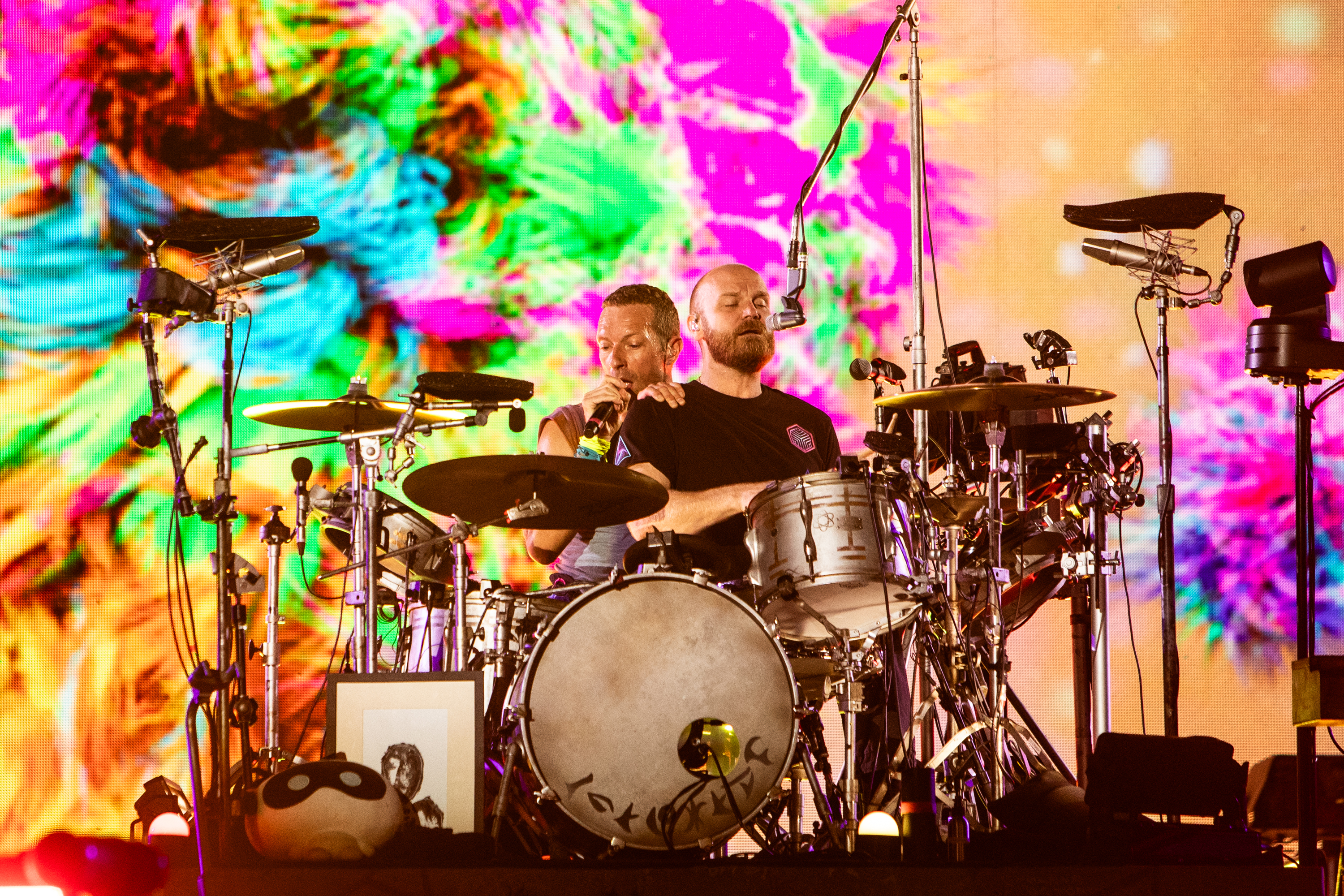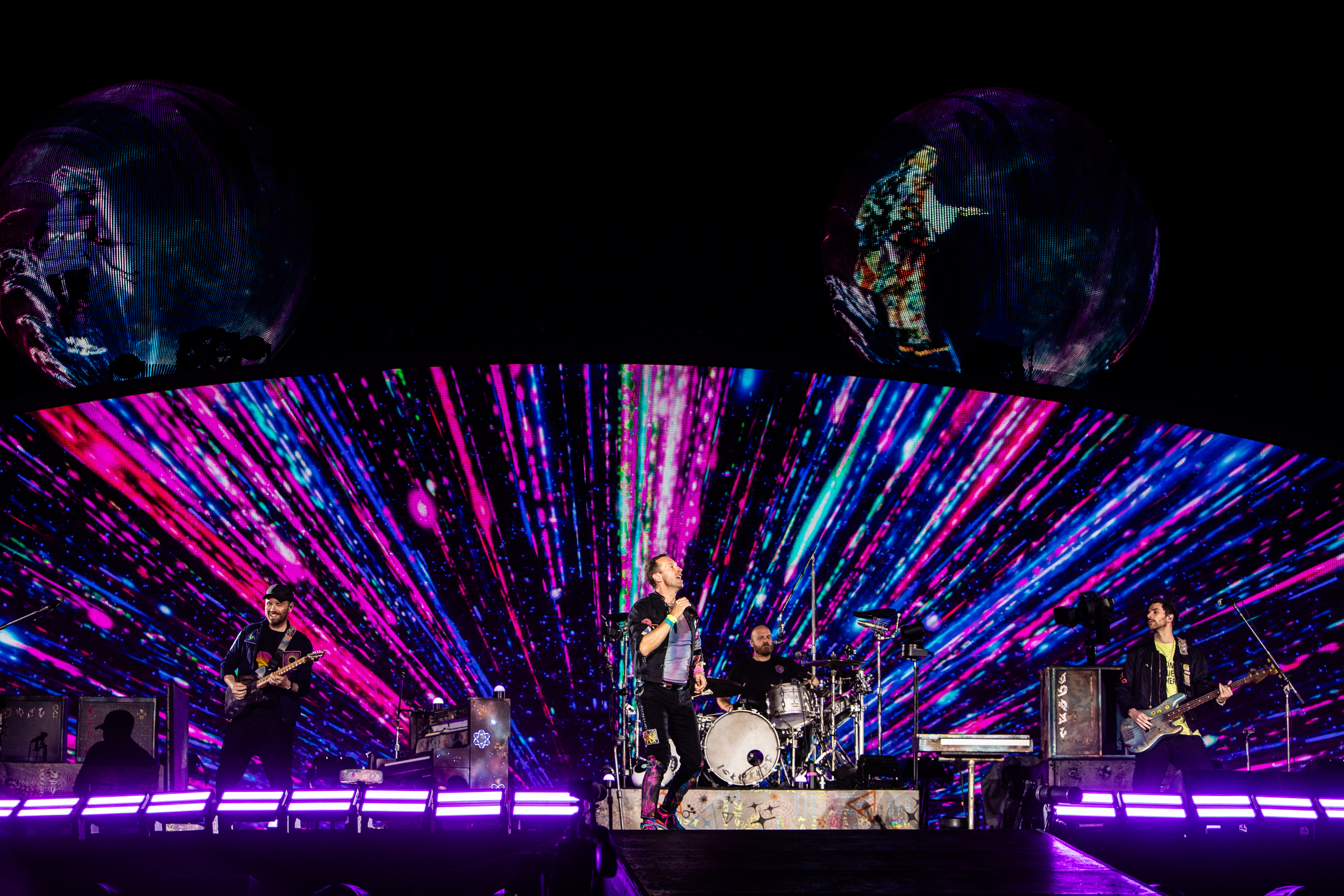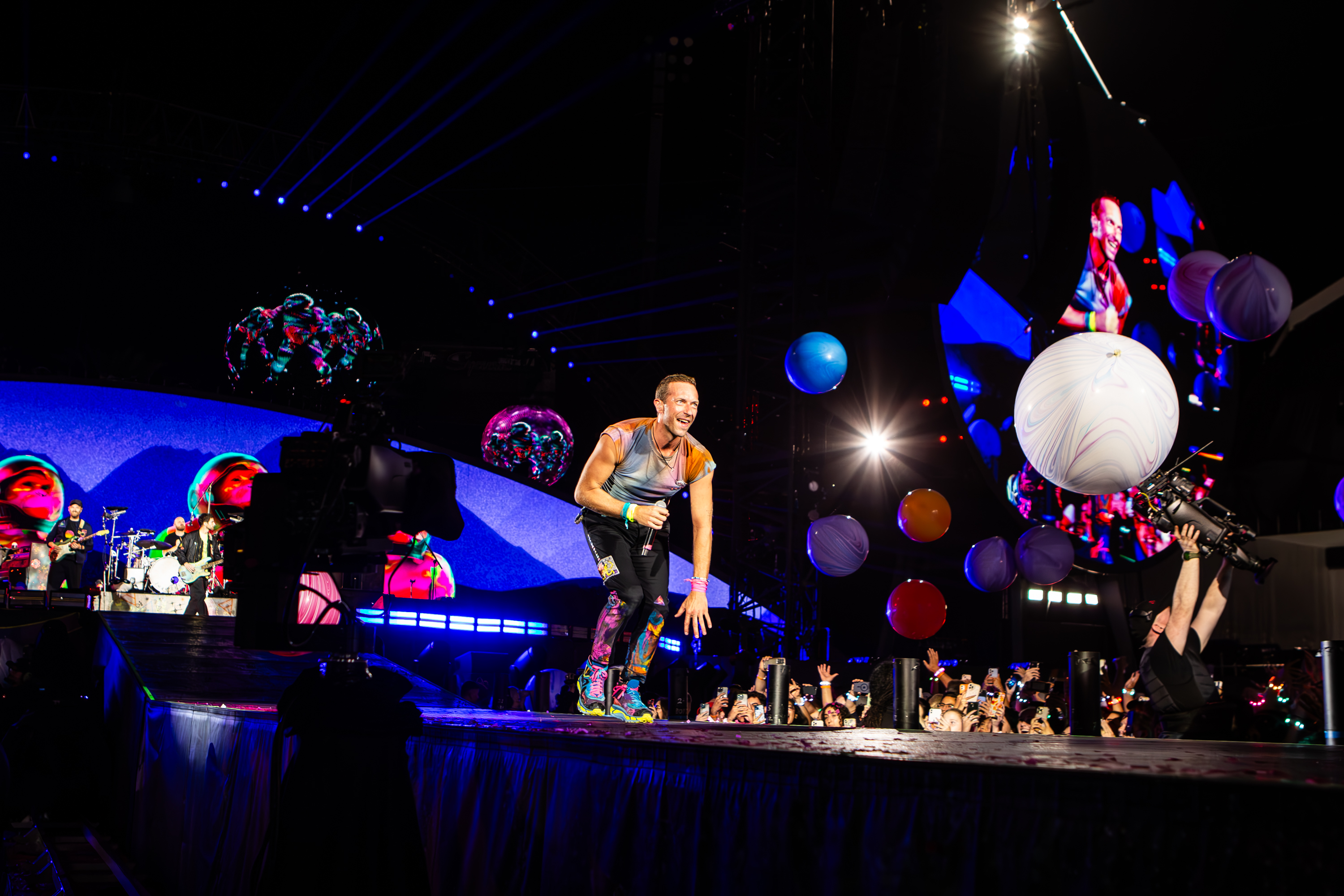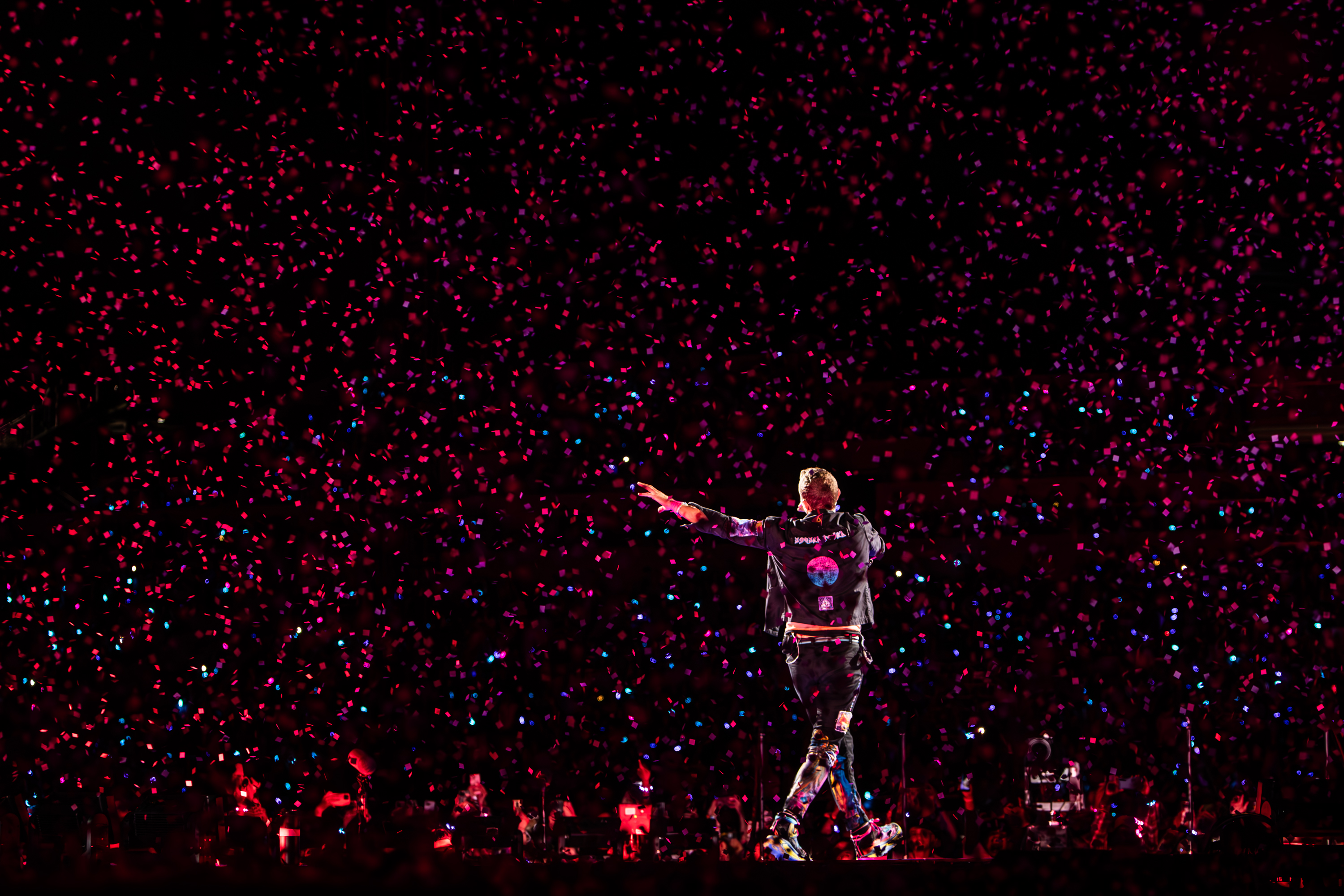 Coldplay is a Warner Music artist. Uproxx is an independent subsidiary of Warner Music Group.