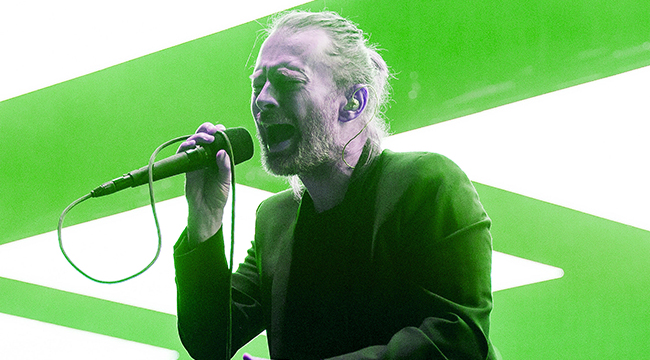 In terms of legacy rock bands, Radiohead is an anomaly. More than 25 years into their recording career, the band's lineup remains unchanged. Nobody has died, been fired for abusing drugs or quit in order to study UFOs. Not only is Radiohead uniquely stable, but they also have uncommon quality control. The band's most recent studio effort, 2016's A Moon Shaped Pool, might not be your favorite Radiohead LP. But it's a lot better than, say, Dirty Work, or anything else most bands put out in the midst of middle age.
However, it's undeniable that Radiohead's output has slowed down considerably in the '10s. After putting out three albums in the '90s, and four albums in the '00s, Radiohead will likely only put out two studio records, 2011's The King Of Limbs and A Moon Shaped Pool, in the current decade. More and more, the band members have been focused on their own projects. Thom Yorke, Jonny Greenwood, and Philip Selway have all put out solo albums and composed film scores. Ed O'Brien is also said to have his own album in the works. (Only Colin Greenwood has been content to stick strictly with Radiohead.)
Seeing as how Radiohead-related music increasingly seems to exist outside of Radiohead, including Thom Yorke's acclaimed new solo LP ANIMA, it seems like a good time to assess what is truly essential in the realm of Radiohead solo releases. For this list, I decided to consider albums only, forgoing the sizable number of film scores. Clearly, this decision hurts Jonny Greenwood the most, as he's the most prolific movie composer in the band. (Had I decided to include film scores, There Will Be Blood and Phantom Thread would have come out the best, though I also like the Grateful Dead rip-offs he wrote for Inherent Vice.)
But a stand-alone album feels different than music written to accompany a movie. Let's leave the nerdy-but-compelling-because-I'm-a-Radiohead-nerd conversation about "best film scores composed by members of Radiohead" discussion for another day.
7. Philip Selway, Familial (2010)
I went into this wanting to argue that Familial is better than The Eraser, because I like the idea of pouring gasoline on Radiohead's Reddit page and then lighting a match. Honestly, I'm not sure if there's a point to ranking solo albums by Radiohead members if you're not going to seriously overrate the output of Phil — sorry, Philip — Selway. Putting the extremely pleasant and almost willfully inconsequential solo debut by Radiohead's drummer last on this list feels a little obvious, even gratuitously dismissive. But, alas, even my affection for contrarian arguments couldn't push me that far into the realm of insane takes. Familial is by no means a bad record — I could even imagine a small segment of Radiohead's fanbase hearing it as a breath of fresh air. The modest vocals and emphasis on lightly strummed acoustic guitar suggest an alternate universe in which Radiohead simply re-wrote "Thinking About You" over and over, popping a new Quaalude each time.
6. Philip Selway, Weatherhouse (2014)
Believe it or not, but the gap between this album and Familial is quite wide. This one actually sounds more like a '90s Radiohead album — if they had decided to compete with Coldplay and Travis in the wake of OK Computer, instead of running in the opposite direction with Kid A, they might have produced a ballad as nice as Selway's "It Will End In Tears," hands down the best song of his solo career. It's like "Karma Police" with all of the Orwellian overtones removed; it could have been a solid B-side during the A Moon Shaped Pool era.
5. Atoms For Peace, AMOK (2013)
Yes, it's the weakest non-Selway Radiohead solo project. But I've actually come to appreciate AMOK more than I did when it came out six years ago. Back then, AMOK seemed rife with red flags — there was a Red Hot Chili Pepper in the band, there was Thom Yorke's newly grown-out man-bun, and there was the fact that Radiohead had recently put out arguably its worst album, The King Of Limbs. It seemed like a bellwether signaling Yorke's decline. But after revisiting AMOK periodically over the years, I've come to hear it as Yorke's jam-band album — and I mean that as a compliment! Ultimately, it's about grooves and atmosphere more than songwriting. Radiohead took their name from a Talking Heads song, and AMOK is probably the closest that Yorke has come to actually sounding like Remain In Light.
4. Thom Yorke, Tomorrow's Modern Boxes (2014)
Most of the conversation about this album when it came out was about how it came out, as a BitTorrent download. For the graying Gen-Xers who started following Radiohead back when "Creep" was an MTV Buzz Bin clip, it was as if Yorke was daring them not to listen to his most overtly electronic and least accessible solo record yet. But this is another record I've come to appreciate more in later years as an extension of Yorke's stealth "jammy" period, which unofficially commenced when Radiohead hired a second drummer for the King Of Limbs tour. The jittery beats and droning synths that make up the bulk of each track are a little samey, but that actually makes the album feel like one continuous piece of music. The song that stands out the most on this hazy, surly record, the Amnesiac-like "Guess Again!," is one of Yorke's best solo tracks.
3. Shye Ben Tzur, Jonny Greenwood, and The Rajasthan Express, Junun (2015)
If Thom Yorke is the Lennon/McCartney of Radiohead, then Jonny Greenwood unquestionably George Harrison — and his one proper solo album outside of his film scores, Junun, seems like the kind of record that Harrison would've made. For starters, Greenwood deliberately puts himself in the background, putting the focus on Tzur, an Israeli composer, and an expansive band of excellent Indian musicians. But Greenwood, who produced the album, still makes his presence felt, playing about a half-dozen instruments, including his beloved ondes Martenot. Like Yorke with Atoms For Peace, Greenwood's stint with the Junun band seemed like a chance to cut loose and make more ecstatic music outside of the grimmer and more restrained confines of Radiohead. Unlike Atoms For Peace, however, Junun more or less unfolds as a series of vibrant performances that positively cook, making it the rare Radiohead-related album that can't be described as "dystopian."
2. Thom Yorke, ANIMA (2019)
[protected-iframe id="3f9b3c5f25a375f4edb476a9a1b1c342-60970621-76566046″ info="https://open.spotify.com/embed/album/1g4vEVvVVFvFju0gS0DMbh" width="650″ height="380″ frameborder="0″]
After the "jams not tunes" era that includes The King Of Limbs, AMOK, and Tomorrow's Modern Boxes, Yorke's latest is his most his song-oriented solo album since The Eraser. Like that album, ANIMA also feels the least like an accoutrement to Radiohead's body of work. If Yorke's band decided to call it quits tomorrow, ANIMA could stand alone as a credible foundation on which to base his own identity. The thematic concerns are familiar — technology chills the soul, the government can't be trusted, there's a fine line between nightmares and waking horrors — but Yorke updates the template in subtle and effective ways. "Dawn Chorus" might be the most singularly beautiful track of Yorke's solo career. (It also suggests that Yorke has been studying Frank Ocean albums.) And "Last I Heard (…He Was Circling The Drain)" find Yorke slipping comfortably into the role of Creepy Middle-Aged Sci-Fi Weirdo once ably performed by David Bowie.
1. Thom Yorke, The Eraser (2006)
Some reviews of ANIMA have suggested that it's Thom Yorke's best solo album — and therefore the greatest solo release from any member of Radiohead. I'm somewhat tempted to make the same argument. (As of now, I think I might like it more than either album Radiohead released in the '10s.) However, one must always be wary of the recency effect, which is why I'm instead giving the nod to Yorke's solo debut. Even more than ANIMA, The Eraser comes closest to having the heft of an actual Radiohead album. "Black Swan," "Analyse," and "Harrowdown Hill" very well could've been Radiohead songs if Yorke invited them to contribute. (Greenwood apparently played the piano part of the title track, which makes it at least 40 percent Radiohead.) In some ways, this is Yorke's most straightforward release — it's the frontman of a famous rock band essentially presenting his latest tunes in the guise of a singer-songwriter record. But that presentation actually serves The Eraser well. Many of these tracks are as memorable as anything that Radiohead put out at around the same time.