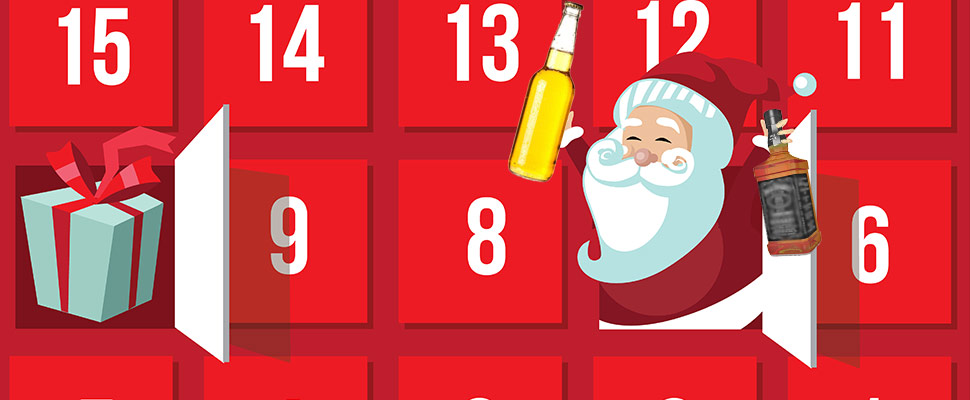 December is upon us! Winter is here. As the calendar flips over, we'll all have something to be thankful for: namely, the last wretched month of 2016. Of course, it's also time to start thinking about gifts. So this year why not treat a loved one to something that they'll enjoy every single day until Christmas — an advent calendar full of booze.
We compiled a shopping list for you to chose from to give you and your loved all the extra courage you'll need to make it through the parking lot traffic jams, office parties, family dinners, and mediocre presents. So forgo the chocolate-filled advent calendar this year and choose one of these boozy calendars to count down the final days of 2016.

Are you heading to Costco at some point before December 1st? You know you are. We all are. Costco carries a lot of booze and one of the best options this time of year is their German Beer Advent Calendar. It offers a selection German lagers, wheats, and kellerbiers. They aren't necessarily the greatest beers from Germany, but they're all suitable. And what better way to start everyday in December than a nice German beer for breakfast. ($59.99)
https://www.instagram.com/p/_uElyGAxPF/

Okay, if you're feeling a little more beer-geeky this snowman-building-season then this is for you. Each box comes with a curated selection of 24 craft beers to tantalize your palate. The advent calendar is available mail order so you don't even have to go to Costco to pick one up. Conversely you can also call up your local craft brewery and ask if they're supplying advent calendars this year. If they say no, you have our permission to ask 'why the hell not!?!' (prices vary, expect to pay between $100-$150)
https://www.instagram.com/p/BMwLpOfB8UK/
These seem to be really easy to find outside the USA because Amazon provides booze delivered to your door pretty much everywhere but America, including wine advent calendars. They are out there. Some are just a little harder to find than others. We recommend you contact your local liquor and wine outlet and demand they tell you where you can find your very own wine advent calendar because every meal in December should be drunk with some nice new wine. ($129)
MEZCAL ADVENT CALENDAR
Mezcal is so hot right now. The name literally means over-cooked agave and has a much richer, smokier flavor than a lot of tequilas. A great way to introduce yourself or a someone you deeply care about to the wide world of mezcal is to get 24 drams of the stuff to sample every single day until Christmas. Then you'll know exactly which bottle you'll love when faced with having to make a selection the next time you're in a trendy taco bar trying to look cool ordering a mezcal margarita. ($155.13)
Gin is one of those spirits that can vary ever so slightly depending on what botanicals and herbs have been pushed forward or moved into the background. The Ginvent advent calendar is a great way to explore 24 gins to help you find the gin that tastes best to you. Unfortunately, the box set doesn't come with a tonic advent calendar so you can mix up a gin and tonic highball. ($129.25)
Whiskey is a great gift for anyone. 24 drams of the water of life will get any palate up to snuff by the new year to know what you're ordering on all those 2017 bar crawls. The Very Old and Rare Whisky Advent package costs a paltry $10,362.95! But the standard Scotch Whisky Advent Calendar comes in at much more accessible price tag. Maybe go with the scotch calendar first and decide if whisky is even your thing, then you can think about spending the equivalent of a car on 24 drams of whiskey. ($165.47)
COCKTAIL BAR ADVENT CALENDAR
This may be a bit harder to come by. However, some of the better cocktail bars out there will offer an advent calendar program that highlights a speciality cocktail everyday of December. Rob Roy in Seattle does a great program, they even give you $50 gift cards if you drink 12 of the 24 cocktails that month. It's probably best to do a little investigating at your local haunts and find out which bar chefs are doing the most interesting menus because we all have plenty of reasons to spend every last day of 2016 in a bar.
BUILD YOUR OWN BEER ADVENT CALENDAR
https://www.instagram.com/p/_tQawMgM7j/
This advice comes from our old friend and beer sherpa Joe Stange over at Draft Magazine. Stange opines, "If you're like me, you really don't need help drinking beer each day of December. Like holiday music applied in careful moderation, and a bit of snow here and there, this can add a certain something to this time of the year. Feelings, even."
We couldn't agree more. So why not set a little time aside and build your very own beer, spirit, or wine advent calendar of the bottles your love, or simply want to try. Add a little decoration and a number for each and then spend December enjoying the fruits of your labor. (average $4 x 24)