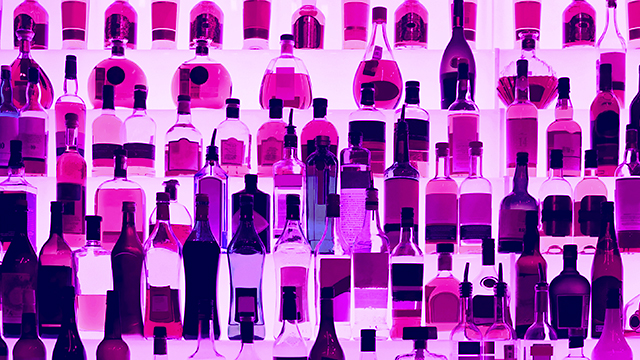 When it comes to Valentine's Day gift for the special someone in your life, you can't go wrong with flowers, chocolate, and some cool sex-stuff. But if your beloved is the drinking type, you're better off gifting them a bottle of booze. Nothing says "Let's get this V-Day party started" like a bottle of gin, bourbon, or tequila.
With so many different types of spirits and countless brands associated with each type, it's easy to get lost in the tide of booze and end up blankly staring at shelf after shelf of bourbon, rye, gin, vodka, rum, and tequila for hours (if not days). Before you know it, Valentine's Day is here and you're stuck handing over that plastic handle of margarita mix that you somehow ended up buying.
Luckily, our favorite bartenders are here to help. We asked them to tell us the best bottle of booze to give your Valentine and, unlike that year you gave your significant other jumper cables and a party-size bag of Funyuns, they didn't disappoint.
Blanton's Single Barrel Bourbon
Ryan Andrews, lead bartender at Prohibition in San Diego
"That's a hard question to answer because everyone's tastes are so different. If I was purchasing a bottle for that special someone, I'd make sure that it is something we can enjoy together. I'd pick a bottle of nice bourbon, like a Blanton's Single Barrel or Russell's Reserve Single Barrel, two rocks glasses, and nice ice molds."

L'Encantada X.O. Bas-Armagnac
Eryn Reece, head bartender at BANZARBAR in New York City
"I don't know if it's because it's such a romantic holiday, but it makes me think of France. So, I'd recommend a really nice bottle of Armagnac. Armagnac doesn't get as much love as Cognac, which is unfortunate. Armagnac has similar fruit notes yet is a bit more rustic and flavorful. One that I'm particularly loving is L'Encantada X.O. Bas-Armagnac. The people behind the bottle are huge whiskey drinkers and it shows. This is the perfect 'gateway' Armagnac for someone who loves whiskey but is looking to expand their palate. With a little smoke on the first sip it finishes with some really lovely juicy fruit."
FEW Gin
Tanya Queeney, bartender at Old Town Pour House in Oak Brook, Illinois
"For me, my favorite would be a bottle of Yellow Label Veuve Cliquot. If I'm going with liquor, a bottle of FEW Gin hits the spot — and the distillery tour is awesome,"
Monkey 47 Gin
Bobby Holler, head bartender at Ardyn in New York City
"The best bottle of booze to buy that special person for Valentine's Day can be a tricky one. There are several avenues you can take, but what I'm about to tell you is foolproof. The key to success is Monkey 47 gin. Why, you ask? Well, here's my secret. After Cupid has shot his last arrow and hung up his bow, after the red roses have wilted… you'll still have a bottle of super premium gin made from German spring water and 47 different botanicals. Enjoy over ice and thank me later."
Don Julio 1942 Tequila
Nahm Kim, head mixologist at Sunda New Asian in Chicago
What's the best bottle of booze to give that special someone for Valentine's Day? Don Julio 1942. Pricy enough to be meaningful, and it's about as elegant a tequila you'll ever find.
Mr. Black Coffee Liqueur
Will Benedetto, director of bars at In Good Company Hospitality in New York City
"Coffee liqueur is sexy. Mr. Black is particularly sexy. It's Australian so it has a great accent. Why not start or end a great night with a little-buzz going? Also, it's great with pretty much every dessert."

Campari
Kyle Tarczynski, sommelier at RPM Steak in Chicago
"What's the best bottle of booze to give that special someone for Valentine's Day? Depends on what they like to drink. I enjoy Campari, but I wouldn't be opposed to being handed a bottle of Michter's 20-year Bourbon either."
Red Breast Lustau Irish Whiskey
Mariel Burns, head bartender at Trademark Taste + Grind in New York City
"I think you should buy based on the individual for whom you are buying, however, pick something more unique and special. For example, if someone loves Irish whiskey, purchase them the Red Breast Lustau Barrel Edition. It's a great price point as well as beautifully smooth with butterscotch and dried fruit."
Eden Mill Love Gin
Hope Ewing, beverage director at Rappahannock Oyster Bar at ROW DTLA in Los Angeles
"Eden Mill Love Gin, of course! Put it in a 2:1 martini with a bianco vermouth and garnish it with a rose petal. What better way to win someone's heart than to blow their mind?"
Woodford Reserve Double Oaked Bourbon
Jason Rodriguez, beverage director at HALL in New York City
"Woodford Reserve Double Oaked hands down. I mean who wouldn't want double the love in this already beautifully crafted Kentucky bourbon. It is such a delicious and smooth bourbon that has been produced by re-barreling the original Woodford Reserve Bourbon in a second virgin charred barrel bringing out wonderful notes of dried dark fruits, sweet vanilla, and toasted marshmallow. On such a special day why not give that special someone a step above the best and go with this Woodford Reserve Double Oaked Bourbon to lead you into an even more special evening."

Bols Genever
Christiaan Rollich, bartender at Tavern in Los Angeles
"I grew up in Amsterdam and remember my parents dropping me off at kindergarten, which in my case was actually in the Redlight District — where some might say every day is Valentine's Day. The most popular spirit in the neighborhood, and indeed in Holland, is Genever, the malt-based Dutch spirit the English used as a format to make gin. I like to mix genever with Galliano L'Aperitivo and either a homemade sweet vermouth or Carpano Antica sweet vermouth to create the 'Red Light Negroni' The drink is served up in a hollowed-out-light bulb decanter which turns red when filled with the liquid. Of course, the drink is a wink to the Redlight District of Amsterdam. "