We've already run through the highest-scoring bottles of bourbon from this year's Ultimate Spirits Challenge and now we're fixing our gaze on the highest scoring añejo tequilas. The judges at the Ultimate Spirits Challenge (USC) have been judging the world's best spirits for 10 years and they take booze seriously. So seriously, in fact, that they didn't let a global pandemic stop them from convening over two full months at a state of the art tasting facility in Hawthorne, New York, to sample booze from over 45-spirit producing nations.
The result of all that spirits tasting is a carefully curated list of the best spirits in any given category, and a wonderful resource for anyone blindly buying bottles of alcohol. Below, we've collected the top 10 scoring añejo tequilas and included tasting notes from the USC or the bottlers themselves. Before we dive into the list, we should mention that this rundown doesn't include the highest-scoring Añejo, 818. Winner of the USC's highest honor, the Chairman's Trophy, 818 isn't available to purchase in the states and has absolutely no online presence.
According to the USC, 818 Añejo has "earthy aromas of pine and yellow fruits mixed with vanilla. Sweet on the palate with brown sugar, vanilla syrup, and spicy cinnamon… Hints of roasted agave come through on the long spicy-sweet finish." But since you're probably not getting offered a sip of that elixir anytime soon, here are the highest-scoring Añejo Tequilas from the Ultimate Spirits Challenge that you actually can track down.
Corazon De Agave Anejo, (95 Points)
ABV: 40%
Distillery: Casa San Matias Distillery
Average Price: $34.99
The Tequila:
At just $35 a bottle, Corazon De Agave is the best Ańejo tequila you can find for under $50. Produced at the Casa San Matias Distillery, Corazon de Agave is made from blue Weber agave hand-harvested and distilled in the red soil highlands of Jalisco and aged using a process that has been developed and perfected over the brand's 130-year history.
Each bottle of Corazon de Agave's Anejo tequila is aged for 16-18 months in American oak barrels resulting in a beautiful even-toned amber color. This expression was a finalist, a "Great Value" pick, and one of the contest's Top 100 Spirits.
Tasting Notes: (Ultimate Spritis Challenge)
Cinnamon, soft vanilla, tobacco, and earthy agave notes are playful and integrated on the nose. In the mouth the flavors are grassy, flanked with caramel and cigar box spice. The smooth texture is punctuated by piquant spice throughout.
Tattoo Organic Anejo (94 Points)
ABV: 40%
Distillery: Imported from Mexican by Anarchy Brands
Average Price: $49.99
The Tequila:
Born in a tattoo shop by label heads Tequila John and master distiller Ruben Rodriguez, Tattoo Tequila features a dressed-in-black biker aesthetic. If you're all about the appearance of a clear bottle of earth-toned añejo, we don't blame you for wanting to look elsewhere. That would be a mistake when it comes to flavor though — inside the blacked-out bottle, you'll find a deep amber tequila with bright golden highlights worthy of the most transparent labeling.
Tattoo's Añejo Tequila is crafted using 100% organic USDA-certified blue agave and aged in American oak barrels for a full year.
Tasting Notes: (From Tattoo Tequila)
A white-wine appearance with golden highlights. The aromas are nuanced, with yeast, white peach, and toasted hazelnut. Understated flavors of banana, orange zest, and toasted oak are striking in their soft entry. This is an elegantly aged tequila with grace and finesse.
Cierto Reserve Collection Anejo (94 Points)
ABV: 40%
Distillery: La Tequileńa
Average Price: $375
The Tequila:
At $375 a bottle, Cierto Reserve is a tequila designed to be sipped. Straight from the town of Tequila, Cierto Reserve relies on the expertise of master distillers Enrique Fonseca and Sergio Mendoza, two fourth and fifth-generation agraveros who have spent years honing their craft, continuing a legacy of Tequila that stretches back to the 1800s.
For Cierto Anejo, Fonseca and Mendoza give the tequila the time it needs to age to perfection in French Limousin oak, resulting in an expression with a smooth as silk texture and a glittering golden color.
Tasting Notes: (From Cierto Tequila)
This smooth expression opens with luxurious orange and oak aromas and finishes with a complex array of coffee, chocolate, and caramel flavors. Best when served on the rocks and savored slowly.
Azunia Black Private Reserve Extra Aged Anejo (94 Points)
ABV: 40%
Distillery: Rancho Miravalle
Average Price: $120
The Tequila:
Azunia's Private Reserve is made using 100% pure Weber blue agave right from the heart of the Tequila Valley, and undergoes a natural open-air wild borne-yeast fermentation and bottling process, resulting in a field-to-bottle ańejo that produces a strong sip after a hard day's work. With agave harvested by hand and roasted for 36 hours in traditional clay hornos, Aznuńia Black is then aged for two years in American Oak barrels, resulting in a deep amber finish before finally being bottled and personally signed by Master Distiller Salvador Rivera Cardona.
Tasting Notes: (From Distiller)
Azuñia's añejo adds mature woody tones to its nose of spicy agave and green olive tapenade. Spice and wood surge on the palate, with white pepper giving way to black, cinnamon bark retaining its grip and spiced Mexican chocolate emerging on the lush finish.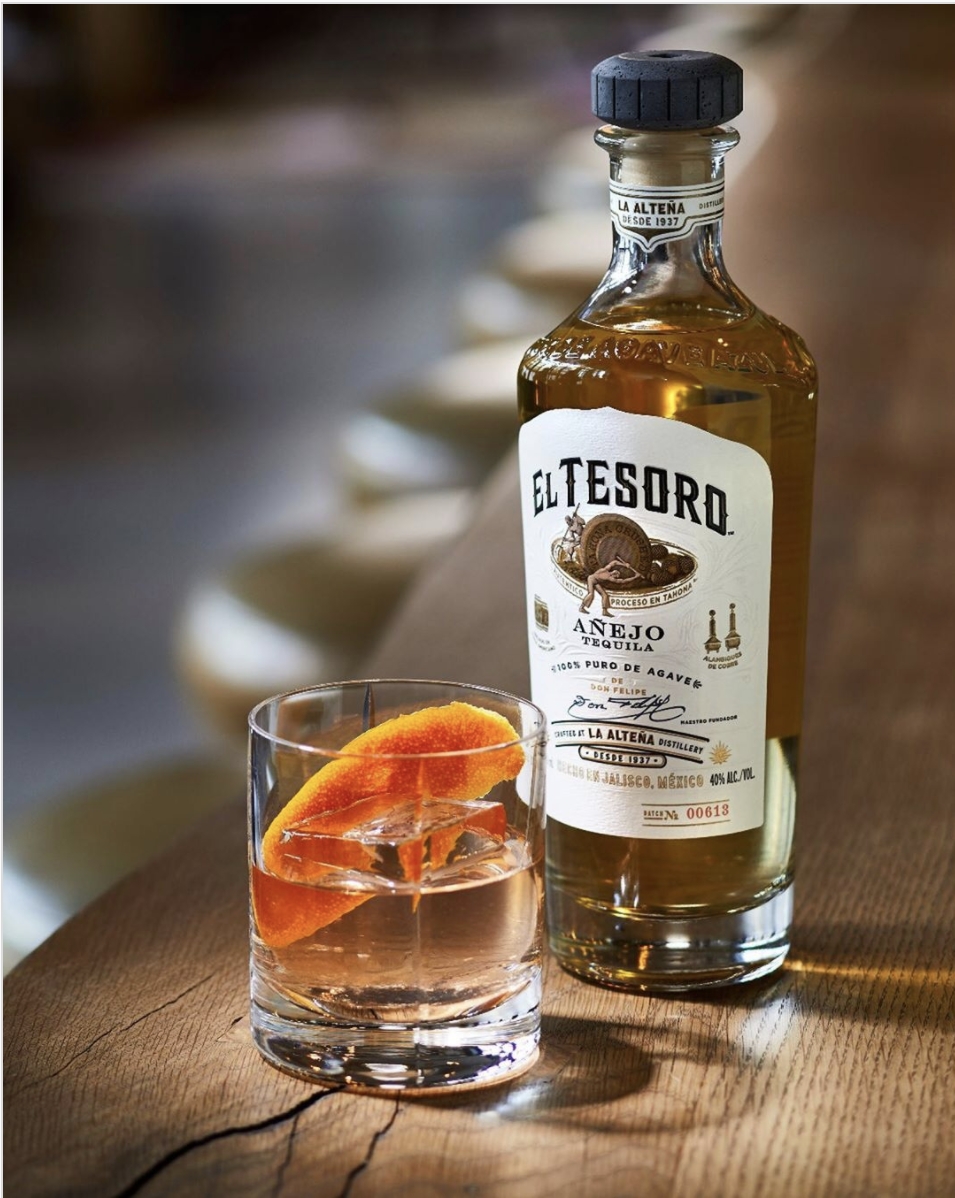 ABV: 40%
Distillery: La Alteńa
Average Price: $54.99
The Tequila:
Family owned and operated for over 80 years, El Tesoro ages its ańejo tequila in ex-bourbon American Oak barrels for two to three years, which boosts the oak-influenced flavors of vanilla, caramel, and maple, for a stunningly complex Tequila with a hint of darkness.
Harvested from Weber Blue Agave from the Camarena estates, the piñas used in El Tesoro are chopped with precision and given a consistent shape to ensure every agave is cooked to perfection, in a 48-hour slow-cooking process that helps to intensify the natural flavors.
Tasting Notes: (From El Tesoro)
Floral jasmine and oaky character with agave back notes. Sweet agave balanced with pepper, oak, and floral tones
Familia Camarena Anejo (93 Points)
ABV: 40%
Distillery: Casa Camarena
Average Price: $29.99
The Tequila:
Even if you aren't picking up a USC-recognized bottle of Añejo, the tequila produced by Familia Camarena is some of the best you can find on a budget. So the fact that you can pick up this bottle of award-winning Añejo tequila for just $30 feels too good to be true. It isn't. Introduced just last year, Camarena's Añejo relies on a proprietary method that mixes traditional oven roasting with more modern techniques, resulting in a remarkably consistent tequila ideal for enjoying neat and cheap enough to warrant using in your favorite tequila-based cocktail without feeling like you're missing the point.
Tasting Notes: (Ours)
It's doubtful you're going to find the rich intensity of flavors present in the other bottles on this list, but Camarena's Añejo holds its own with flavors of citrus and vanilla punctuated by hints of smokey oak that give it an almost Mezcal quality. A sip of this will provide a slightly bitter burn before mellowing out and letting the more interesting flavors take the center stage.
Storywood Speyside 14 Anejo (93 Points)
https://www.instagram.com/p/CBd_tOaHAvG/
ABV: 40%
Distillery: Distiller La Cofradia
Average Price:£29.00
The Tequila:
Storywood is one of the more interesting brands on this list, aging its tequila in single malt Scotch whiskey oak barrels hailing all the way from Scotland. Don't get it twisted though, Storywood still pulls their 100% blue agave from the lowlands of Jalisco, harvested at full 10-year maturity, and marries them with the natural spring water from the Volcan de Tequila. Then they pour the distillate into a Scotch cask for 14 months to give it a toasted oak and roasted nut finish.
Unfortunately, Storywood's unusual process means that a bottle still isn't available in the states.
Tasting Notes: (From Storywood Speyside)
Toasted oak, roasted nuts, and treacle toffee.
Tequila Ocho Añejo (93 Points)
ABV: 40%
Distillery: La Alteña
Average Price: $64.99
The Tequila:
Tequila Ocho takes its agave sourcing very seriously, marking each bottle with the precise field from which it was sourced on the Los Altos De Jalisco family farm to ensure consistency. Tequila Ocho's Añejo utilizes eight-year-old matured blue agave that is hand-harvested, producing a tequila that is then aged in ex-American Whiskey barrels for a full year, resulting in a tantalizing golden hue.
Tasting Notes: (Ocho Tequila)
It initially opens up to cinnamon, brown sugar, apricots, and toasted almonds. In the middle comes some plum, lavender and black olives. This complex tequila finishes with coffee and cacao accents.
ABV: 40%
Distillery:
Average Price: $28.99
The Tequila:
Using a more modern process, Bribon harvests its blue agave at 7-10 years and cook it at 100 degrees Celsius for a full 18 hours before shredding it and leaving it to ferment in tanks. Bribon then lets their tequila age in Bourbon casks for 18 months resulting in a dark amber hue that is beautifully shown off thanks to the brand's minimalist approach to labeling, a welcome trait for a brand that produces a spirit this eye-catching.
If that wasn't enough — Bribon is cheap too, which makes it an easy favorite for us.
Tasting Notes: (Bribon)
Layers of oak and vanilla. The palate is rich, with a slightly sweet tone and a woody character. Best served neat.
Expresiones Del Corazon De Agave Thomas H. Handy Sazerac Anejo (92 Points)
ABV: 40%
Distillery: Casa San Matiás
Average Price: $79.99
The Tequila:
Over 130 years, Corazón Tequila has perfected a process that brings the tastes and smell of their tequila to the forefront, resulting in a sweet and floral blend produced by artisans who put their whole heart into each step of the process, hence this Tequila's name, "Expressions of the heart." Aged exclusively in Sazerac whiskey barrels for 19 months, Expresiones Del Corazón is an unusually light añejo with a light gold hue, setting it apart visually from every bottle on this list.
Tasting Notes: (Caskers)
Complex notes of red pepper and cinnamon spice, dark chocolate, burnt caramel, and smoldering oak.