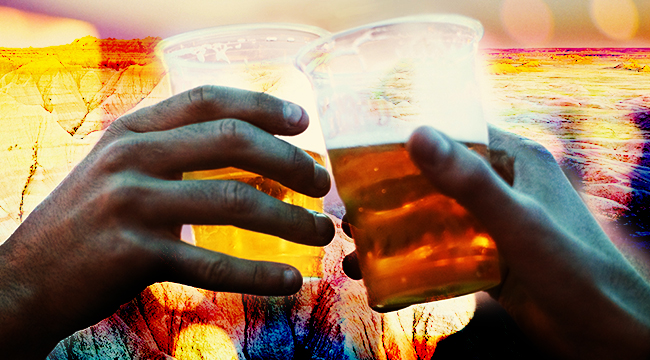 You can't get any more middle America than South Dakota. It's the sort of place that makes for the perfect pit stop while driving across the country. Unfortunately, a quick pit stop is all of South Dakota most people ever see. It deserves better. The state, and the Black Hills, in particular, merit time for delving. The mystical Badlands, the endless seas of grass where the buffalo literally roam, the craggy mountains, small towns, and monuments make the region a wholly unique corner of the country. There's also a great, low key beer scene bubbling away in those hills.
Brewery crawling through the towns and beer bars of the Black Hills is huge fun. The beer is great — there's no denying that — but what really makes the region's beer scene shine are the people you meet. This is a part of America where striking up a conversation with a brewer, bartender, local, or tourist is as simple as sitting down and ordering a brew. There's an ease to interactions that makes the whole scene one of the most welcoming you'll ever come across.
Let's jump into ten of the must stop beer destinations around South Dakota's Black Hills.
Miner Brewing Company — Hill City
Miner Brewing focuses on bringing South Dakota into the craft beer experience. Brewmaster Sandi Vojta started Miner to highlight the local ingredients and atmosphere of the Black Hills and it's been a fantastic success.
Vojta's beers are a nice blend of classic brewing styles amped up with local chokecherries and black currants. There are plenty of standard and expertly brewed ales on the list if you're not up for a berry infused masterpiece. But, trust us, you need to try the Chokecherry Brown Ale. The beer has a nice malty base that hints at sweet biscuits. Then sweet and tart South Dakota chokecherries come through in the end, giving the ale a super refreshing edge.
Pair that with a sausage and sauerkraut flatbread pizza and you're set.
Independent Ale House — Rapid City
A great beer bar is always a hoot. Independent Ale House is just that. The 40 rotating taps offer the beer lover a wonderful selection of stone cold standards like Guinness, right alongside some of the best craft being brewed in the region.
If you're not sure what to drink, the pourers are always smiling and up for a convo about what's on tap. You can spend a lot of time here exploring beers from all over America. Don't sleep on the pizzas either. They're legit innovative and tasty. We can't recommend Dub's Thai enough. It's topped with peanut sauce, garlic, cheese, spinach, coconut, carrots, red onion, and garam. It's addictive and the perfect pairing for a local lager. Though Bob's Popper is also amazing. It has ranch, cheese, jalapeño, bacon, cream cheese, raspberry preserves. Pair that one with a nice imperial stout and, ho boy, you're in for a treat. Make sure to order a pizza with your beer, is what we're saying.
Sick-N-Twisted Brewery — Hill City
https://www.instagram.com/p/BVmuOMelqkY/
Sick-N-Twisted focuses on the local scene, ingredients, and community. The beers shine brightly here with a keen eye on crafting great classic brews with a little extra oomph. The brewery has 14 rotating taps with a set of year-round suds and a set of one-offs that the brewmasters have experimented with.
Their Buzz Light, a cream ale, has a wonderfully sweet edge from corn and malts that leads into a fizzy lager finish. It's super refreshing on a hot summer's day. You really want to focus on their one-offs though. These are the beers you won't get anywhere else in the world. And, it may well be the only time that beer is ever brewed. Treat yourself to something special when you pull into Sick-N-Twisted.
Hay Camp Brewing Company — Rapid City
Back in Rapid City, Hay Camp Brewing Company is killing the game with their eclectic mix of beers. The brewery and taproom are a can't miss destination in Rapid City whether you want to drink beer all day or not. There's always a lively scene of locals enjoying a great beer at this place. It's just a good time with good beer at the ready.
Right now, they're pouring their imperial stout. It's a big beer with a nice balance of dark chocolate and roasted coffee bitterness with echoes of sweet malt. It's velvety and delicious. Give their very local Extra Special Dakota, or ESD, a try. It has a great floral hoppiness with a clear and crisp caramel malt sweetness. You won't be disappointed.
Highway 79 Brewery and Scratch Kitchen — Hot Springs
Highway 79 Brewery brews some killer suds. What makes this stop essential is their taproom. They've devoted 32 taps to their brews and all the beers they can pull from local breweries. This place is all about celebrating the best beers being brewed in South Dakota first, then the region, and then the rest of the country. It's a beer paradise with 32 great options to fill your day.
What we love about this brewery is the quirk. Their Smoky Da Beer is a smoke-infused Alt beer that feels very German by way of American cherry forest. Then there's the Pick-Ale which infuses pickle brine into a hoppy and slightly malty red beer. It's delightful. Pair that with some fall-off-the-bone ribs and you'll be good.
Firehouse Brewery — Rapid City
Firehouse Brewery in the heart of Rapid City feels essential. The bar and restaurant is a favorite amongst locals and vagabonds alike. And, yes, it's actually in the old Rapid City firehouse. There's no kitsch to it though. It's an honest place that serves well-crafted brews alongside classic pub fare.
The Rocket Rye IPA stands out with a slightly spicy crispness that works really well with the hoppy bitterness. Their Smokin Betty also deserves a little attention. The smoke infused beer will transport you to someone's backyard BBQ with the first sip. Grab a buffalo burger or some of the brisket (or both) and enjoy.
Spearfish Brewing Company — Spearfish
Spearfish Brewing pulls off the delicate balance of being both interestingly innovative and endlessly classic. The hip taproom focuses on crafty suds that hit a sweet spot of interesting and delicious. The crowd is very much beers lovers who want to experience beer culture at its best, without getting too over-the-top about it all.
A must-try is Spearfish's Bobcat Logic. It's a kettle fermented brew that feels like a direct descendant of the deliciously tart Berliner Weisse. Their Hills Have Ryes and Venner are two more essentials. The former has a spicy edge with a nice hint of cocoa. The latter is a light lager that hits the perfect balance of malty sweet and subtly hoppy.
Crow Peak Brewing Company — Spearfish
https://www.instagram.com/p/BakY47-hWvw/
Just down the road in Spearfish, Crow Peak Brewing offers a very Black Hills experience for beer lovers. The wood house brewery/taproom with the surrounding beer garden is a great spot to drink great beer. They also serve homemade pies. Yes, craft beer and pies are fantastic together to the point that you'll wonder why no one else is doing this.
Crow Peak's Black Currant Gose is a great summer sipper. The sour of the beer and the semi-sweet/semi-sour currants are a perfect partnership in a glass. Their Pile O'Dirt Porter is another can't miss. There's a nice sweet biscuit maltiness here with whispers of hoppy bitterness waaaaaay in the background. It's very quaffable, especially on a hot day after you've put in a lot of miles in the ol' family truckster.
Woolly's Grill and Cellar — Hot Springs
Woolly's Grill is a great spot. The menu is very American with plenty of steaks and burger that lean into comforting. The place is also super welcoming and very low key. Then there's the beer. They brew their beers from the local spring water (which they also serve ice cold on every table). There's a real softness to the water that translates excellently into the three styles they brew: An ale, IPA, and stout.
The highlight of Woolly's is their Black Buffalo Stout. The beer has a delicate texture with hints of coffee and mocha chocolate. The softness of the spring water brings about a creaminess that's punctuated by a nice crisp finish. Order a spot on buffalo burger, or buffalo steak for that matter, and enjoy this wonderful beer.
Lost Cabin Beer Company — Rapid City
Finally, back in Rapid City, you can't miss out on Lost Cabin Beer Company. The hip spot brews and serves some seriously creative suds alongside a chef'd up comfort food menu with plenty of geeky board and card games at the ready. The place really nails the living room feel. So much so that you can spend all day and night here drinking dope craft, eating tater tots, and slaying elves.
There are two tap sets to choose from at Lost Cabin. They have a 12 tap selection of their classic brews in their Tasting Room. Their Liar's Chair saison is a must try if you're into the sour funk. Then there's their Barrel Room with six taps devoted to barrel aged masterpieces. Their Stormtroopers In Love Russian imperial stout and Jerry the Pigeon saison are essential pours that'll nourish your beer-loving soul. Good luck trying to leave this place.