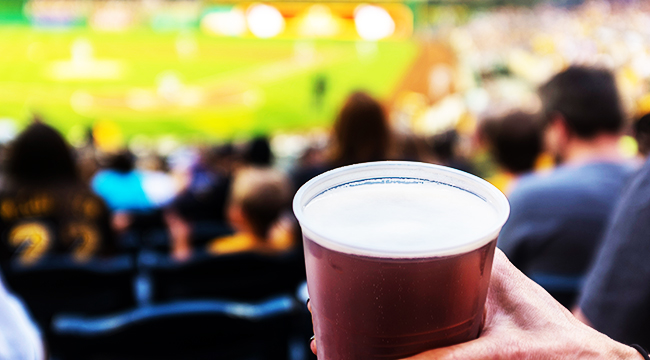 This will come as pretty depressing news, but summer is almost over. Sure, technically we still have almost two months of summer left, since the last official day is in late September. But who really counts September as summer? If you're a student or teacher, school has already started and besides, many of us are already swapping our shorts and sandals for jeans and sneakers by that point.
The impending doom that is the end of summer also means we only have a few more months to watch baseball. If you enjoy the three or four-hour marathon that is "America's Pastime" it's time to buy tickets for your local Major League, Minor League, or neighborhood beer league. And the perfect accompaniment to a game (as we all know) is an ice-cold brew.
That's why we asked some of our favorite bartenders to tell us their go-to beers to session while watching the ballgame.
Lagunitas A Little Sumpin' Sumpin'
Rich Depascale, beverage manager at The Wilson in New York City
Lagunitas A Little Sumpin' Sumpin'. The perfect mix of hops and pale ale, crisp, and bursting flavor in this hoppy pale wheat ale.
Whenever we have people over to watch any sports, I go to the local supermarket to buy beer and find myself looking at the endless selection of craft beer choices. After standing there for 20 minutes plus, I almost always just end up going to my old reliable.

Leinenkugel Summer Shandy
Justin Monell, general manager at BLVD & MAIN in Las Vegas
Leinenkugel's Summer Shandy. Any summer drink has to be refreshing, and if you're drinking this while catching a game, it's perfect to keep drinking because it's not heavy, either.
Old Style
Jack Galobich, bartender at The Gage in Chicago
Cold Old Style in one hand and a hot dog in the other at Wrigley Field is typically the correct way to do such things.
Coors Light
Josh Cameron, head bartender at Boulton & Watt in New York City
At baseball games, my buddies buy me those huge Coors Light cups, and I end up loving them. There is something about baseball, yelling at Red Sox fans, and Coors Light, that just feels right.
Michelob Ultra
Nacohle Hansen, bartender at Hazel, Ravines and Downtown in Birmingham, Michigan
When I'm drinking while watching a game, I will have a few. So I like to stick with a lighter option. My go-to is Michelob ULTRA. It's light and refreshing.
Latitude 33 Blood Orange IPA
Joey Biñas, bartender at Bootlegger in San Diego
I'm sitting in a bar watching baseball, I really like to go with IPAs; they're fuller, pretty easy to drink and in large supply. I tend to go for citrusy IPAs, like Latitude 33's Blood Orange IPA. They have an easy finish and offer a nice burst of citrus that you don't normally get from pale ales.

Unibroue Maudite
Torrence R. O'Haire, beverage director & sommelier at Gage Hospitality Group in Chicago
I find watching baseball to be endlessly boring, but my friends all love it. So I'm going to bring along some Unibroue Maudite ("The Damned"); not only because it's spicy and delicious, but also because at almost 9% alcohol, I won't care about the game for long.
Watching soccer, on the other hand, I'll cheer on the French team with some flowery Meteor Pils – allez les bleus!
Modelo Especial
Casey Lyons, bartender at Pacific Hideaway in Huntington Beach, California
In order to get through all 29 outs and remain properly hydrated, I recommend a tall boy Modelo. Just make sure to stock up before the end of the sixth inning or you're going to be parched by the time the game is over.
Budweiser
Laura Mitchell, bar lead at BEER PARK in Las Vegas
Definitely Budweiser. I mean, it's the king of beers. Plus, is there anything more American than baseball? These two go hand in hand and a Bud is so refreshing during a game.
Goose Island 312
Mark Hawkins, director of food and beverage at RT Lodge in Mayville, Tennessee
If you're wanting to watch baseball in Chicago, I'd say skip Wrigley Field and head across the street to Big Star. The energy is incredible during game times and who can pass on bacon-wrapped hot dogs and craft tacos. They have a wide selection of local craft beer from Chicago's favorite breweries like Spiteful Brewing, Half Acre and of course Goose Island. So I'll grab a Goose Island 312.
J. Wakefield Hops 4 Teacher
Ilan Chartor, spiritual advisor at KYU in Miami
My favorite beer to watch at a game is Hops 4 Teacher IPA. Hoppy and enough ABV content to get you a buzz but the drinkability of a light beer. Normally you can only have a few IPAS. This one is a repeat order for sure.
Perennial Hopfentea
Megan Reynolds, certified Cicerone at R&R Taproom in Woodstock, New York
Perennial Hopfentea is what I'd drink while watching a sports event, it's a Berliner Weisse that's refreshing in the heat, with a low ABV so you can have a few.
Heineken
Matteo Caniglia, restaurant manager at Honey Salt at Parq in Vancouver, Canada
My favorite beer to drink while watching baseball is a light, refreshing classic. Heineken—very easy drinking, and you can have lots of them and not be tired of the taste.

Amstel Light
Kelly McGee, beverage manager at Park Avenue Tavern in New York City
Honestly love baseball so much you could put any lager in my hand, and I'd be satisfied. But if I have a choice to drink while I'm watching my favorite sport it would have to be an ice-cold Amstel light. Light enough to drink a few of them but has actual flavor for a light beer.
Jever
Leal Ransone, bar manager for Plat 99 in Indianapolis, Indiana
Ice cold, light and crisp for me; Jever, if you have it. Pacifico, if you don't. Whether you're at the game and need something to cool off or are at home and just watching the game and not wanting to pay attention to how many sips you're taking, it's the best of both worlds.