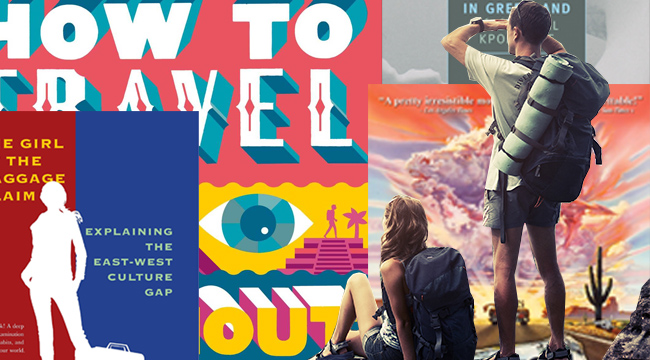 Your first big backpacking trip will be unlike anything else you do in your life, travel or otherwise. While you're on the road, you'll learn non-stop, about… an almost endless array of things — do's, don'ts, shoulds, shouldn'ts, hacks, and the humanity of everyone you encounter. Growth and personal evolution are inevitable byproducts of vagabonding. We're not saying you have to travel in order to improve as a human. But amidst the parties and the hot springs and the tree houses… a little progress on the personal front isn't a bad perk, right?
Even if you're not into all the woo-woo personal growth stuff, it's nice to read some books before and during your trip to add context to the act of travel. Like life on the road, books (novels in specific) are proven to increase empathy. Besides, when you backpack you have a lot of downtime — this is your chance to catch up on a few classics.
To help guide you, we've made a list of essential books to read before, during, and after your first big, horizon-expanding trip.
Video Night In Kathmandu
If you plan on making your way throughout Asia—whether Hong Kong or Tibet, the Philippines or Bali—you must read Pico Iyer's 1988 travel narrative, Video Night In Kathmandu, And Other Reports From The Not-So-Far East. In the mid-80s, the world was shrinking faster than ever. Iyer, a writer for Time, spent seven months over the course of two years "crisscrossing the continent on four separate trips, mostly in order to see its sights, but also in order to visit the front line" of what he calls the American cultural campaign or "pop culture imperialism."
Mohawks in Bali, Pink Floyd, Bob Dylan, and pizza in Nepal, and hamburger restaurants featuring live renditions of Bruce Springsteen songs in the Philippines: this is the Far East that Iyer discovers, one that is slowly being infiltrated by the west. Whether this is good or bad is largely up to the discerning reader, but Iyer writes with clarity about the gap between a desire to consume and a desire to observe when it comes to travel.
One thing is for sure: Iyer was able to see clearly what huge waves of western tourism would do to once-remote countries in the coming decades. -LD

The Art of Travel
Alain de Botton has the sort of brain that readers want to crawl inside and cozy up in. His ideas often surprise you — then fold back on themselves in even more surprising ways. He's also instensely self-aware and his "foreigner's gaze" is put into the proper context (rather than ever treating new cultures as "the other").
If you're prepping to head out on a big trip, you need quotes like this one:
At the end of hours of train-dreaming, we may feel we have been returned to ourselves – that is, brought back into contact with emotions and ideas of importance to us. It is not necessarily at home that we best encounter our true selves. The furniture insists that we cannot change because it does not; the domestice setting keeps us tethered to the person we are in ordinary life, but who may not be who we essentially are.
"Yes! Yes!" You'll cheer. "This guy gets it!" And he does — in a way that is both full of big ideas and brimming with a sort of un-jaded joy that is all too rare these days. Read this book as a way to calibrate your senses to an era of your life spent on the road. An era where newness is everywhere and slowing down enough to appreciate that newness is essential to your enjoyment. -SB
Black Elk Speaks
This isn't so much as travel story as it's a story of a life lived through the most turbulent of times. Black Elk was a holy man who killed his first colonizer at the Battle of Little Big Horn. From there, he witnesses the destruction of his entire society as American colonists spread across his people's lands. The crux of this tome is Black Elk's insight into the lost frontier and the genocide he witnessed first hand.
If you're traveling through America, this book is massively important to understanding our history. Look, it's not an easy read. There are moments of harrowing ethnic cleansing throughout that will rattle you to your core. Still, to truly understand the Great Plains of America today and to truly immerse yourself in the reality of who we come from as a nation, Black Elk Speaks is monumentally important.
Read this book as you travel through Montana, South Dakota, and Minnesota. It'll change your life and how you view this place we call America. -ZJ
How To Travel Without Seeing
Thoughtful, fast-paced, literary: this is How To Travel Without Seeing: Dispatches From The New Latin America by Andrés Neuman.
What is the goal of travel? Neuman asks himself this fraught question when he wins the prestigious Premio Alfaguara and visits 19 Latin American countries on a whirlwind trip. So Neuman compiled his observations on history, politics, literature, and culture as he moved from country to country. What do we (travelers) see or not see? How has Latin America transformed? What does the vagabond experience? Is this the same experience as those who live in a place?
This quick read explores the tension between broad travel—visiting as many places as possible—and deep travel, and whether we can ever truly understand the places that we visit. -LD
Blue Highways
William Least Heat-Moon's book, pubbed in 1982, is the predecessor of all #VanLife travel feeds. After getting divorced and fired in one shitty year, the author kitted out a van — called "Ghost Dancing" — and hit America's "Blue Highways." Those are the roads on the old Rand McNally Atlases that were marked in blue, denoting that they were scenic byways. It's a journey through small town, rural America, written at a time when the nation's focus was on booming cities.
The book is a reflective travel journal, a treatise on America at the turn of the 80s, and one man's meditation on loss, failure, and rebirth. It's also a hell of a fun read. Least Heat-Moon is a keen observer of humans and the people he meets add incredible texture to the book.
This was on the New York Times Bestseller List for 42 weeks when it was released, so it's a verified classic. But it as you plan your own epic, growth-filled American road trip. For bonus points, pair it with the two books Least Heat-Moon brought with him in his Ford Econoline: Leaves of Grass and Black Elk Speaks (both of which are on this list!). -SB

The Joke
Moving to Prague feels like a right of passage for any 20-year-old. The medieval city is ethereal and draws you into its cobbled streets, beer, and people very deeply. Another right of passage for anyone heading to Prague is Milan Kundera. The Czech-born French writer cut to the heart of the Soviet-Czech experience with wit and pathos in ways rarely replicated in the literary world.
Among Kundera's books, The Joke is probably the most obvious choice but remains the most poignant. The story follows a young Czech as he's ostracized from society for sending a joke on a postcard to a friend. His life is turned upside down as he becomes an enemy of the state and, essentially, a slave to the Soviet system. The book serves as a stark reminder of what life was like behind the Iron Curtain only one generation ago. It's an insight that's never fleeting and always enlightening. -ZJ
Discourse on Colonialism
Aimé Césaire's Discourse on Colonialism is a slim volume, clocking in at just shy of 80 pages. But that's all Césaire needs to create a poetics and a discourse on colonialism, and "the brutal impact of capitalism and colonialism on both the colonizer and colonized."
If you're going to travel through Latin America, the Caribbean, or Africa, read this book to understand the forces at work in political and social structures. It's portable and utterly re-readable and, most importantly, it's essential for any traveler who doesn't want to fall into the traps of colonized travel. -LD
On The Road
https://www.instagram.com/p/BoJhPI2FHO_/?tagged=jackkerouac
This book is profane, experimental, brave, weird, and absolutely brimming with life. The stream-of-consciousness style essentially gave birth to the beat generation and launched Jack Kerouac's career into the stratosphere.
The novel's show-stealing star is Dean Moriarty, based on real-life vagabonding hero Neal Cassady. The character's absolute incandescence literally leaps off the page. If you're on the road yourself, just reading about Moriarty feels like prescriptive travel writing — it makes you want to live more, bigger, wilder and soak in literally every sensation. It makes you want to find your own Dean to travel with. As Kerouac writes:
…the only people for me are the mad ones, the ones who are mad to live, mad to talk, mad to be saved, desirous of everything at the same time, the ones who never yawn or say a commonplace thing, but burn, burn, burn like fabulous yellow roman candles exploding like spiders across the stars and in the middle you see the blue centerlight pop and everybody goes "Awww!"
In an era when phones and filters often keep us from truly feeling, this novel is a road tripper's "must read."
Into Thin Air
Adventure threatens your life. That's what separates an adventure from regular ol' travel. There are few places in the world more life-threatening for humans than Mount Everest. Yet, every year, humans tempt fate and life and limb to summit the tallest peak. Not everyone makes it back home.
Jon Krakauer's Into Thin Air chronicles in devastating detail the 1997 Everest disaster that killed eight climbers in one storm. It's harrowing and deeply personal. Krakauer posits how mad you have to be to put your life on the line for such a random task. There are lost souls on that mountain, thrill seekers, and mad ones.
In the end, a book like this leaves you wondering if it's all worth it when you're traveling along that thin line between adventure and death. The answer is all on you. -ZJ

The Girl At The Baggage Claim
Gish Jen's 2017 The Girl At The Baggage Claim opens with two epigraphs: the first, from Gustave Flaubert, asserts, "There is no truth. There is only perception." The second, by Swiss psychoanalyst Carl Jung, states, "Everything that irritates us about others can lead us to an understanding of ourselves."
So begins Jen's exploration of the differences between eastern and western mindsets: how we differ when it comes to selfhood, purpose, and much more. Using her own experiences as a Chinese-American and "cutting-edge" cultural psychological research, Jen pushes readers to consider our own cultural constructs and what we can learn from one another.
A very worthy read if you want to step outside of your own cultural bounds. -LD
Seven Years in Tibet
It's likely that you only know Seven Years In Tibet as that Brad Pitt movie where he's super blonde and kind of a Nazi mountaineer. The story is so much more than that. The autobiographical travel diary tells the story of how two radically different cultures can coexist and learn from each other. It's really a sort of buddy travel tale that just so happens to include a young Dali Lama — which sounds crazy when you write it out in a sentence.
The non-holy half of that duo was Austrian mountaineer Heinrich Harrer. Harrer is complex, ever-evolving, and open-hearted as he survives nature, integrates into Tibetan society, and becomes close friends with the Dali Lama. This is the ultimate story of traveling with an open mind and becoming a bigger person for it. If you're on your way to Tibet or the Himalayas anytime soon, this is a must-have. -ZJ
The Beach
Every world traveler has dreamt of the Utopia Project — where sex is free, food is hand-picked and caught, love abounds, and office drudgery is a world away. This book was iconic for the "Lonely Planet Generation" of backpackers. It's an ode to getting off the beaten track and, more importantly, to defining your own version of paradise.
Does it all end in murder and druggie mayhem? Sure. But there's plenty of bliss that precedes the chaos and the longing to carve out your own little corner along the SE Asian "Banana Pancake Trail" has created angst for many a traveler.
Read this book if you're headed to SE Asia on an extended trip, or if you want to check the first published work by Alex Garland — who has gone on to write and direct movies like 28 Days Later and Ex Machina.
Travels With Charley
"Most areas in the world may be placed in latitude and longitude, described chemically in their earth, sky and water, rooted and fuzzed over with identified flora and people with known fauna, and there's an end to it. Then there are others where fable, myth, preconceptions, love, longing, or prejudice step in and so distort a cool, clean appraisal that a kind of high-colored magical confusion takes permanent hold…One quality of such places as I am trying to define is that a very large part of them is personal and subjective."
If you're thinking of doing a road trip across the great wide US, make sure to bring a copy of John Steinbeck's memoir-cum-travelogue. At 58-years-old, toward the end of a prestigious literary career largely based on writing about America, Steinbeck realized that he didn't know much about what he called the "new America." So he outfitted a brand-new pickup truck with all of the essentials, including a custom camper shell and plenty of alcohol to share with those he met along the way, and hit the road with his standard poodle, Charley, in 1960.
This book is a beautiful reflection for the road tripper. Especially the American road tripper feeling nostalgic and reflective.
-LD

The Powwow Highway
Powwow Highway is the ultimate road trip book. Philbert trades some weed for a Rez car he calls his war pony and names "Protector." Meanwhile, Buddy Red Bow finds out his sister has been arrested in Santa Fe and enlists Philber and Protector to strike out and save Buddy's sister and help her kids get back to Montana.
The road trip that ensues is a classic tale of two mismatched wanders meandering through the American West. They argue over spiritualism, driving speeds, and even where to stop to eat. It's a universal story told through the lens of Americans we choose to forget. That's what makes it a wholly unique travel book that every road-tripper needs to read before hitting that open road on their very own war ponies. -ZJ
Leaves of Grass
I celebrate myself, and sing myself,
And what I assume you shall assume,
For every atom belonging to me as good belongs to you.
Oh, no big deal, Walt Whitman's life's work is probably just the most important poem in American history — certainly in the history of travelers. It's a hobo epic and an ode to the world around us. This book is a celebration of life, the road, the five senses, and nature. It's sexual and vibrant and pulsing with life.
Buy this if you're about to hit the road — from Michigan to Milan to Madagascar. It will help you appreciate every tiny atom along your epic adventure. -SB
Nation of Fools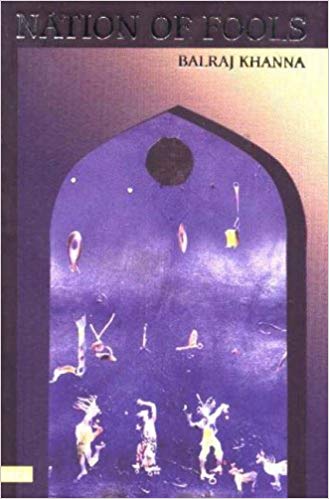 A trip to India is a harrowing experience. The poverty is real. The culture is unique. You'll need an entry point and Balraj Khanna's Nation of Fools is a great one.
The book starts off as a Hindu family from Peshawar, in Islamic Pakistan, is resettled in India post-WWII. As the patriarch of the family works his way from selling candy on the streets to having his own restaurant, his young son goes through the throes of teenage life while trying to adjust to the new, post-colonial India he finds himself living in. It's a fascinating and heartening look at life in India on the street level that never errs towards the cynical. It feels honest to real life and real people. That's what makes it work as an introduction to India as a whole. -ZJ
A Field Guide To Getting Lost
"Leave the door open for the unknown, the door into the dark."
What if we became comfortable with discomfort? With desire unfulfilled? With getting lost and staying that way? Enter Rebecca Solnit's short book A Field Guide To Getting Lost. Solnit's ruminations on the liminal spaces and discomforts of life is at odds with the notion of a field guide—or so it seems at first. But this mix of memoir, history, and mental exploration is instructive—especially for any new backpacker.
Get comfortable with being uncomfortable, Solnit says, and it's good advice for anyone about to venture out into the world with all their possessions carried on their backs. -LD

The Sun Also Rises
Say what you will about Ernest Hemingway—and, oh boy, is there plenty to say—but if you're going to go to Spain, this book endures. Though some of its ideas are dated, the detail that Hemingway uses to describe the Spanish countryside is astoundingly evocative. When working on the novel, Hem said he wanted to write as Cezanne paints — that's to say, he wanted to capture the feeling of a place without being overly descriptive. Boy does he nail it.
Read The Sun Also Rises if you want to get better at picking out the beautiful details when you travel. Few people ever have written so poetically about running brooks, rolling hills, wine bags, and — yes — drunken revelers. – SB
Ceremony
Ceremony is one of the great classics of Native American literature. The book follows the trials and travails of Tayo as he returns from WWII a broken man after having spent a long spell in a Japanese POW camp.
Upon returning home, Tayo is lost. His travels brought pain and suffering. The people back home no longer accept him. So Tayo goes on a spiritual journey to redefine who he is and where he comes from as an Indigenous American. The harrowing experience of war and life in America as an Indian is on full display as Tayo reconnects with his culture and that's what makes this one a deeply moving personal look at how life, travel, and change is inevitable. -ZJ
An African In Greenland
When he was a child in Togo, recovering from a near-deadly snake bite, Tété-Michel Kpomassie, read about Greenland—a place without snakes. He decided he would go. The book that follows his journey—first making his way north to and through Europe, and then eventually, to greener pastures, where he lived among the Inuits—is highly entertaining. More importantly, it takes all of the white-man-living-among-savages narratives that have long dominated travel writing and turns them on their very heads. -LD
The Green Book
If you are traveling the United States, The Green Book (or the Negro Motorist Green Book if you're looking for a copy on eBay) is an absolute essential. To understand this country, you have to understand not just slavery but its legacy and The Green Book was a much-needed guide for black travelers so that they might feel safe road tripping across America.
This isn't a book you'll read compulsively. After all, it's outdated as a travel guide and is mostly written in that vein. But there are moment of insight and pathos — like in the 1949 edition when the author's note reminded black travelers of Mark Twain's "travel is fatal to prejudice" quote and told them about how "here it was the visited, rather than the visitors, who would find themselves enriched by the encounter." Meaning that black people traveling and encountering whites would destroy prejudice through the very act of being themselves. It's a beautiful thought.
This book's success helped the quest for equality greatly in America. Businesses that welcomed black customers thrived and competitors were quick to take note. It is, of course, an added tragedy that "equality for love of money" was the tactic required, but the book's many editions do chart an expansion in businesses where black travelers were welcomed.
This time capsule of the American road trip is a stark reminder of a time when not all Americans could travel freely. If you're an iPad or Kindle user, you can download a free PDF version here. -SB
Roughing It
Mark Twain has a dozen different travel books you should read. And his most famous novel, Adventures of Huckleberry Finn, features perhaps the strongest passage of nature writing in history (the short section where Huck and Jim are on the raft and everything is "free and easy and comfortable"). but Roughing It is such a blissful reading experience, so full of brawling western characters and fascinating observations, that it's our pick for Twain's "must read" travel book.
Reach for this one if you're going to be tramping about in northern Nevada and California and want a little historical context paired with humor and absolutely lovely musings on the natural world. Or read it if you're vagabonding for awhile and need to be reminded that travel writing can (and should!) be funny. -SB