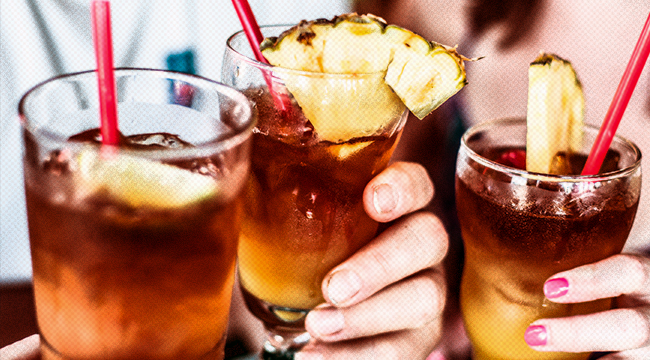 Summer is the perfect time for tiki. What could be more summery than fruity, tropical, boozy cocktails? We honestly can't think of anything. Zilch. Plus, we're all about rum, tequila, and gin-based cocktails during the steamy, summer months (with a Fourth of July cameo by bourbon).
When it comes to Tiki-style drinks, we all have our go-to bottles. But since June 30th is National Mai Tai Day, the time is right to celebrate this drink containing multiple rums that's remained popular since its inception in 1944. Since we prefer dark rum to white rum, we decided to ask some of our favorite bartenders to tell us the dark rums they prefer to mix into their mai tai recipes for the perfect summer sipper.
Copalli Barrel Rested
Cameron Shaw, head bartender at The Lookup in New York City
I love to use Copalli Barrel Rested for a Mai Tai. Using an aged rum in a Mai Tai is key, as is the brighter, grassy notes of a rum distilled from fresh cane juice. The Copalli delivers on both of these and makes for a well-rounded, delicious cocktail with just enough funk without needing to split the base with a Jamaican rum as well.
Plus, I'm deeply invested in brands that follow sustainable practices and make their products with regard for the environment and their communities. Copalli definitely delivers on this vision with their distillery in Belize.

Appleton Estates VX
Jane Danger, national mixologist at Pernod Ricard
I like using a blend of Jamaican rum, and Agricole rhum. Appleton VX, Hamilton Gold, and Jm Blanc are my current favorites. I'm also partial to using Boukman Rhum as a base, which is an aromatized Agricole rhum from Haiti.
Captain Morgan Spiced Rum
Shane DeForest, bar manager at The Spot in San Marcos, Texas
Captain Morgan spiced rum is always a good go-to. The "spiced" factor is a fun and unique twist. Plus, almost every bar will have it. There's no need to mess around with a rum that only a handful of bars carry.
Smith and Cross Navy Strength
Phil Testa, beverage manager at Dream Midtown in New York City
I love using Smith and Cross Navy Strength when making a mai tai (or any tiki drink for that matter) due to the tropical flavors it has. It's high proof, so it packs a punch, along with the extra-ripe banana and melon flavors.
I make mine with a homemade toasted pistachio orgeat, so the layers of flavors really complement each other well.
El Dorado 5 Year Cask Aged
Jason Banks, bar manager at Krause's Café + Biergarten in New Braunfels, Texas
I like to use A Demerara Rum (rum rendered from unrefined sugar), specifically El Dorado 5 Year Cask Aged. Most recipes call for a mixture of light and dark rums. Mai Tai's are probably the best cocktail to come out of the Tiki drink era, but most are known for being super sweet. To bring this drink into the new age I try to lay off the sugar added to the drink and let the caramel flavorings of a demerara rum do the work.
For a little something extra, I like to float a dram of Myers Dark Rum on top and down the straw.

Plantation O.F.T.D.
Chris Heinrich, lead bartender at Tre Rivali in Milwaukee
Mai Tai Rum: Often my agent of heft in two-rum pairings for mai tais is Plantation O.F.T.D. It's big and bold and rich, and clocking in at 69% ABV, a little goes a long way in providing big legs for the Mai Tai to stand on.
Santa Teresa
Sam Garcia, Head Bartender at Boleo Rooftop in Chicago
Mai Tai Rum? At the moment I'm really enjoying Santa Teresa Rum. It's a blended rum from Venezuela with allspice and nutmeg flavors that complements orgeat syrup very well.
Appleton Estate Reserve Blend
Josh Cameron, head bartender at Boulton & Watt New York City
I love mixing Appleton Estate Reserve Blend — mainly because I don't have to pick just one rum, and can have a little of all 20 rums that are present in the blend. Appleton's Reserve Blend has leading notes of oak, smoke, and nutmeg, that pair well and create a great balance.
Rhum Clement Premiere Canne
Daniel King, beverage director at Liberty Common in Nashville
Rhum Clement Premiere Canne from Martinique is delicious and complex. You've got to truly be into rum and appreciate the fresh sugar cane flavors that come with Rhum Agricole, but if you do, this is a great mai tai rum. It's best with a homemade orgeat.
You'll still need your dark rum, FYI. Usually, I would pick something like Appleton or El Dorado.
Brugal Anejo
Alli Torres, bartender at Refinery Rooftop in New York City
Brugal Anejo is one of my favorites to use for any rum-based cocktail. I typically enjoy a deeper, more robust profile as most bartenders tend to as well. A more rested añejo really shines in citrusy cocktails and doesn't get lost easily.
Doorly's 12
Daniel Condliffe from JSix in San Diego
I love doing a rum blend in a mai tai. My personal favorite blend would be equal parts Doorly's 12, an amazing rum from rum producer Richard Seale that has a lot of similar qualities to bourbon (spice, oak, vanilla); Cross Jamaican, which brings "funk" complexity and higher proof; and Plantation Pineapple, which adds fruit and light sweetness.
Rhum Charrette Ambr
Samy Berdai, head mixologists at Boulud Sud in New York City
I like to use the agricole Rhum Charrette. Unaged and aged together. I would recognize it's personality and presence in any drink. And in a Mai Tai, you definitely need something unique like that to mix with those ingredients to have the right kick in the back of your throat.

Plantation Stiggins Fancy Pineapple
Casey Lyons, bartender at Pacific Hideaway in Huntington Beach, California
Plantation's entire line up can be used to make world-class cocktails without breaking a sweat. The 3 Star Blend has beautiful ripe coconut notes, leading it to be highly accessible even to the most naïve guest. The Reverend Stiggins Pineapple recipe makes every bartender look like a genius – blending a beautiful juicy pineapple flavor into an 80-proof rum.
Their OFTD might be my favorite of all, like a s'more still sizzling from a fire — a dangerously dark and delicious overproof traditional dark rum, perfect for layering on top of your favorite Mai Tai.