Culver City is not, technically speaking, Mid-City, Los Angeles. Mid-City has its own designation. But Culver is my personal "middle of LA" and I suspect it's the same for many other creatives. You're in striking distance of Hollywood, Downtown, and Venice and you're right on the I-405. Plus, it's where the Uproxx offices are based — so it was destined to be my LA epicenter, regardless.
With that said, I hadn't really found the right Culver City hotel for my extended stays in town. I usually ended up driving back down south to Laguna Beach or staying in Hollywood. Until I found The Shay. The property is a mix of all the good qualities that Culver City itself boasts — stylish, young, and centrally located. In this case, I don't just mean its positioning within the city but also in its neighborhood — the property is right across the street from Platform, the only "mall" I've willingly gone to in 15 years and an excellent spot for food, coffee, and independent boutiques. It's also built right at the new and rapidly cool-ifying Ivy Station, a mixed-use space with retail, food, fitness, and a legit commitment to bringing Hollywood-level community to Culver City (movies on the lawn, outdoor classes, and an LA Ale Works tasting room).
As for the ultimate LA hotel metric — "But does it have a pool?" — the answer is yes. And some pretty incredible food and drinks to enjoy while you're lounging next to it. Add in one of Culver's true "must visit" restaurants and excellent co-working space and it's not difficult to see why this is one of the "Hotels we Love."
WHY IT'S AWESOME
In many ways, The Shay feels like a relative of The Freehand and its beloved bar, The Broken Shaker in DTLA. The property is a little less funky and a little less budget, but equally stylized and built for the convergence of travelers, creatives, and local residents. And when it comes to rooftop pools? Well, I think The Shay has The Freehand beat — it has a little more space and while the vibe isn't quite as rowdy and chaotic (I'm a long-avowed lover of rowdiness and chaos) it has a better layout and cooler look. Just look how green everything is!
The ultimate selling point for The Shay in my mind is how you could compose a day around it. You wake up late, pop across the street for a coffee and some going-out clothes at Platform (or eat a more robust breakfast upstairs at the Canopy Club), grab a salad at the LA obsession Sweetgreen (this is their test kitchen so you get to try recipes first), then lounge by the pool for a few hours before heading downstairs to Etta. From there, you can easily get to Hollywood via Uber or head to Venice if that's your vibe. I don't find myself going out much in Culver City itself but like I said earlier — you're in easy striking distance of anywhere you want to party. If you're feeling mellow, the bar on-site stays open and the public spaces are popping til at least midnight.
IN HOUSE FOOD + DRINK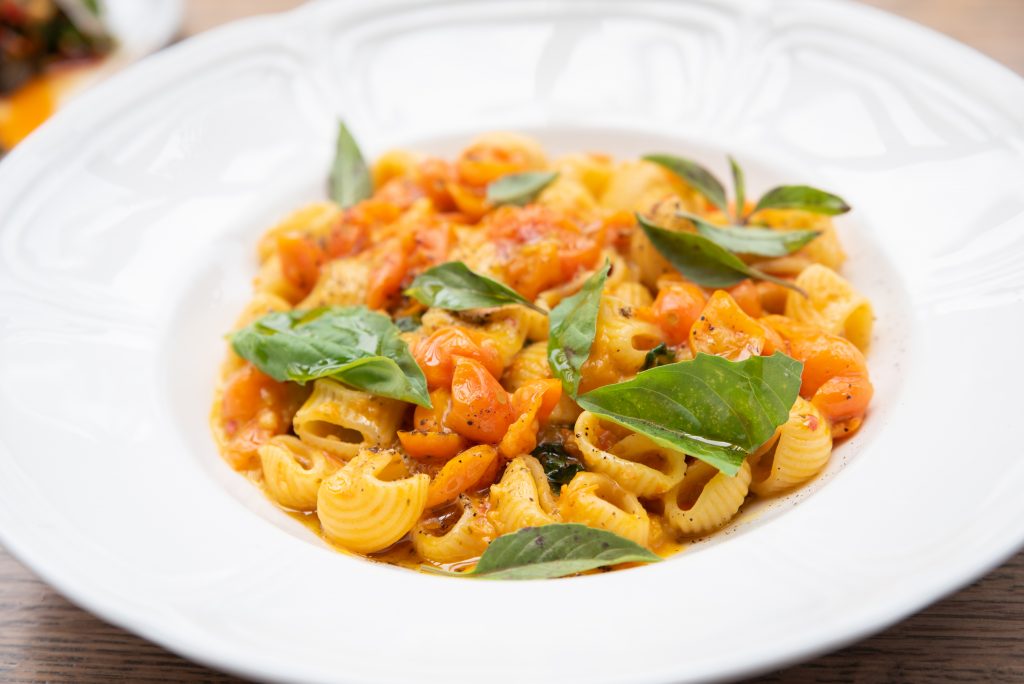 Etta is a Chicago transplant (four locations nationwide) with a renowned team and plenty of big ideas. Plus they have a monster wood-fired oven that they take excellent advantage of and a superb bar program. The dishes aren't going to shock you but they do have enough fun little twists, jags, and surprises to keep you fully engaged.
I don't do this often, because to each their own, and all of that… but I've ordered for large groups at Etta multiple times and I think I can nail the perfect order for a table of four.
Food:
Fire-baked focaccia x2. It's amazing and noteworthy and people will argue if you only get one.
Bubbling shrimp. Like many Etta dishes, this doesn't really feel Italian, more "modern Californian" — which is really the mantra of the restaurant and not a concern, nothing feels discordant with the more Italian-skewing pastas and pizzas.
Beets & Feta. You have to like roasted beets to like a beet salad but if you don't like roasted beets… what are you six? Evolve that palate and enjoy this nice, bright break from some of the more savory dishes.
Orecchiette. I've long been a fan of sausage-based sauces and this is an exemplary example. The best pasta on the menu.
Alla Vodka. The LA vodka sauce boom is fully on and this is an excellent, supremely silky riff on the NYC classic.*
Jidori chicken. The kitchen pushes the branzino but I was underwhelmed by that dish, to be honest. I like this chicken about a million times more, mostly because it's richer and I'm a glutton. Plus branzino in a wood oven is always so inconsistent — there were a few un-flaky spots (veering toward dry but not quite dry) on mine.
Hanger steak or pork chop. This is a toss-up. It really is going to come down to if you need a steak. If not, the pork chop is more inspired and the glaze favors that oven nicely — it comes out with some crunchy edges.
Tropical pot de creme. It's a little light and slight for a dessert after this big meal but maybe that's a good thing. I have a feeling that a wood-fired bread pudding would veer toward overkill. I liked these tropical flavors at the end of the night, especially with the palate-cleansing effect of mango.
Cocktails:
Nearest & Dearest. This drinks utilizes Uncle Nearest whiskey and benefits HBCUs. Plus it's delicious.
Electric Feelz. Really coaxes the fruitiness out of the habanero pepper with strawberry and tequila.
*I really liked the mushroom pizza but… LA is one of the best pizza cities on earth right now (yes, seriously; yes, piece forthcoming) so I don't know if you need a pizza from Etta. If you get one and already had sausage with the pasta, the mushroom pie is certainly the pick.
I feel a little insane because that was a lot of words and I haven't even mentioned Canopy Club, which is the poolside restaurant that adds a ton to the property's coolness factor and is a very functional joint with some great dishes paired with a few fried, crowd-pleasing easy wins. It's the sort of "no notes" poolside gem that you dream of. The avocado tacos are a standout, as are the birria tacos. The fried chicken is excellent. As far as advice, I think i can be more succinct here: Bring your hangover and order something dense or if you're on the health wave, go light. Avocado toast discourse is insufferable but the toast itself here is really very good.
AMENITIES
Free Internet Access
Electric Vehicle Charging
On-Site Restaurant
Room Service
Fitness Center
Pool
Pet Friendly
Business Services
Concierge
Meeting Facilities
These are all pretty standard. No spa, no sauna, no hot tub. The pool is the true perk and 2nd place is the absolutely incredible, sprawling lobby where people really do actually hang out. I mean, a lot of properties send pictures like the one above, featuring cool people in the lobby. But I've stayed at The Shay a few times and people really do that.
ROOM TYPES
https://www.instagram.com/p/Cg2QJTzrWa2/
I'm not sure why The Shay makes their suites look so dull in their press photos, but this IG does a better job of capturing the fact that the rooms are very nicely appointed and let in a ton of light. The property is in the Hyatt family but doesn't feel nearly so "business hotel" as website pics of the rooms make it seem.
Because the building is unusual in shape, there are plenty of room options and they all feel a little different.
Standard Room — king or 2x queen beds.
Hollywood Hills View — king or 2x queen beds.
Guestroom W/ Balcony — king or 2x queen beds.
King Studio Bedroom.
ADA Room — king or 2x queen beds.
Penthouse
Suite –king or 2x queen beds.
The selection of suites and penthouses reveal the property's minimalist midcentury design better and they have bathtubs in front of giant windows — all of which will be unpacked in the sexiness section.
BEST THING TO DO WITHIN A 15-MINUTE WALK
Ugh. Who set these strict parameters [reader, it was me]? LA is not a walking city and Culver City is specifically un-walkable. That said, The Shay is at the intersection of Culver's most walkable zone and a little side excursion to Platform is great. Or you can find a spa at Ivy Station if you crave that. Other than that… I know this breaks the rules but walk to a train stop and head off on an adventure. Or walk yourself right up to the pool!
THE BEST THING TO DO/EAT/DRINK WITHIN A $20 CAB RIDE
This is where LA thrives. You can party! You can (just barely! traffic depending!) get to Hollywood! You can literally sink your toes in the sand at Venice Beach!
This is literally why I picked this property — it's central. But you know, if you're not in LA often, go to the Comedy Store. Do it. It's not just fun and funny but it's probably the best part of LA history that you can still engage with. Plus, if you want Hollywood people actually out to have fun — it's either this or the VIP at a club. Tarantino was there literally last night.
BED GAME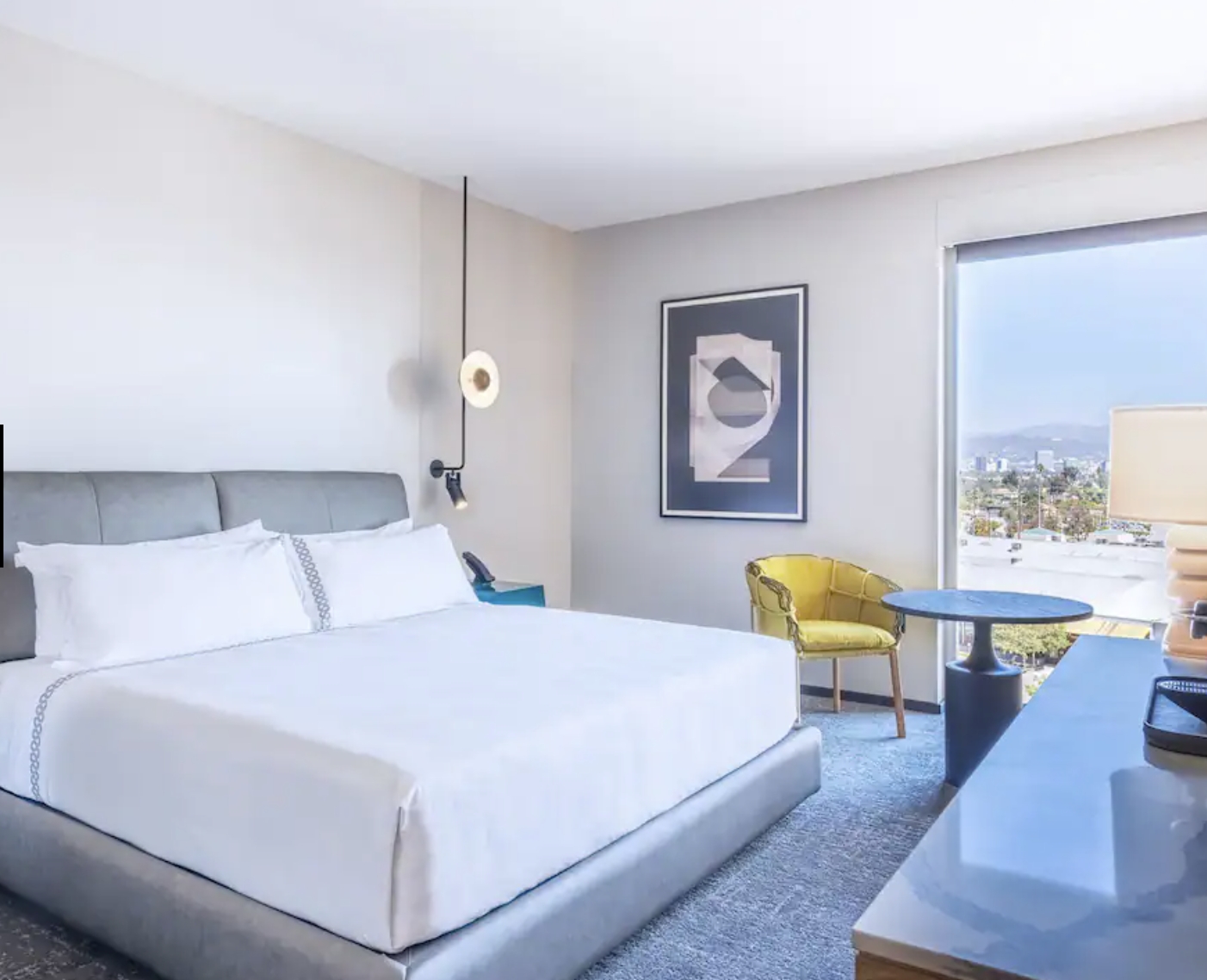 I have a very solid memory and don't need to take notes too often, but I specifically noted liking these beds in my phone. The sheets are great and the pillows are down. That said, beds with an actual comforter always beat beds with the "thick second sheet" thing.
The point being, this was all very functional but not something so surprising or unique that it scored out of the park.
Rating: 7/10
SEXINESS FACTOR
A pool? Tubs in the penthouses? DJs in the lobby? All very sexy.
Frankly, I think the sexiness of this property is way undersold by the room photos themselves. The showers are elegant and the property is new/ ultra-clean feeling — which is always sexy. There's great energy on site. With that said, there are business travelers and a few families and, by the parameters I set, the latter takes things down a notch.
Certainly not one of LA's "meet single people" hotels. But if you grab a suite with a weekend fling or longterm date, you're in for fun.
Rating: 7/10
THE VIEWS & PICS SPOTS
The fireplace is incredibly cosy and the tubs are very sexy. The pool is the real convergence of style and scene on the property. That said, it's not like a place where you are trying to copy some influencer's iconic shot or lean over the edge of an infinity pool. Still plenty scenic though, especially for a place that's not on the beach.
Rating: 6/10
BEST SEASON TO VISIT
Visit Culver City in the winter. In the summer, the beach is too big of a draw to deny. Comedy Store and a few good restaurants plus one club, with The Shay as your base in January? You've got yourself a great date weekend.
IF I HAD TO COMPLAIN ABOUT ONE THING
The rooms could be more inspired and unique from one another. You really have to get to the suite and penthouse level before they start to feel distinctly cool (though I still think the photos undersell the basic rooms).
BOOK HERE
You can get rooms this weekend for $342 and a suite for $542. Keep an eye on Hotel Tonight for deals, I've book The Shay from there before!
INSTAGRAM IMAGES TAKEN AT THE SHAY:
https://www.instagram.com/p/Cn0JId5MUS6/