First and foremost, it's important you know that cooking mac and cheese at home is a breeze. The crux of this comfort food dish is nailing a quick cheese sauce — made with butter, pasta water, and cheese. That's it, but most of us still take the easy way out here. We use boxed mac and cheese with a cheese powder in place of the real thing. That's okay, we suppose. But adding real cheese (and butter) takes this simple dish to new heights.
Making mac and cheese from scratch takes just about the exact same amount of time as making it with the powder from the box. You're boiling pasta and adding cheese. This dish shouldn't take more than fifteen minutes to make, ever. Even if you're adding a few flourishes, the recipe for mac and cheese is always going to be easy and quick.
Whipping up a pot of mac and cheese is also fairly low maintenance. You don't need any fancy equipment or appliances here. Just a pot. That's pretty much it. We promise this one is a piece of cake that'll up your cooking game easily, so follow along and up your mac & cheese game in a hurry.
[With notes from the editor, who fancies himself the world's foremost expert on this dish. -Steve Bramucci, Editorial Director, Uproxx LIFE]
I: Ingredients
First, you need some pasta. I'm using Barilla's macaroni. It's a little heftier than the standard boxed mac and cheese. The taste is also a lot less cardboard-y than, say, Annie's or Kraft.
[Mac and cheese is best with this really thin sort of macaroni, kept al dente. You should be chewing half and swallowing half the noodles whole without realizing. The big fat mac noodles pictured at the top of this page go soft and soggy mysteriously easily. -SB]
Second, you need some good cheese. I'm using a grated Irish sharp cheddar here. It's orange but not so orange it turns the macaroni into an orange neon glowing heap. Look at it this way, the better the cheese, the better the mac and cheese. I like using a solid sharp cheddar here but you can 100 percent play with that element. Mix it up but stay in the hard cheeses lane.
[Old Croc Extra Sharp and Tillamook Reserve Extra Sharp are both affordable and superb. Lately, I love using Old Amsterdam aged gouda. If you want a mix, try the sharp, the gouda, and another hard, sharp cheese from the fancy cheese counter. Emmental would be a smart pick. -SB]
I'm also using some grated parmesan, unsalted butter, black pepper, sea salt, and nutmeg.

II: Prep
Prep is pretty fast. Make sure the cheeses are already grated and put a large pot on the fire with plenty of water in there. You can't have too much water. The pasta needs space to cook and expand. I fill up my pot about half way and I measure about eight ounces of macaroni, or about half a box. As soon as that water boils, we're ready to cook.
III: Cook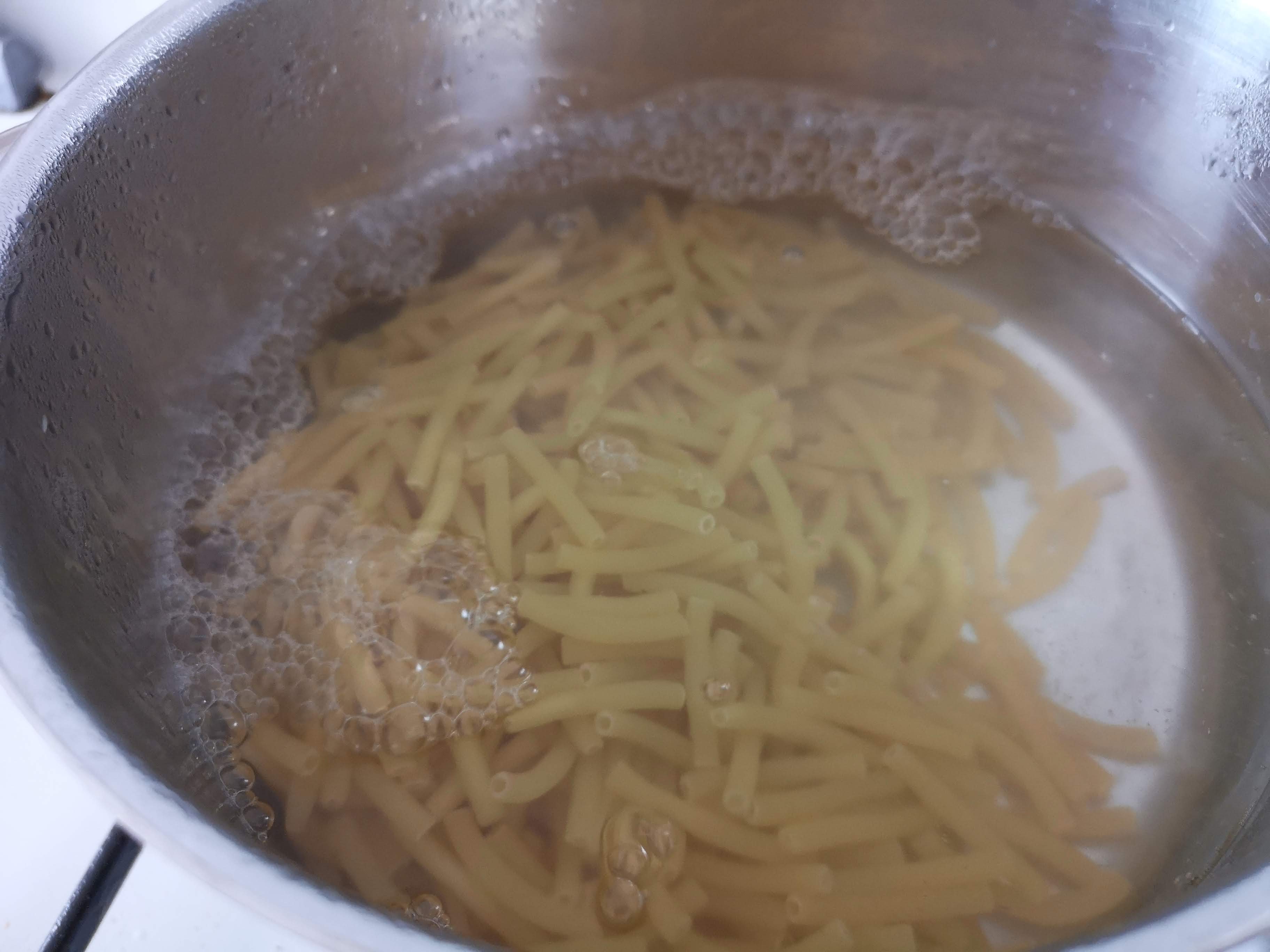 Once the water is at a steady boil, I add in a good punch of salt (about a tablespoon). I then add in the macaroni and use a spoon to give it a stir.
Usually, the macaroni takes around eight to ten minutes to cook. You'll know it's done when it doubles in size as pictured below.
[Again, this dish definitely wants to be al dente. Taste it. Once it gets soggy it's impossible to bring back. -SB]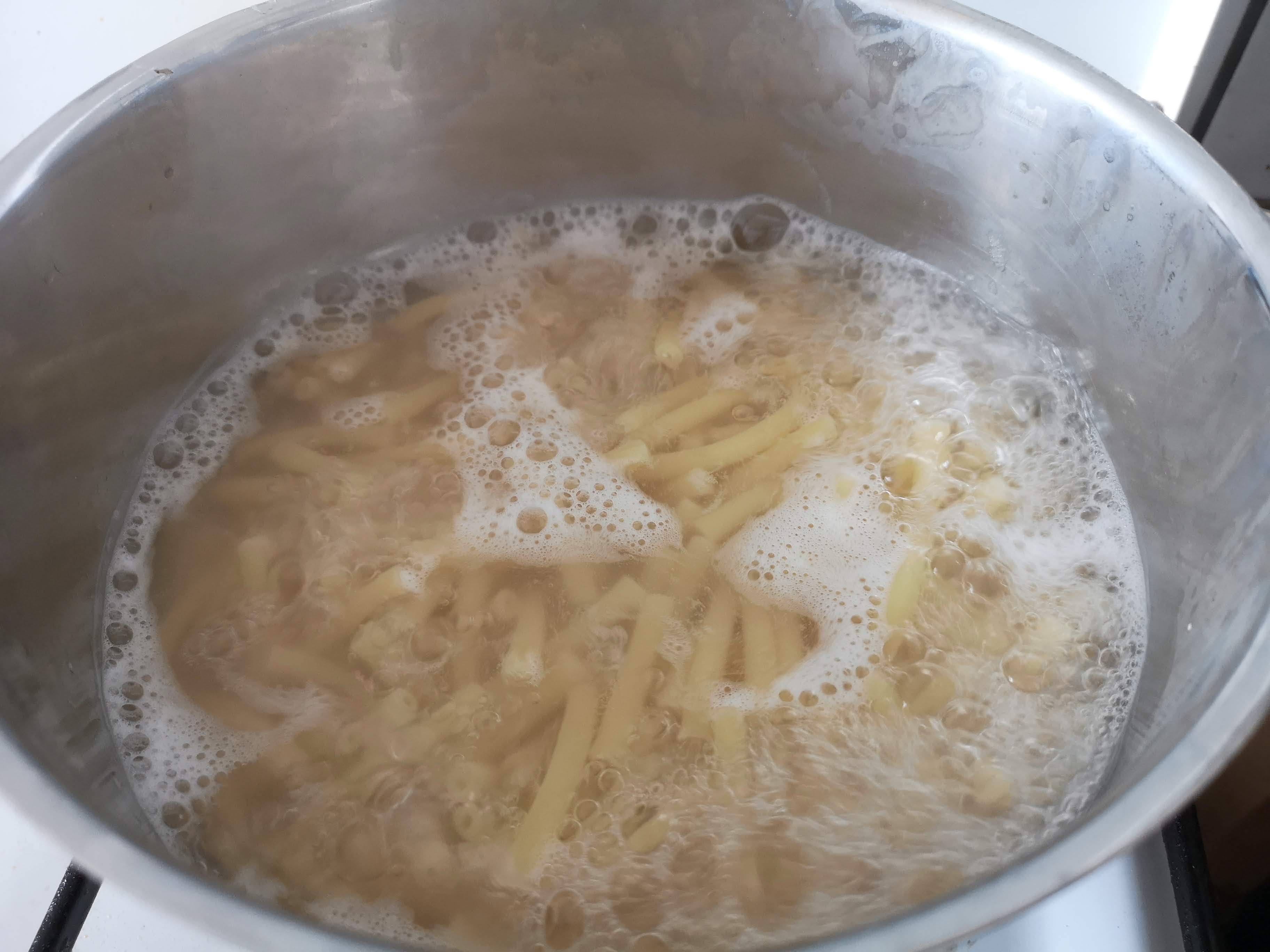 This is probably the most important step. Once the pasta is nice and tender, reserve about a half a cup of the pasta water. You're going to need this to make the cheesy sauce later.
Drain the pasta in the sink and turn the heat off the stove. The pot should still have enough heat to finish the dish. Add in about a tablespoon of butter. It should start melting immediately.
[Want to riff? Use browned butter for a nuttier, earthier flavor. Otherwise, if you want things a bit more grassy, a nice Irish butter hits the spot. Good butter is quite noticeable in this recipe. Splurge. -SB]
Next, add back in the macaroni. Crank some black pepper over the noodles along with a big pinch of salt and a crank from the nutmeg mill. Don't go overboard here, you want a dusting of black pepper and nutmeg. The pepper adds a light spicy edge and the nutmeg layers in depth with an earthiness that works wonders.
Lastly, add in the cheese. It's best to think of this at about two ounces of cheese per serving. If you're making mac and cheese for two, use four ounces of cheese.
[I'm not signing off on a recipe that limits cheese amounts. Better to reserve a half-cup of noddles, add cheese until you hit the absolute saturation point, then add the noodles back to get the ratio right. Also, a few flakes of dried red pepper offers some nice punch here. -SB]

You want to work fast now. Use the spoon to start stirring in the cheese. It should start melting immediately. Next, add in about half of the reserved pasta water.
The water, butter, and cheese will start to emulsify and turn into a velvety sauce. Keep working the macaroni with the spoon in circular motions until the cheese is fully a sauce. This shouldn't take more than one minute.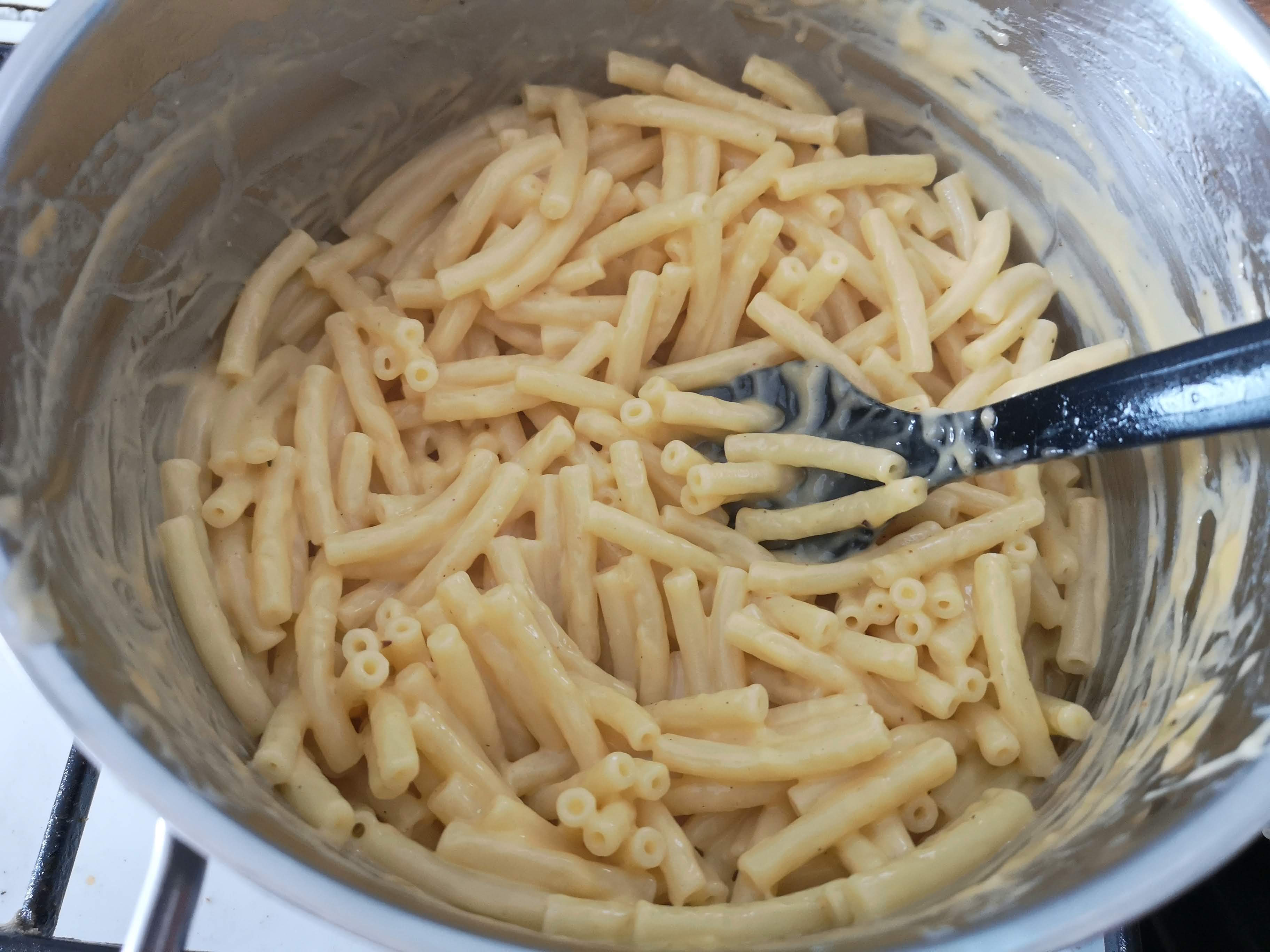 Once the sauce is made, you're almost done. Put a lid on your dish and let the macaroni rest for a few minutes. This allows flavors a moment to come together.
IV: Serve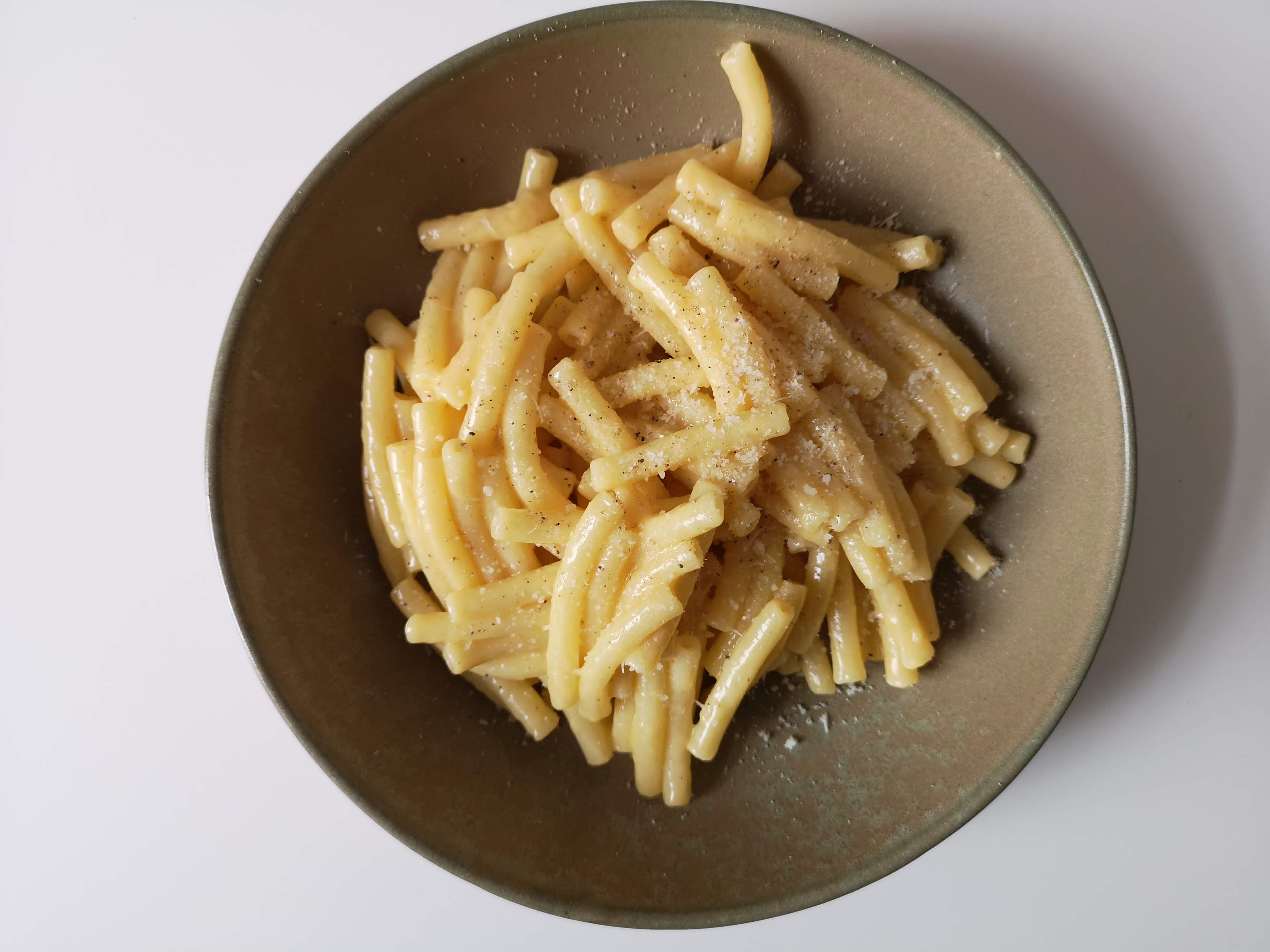 It's time to eat some mac and cheese! Dish the mac and cheese onto a warmed plate (always warm your serving dish when eating pasta). Add a few more cranks from the pepper mill and, lastly, dust the macaroni with a healthy spoonful of parmesan.
[I use parm so often in other dishes, that I skip it here. I do however add a dusting of thinly snipped chives. Do you. -SB]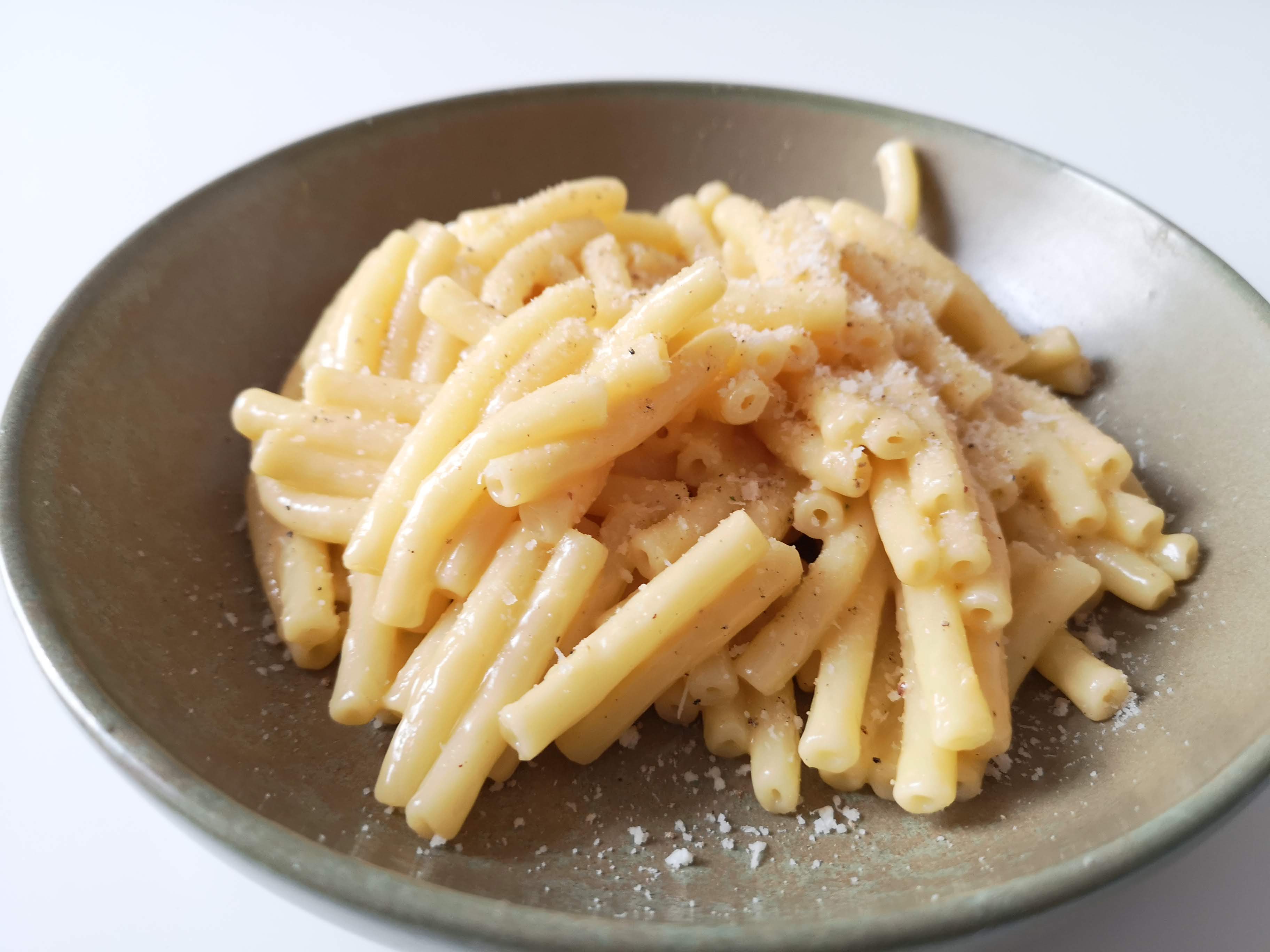 The parm adds an extra layer of umami and cheese bite. The cheese sauce is lush and texturally silky. There's a deep cheddar cheese savoriness balanced with a whisper of nutmeg spicy earthiness. It's so damn tasty and, well, comforting. The recipe was for two servings… here's betting that you eat both bowls.
[Definitely, eat both bowls. And lick the pot. Mac and cheese rules and Zach's recipe is virtually bang on. Enjoy! -SB]

Shopping List:
One box macaroni pasta
High-quality sharp cheddar
Parmesan
Unsalted butter
Nutmeg
Black pepper
Sea salt
Water
Kitchen List:
Heavy-bottom pot
Spoon
Collander
Serving bowls
Peppermill
Nutmeg mill (or microplane)
Cheese grater