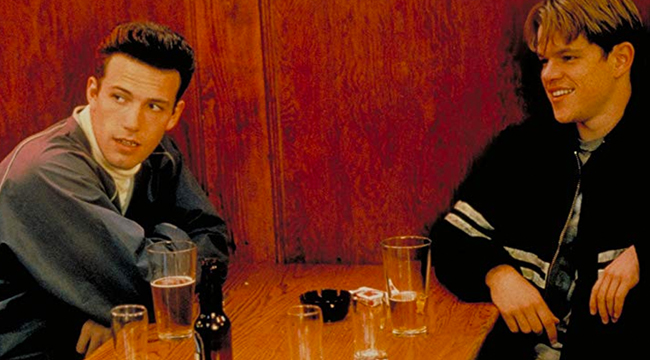 Hey bro, Bawstin is a haadwekin' —
Sarry, we're gonna staat ovah.
For real this time. Boston is a city renowned for great bars. It goes back much further than the Cheers era. In fact, it dates all the way to Paul frickin' Revere.
These days, corner taverns still define neighborhoods. And these bars, from Southie to Harvard Square, often feature amazing beer. The city also plays home to one of America's most iconic craft brewers, Samuel Adams. If you don't love the stuff that's your call, but it's certainly the independent craft beer that most Americans know and drink, by a wide margin.
This history of independent brewing has seeped into the wider drinking culture in Boston over the decades and helped to define one of the best beer drinking cities in America. Putting together a list of only ten suds swilling establishments in Boston was as hard as those cutting Massachusetts winters. It's impossible not to leave out someone's favorites.
Below are the establishments that'll allow you an entry point into Boston's beer scene. As always, talk with locals, beer nuts, and brewers. They'll help to lead you along a great beer journey with these ten spots as your starting point.
The Publick House
The Publick House, out in Brookline, has a killer food menu. This is comfort food through a well-thought-out lens of modernity and international technique. The food is there to provide a foundation to the stellar beer list at the bar.
There are 33 taps at The Publick House. Five classic Belgians on tap next to five American takes on Belgian classics. This provides you with a unique opportunity to try them side-by-side and judge who really is doing it best. Then there are 20 more taps from around Massachusetts and a few prime breweries in New England. Finally, you'll find yet another three taps devoted to great German and Irish beers.
That's all before you even get to the deep bottle list. Enjoy!

Backlash Beer Co.
Backlash Beer Co. has been killing the game in Boston for a good spell. And they've recently made is a lot easier to sample the goods with the opening of a tap room at the brewery. The white brick beer hall has a very post-industrial, minimalist vibe. It's a great atmosphere — where you and your crew can focus on drinking the excellent suds.
The tap list is usually six beers long and features Backlash's best. The best place to start on their line is Allston, their New England IPA. Though, if you're there around the winter holidays, make sure to have them pull you a glass of Death, their imperial stout. The heavy roast coffee notes, chocolate essence, and killer nine percent ABV will warm you to the depths of your soul this time of year.
Lord Hobo Beer Bar
Lord Hobo is a beer bar in Cambridge that supports the stellar brewery out in Woburn, Mass. The beer bar is a temple to great suds that goes well beyond just being a platform to showcase Lord Hobo's own beers. This is the sort of place you can spend the whole day (and night) in, where you'll lose track of time while having so much fun drinking tasty pint after pint.
The beer list is deep. There are eight Lord Hobo brews on the list. They range from funky gose to session IPAs to hefty imperial stouts. From there, 37 more taps dominate. You'll find an amazingly well-curated selection of beer from Massachusetts and the wider region, with a clear emphasis on quality with every tap. Add in a rad food menu and laidback tavern vibes and you have a great place to spend a day of drinking.
Deep Ellum
Deep Ellum, out in Allston, is where great food meats great beer. This is the sort of place where you can rock up to the bar for a quick lunch snack and beer or you can post up at a table and settle into for a beer and food extravaganza.
The tap list is 25 beers deep. It's a collection of the best Germany, Belgium, the UK, America, and Massachusetts have to offer right now. Each beer is a testament to the beauty of a beer. The bottle list carries on the same ethos. There are 27 bottles that highlight the best of the best from Europe and America. Order up some truffle gorgonzola fries and an Orval and get ready for a wonderful time.

Samuel Adams Boston Brewery Tap Room
Samuel Adams Boston Brewery Tap Room is a must-visit. This is the sort of place you go to pay your respects, drink a couple beers, and then move on. It's definitely worth it though, even if it's only for a quick dip in-and-out.
What makes this a worthwhile stop is their beer list. The tap room is attached to Samuel Adam's nano-brewery. This is the spot where they experiment with new beers that you'll likely never find on the open market. Right now, they're brewing up pumpernickel Dunkel beers alongside oyster stouts, Mexican lagers, and dry Irish stouts. It's an eclectic mix of beers that'll leave you wanting more.
The Lower Depths
The Lower Depths is the best of all worlds. This joint has a beer program that reaches from the bottom shelf to the top of the top. The food hits the perfect sweet spot of being very comfort food-forward or cheffed up, if that's what you crave. The vibe here is all about basking in the best of beer, as you fill up on hot dogs, tacos, and loaded tots.
The beer list at The Lower Depths is a ton of fun. There are 14 beers on tap that range from PBR to German classics to local masterpieces from down the road. The bottle list is where The Lower Depths truly shines. There are about 80 bottles and cans to choose from — including a couple 40s. You can't go wrong with their beer list if you love beer, love talking about beer, and, especially, drinking the stuff. Grab a hot dog, a killer beer, and make new friends.
Mystic Brewery
You'll have to head down to Chelsea to hit up Mystic Brewery. Trust us, it's worth the trek. Their taproom is the perfect place to drink beer amongst people who deeply care about beer and want to celebrate it.
The beer on tap here is an innovative treat. There's a clear love of the classic styles. That love is filtered through new ideas and local flavors to achieve something unique and delicious. The 13 beers on tap will not disappoint. This is the place where you strike up a convo with the brewers and pourers and find the places in between in the Boston-area beer scene.

Sunset Cantina
After the untimely closing of the Sunset Grill & Tap out in Allston, it's sister bar, Sunset Cantina, had to pick up the slack. The menu features the same amazing nachos. And, honestly, who doesn't love a great plate of nachos washed down with a serious beer?
There are 27 beers on tap at Sunset. They range from national mainstays to niche local favorites. The bottle list goes deeper with another 50 options. The list touches on the regional scene, great craft from around America, and a nice selection of international heavy-hitting suds. Order up some of those legendary nachos and a killer beer and tuck in.

Cambridge Brewing Co.
Cambridge Brewing Co. is yet another iconic Boston-area brewery. This local microbrewery in Cambridge has been knocking it out of the park for decades now. The atmosphere of the brewpub is always convivial and you'll end up quaffing copious amounts of beer before you even realize it. The food menu is created to accent the beers on tap, giving you a wonderful balance of comfort food classics with modern twists.
There are 15 Cambridge brews on tap. The Cambridge Amber, Charles River Porter, and House Lager are the perfect beers to start you on your beer journey. Grab a plate of fried Brussel sprouts or pumpkin ravioli and settle in.
Bukowski Tavern
Any place named after the notoriously drunk Charles Bukowski is going to be an awesome place to drink. Bukowski Tavern is where you go to eat, drink, and be merry. This is the sort of place where you will make new friends who'll turn into your drinking buddy for a night or maybe even a lifetime. There's a second location out in Cambridge but, for now, we're focusing on the Boston location on Dalton Street.
The tap list here is an excellent selection of 20 odd beers from around the corner and around the world. There's a great bottle and can list that supports the tap menu by filling in gaps from local favorites and international heavy-hitting suds. This is the sort of place where you can start by drinking hefty New England IPAs and imperial stouts from local breweries and then, as the night wears on, you can easily switch to pints of PBR and really let loose.