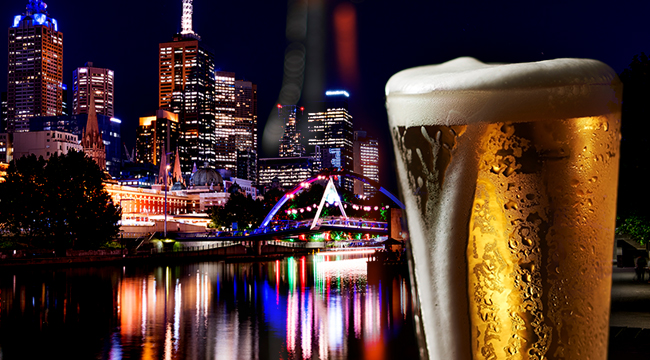 Winter has set in up north. Down Australia way, however, it's the height of summer. The pull of a trip Down Under is strong right now. Add in the fact that prices have never been cheaper to get there and, well, what are you waiting for? If you do end up heading to Oz, we've got all the beer recommendations you need.
Beer and food in Australia feel inextricably bound. Backyard barbecues, colonial pubs, beer gardens under shady trees, and a killer food scenes make for a great beer scene in Australia's food capital, Melbourne. Any city with a stout devotion to food has great beer. Melbourne goes deep with both.
The great thing about the beer scene in Melbourne is how chill the vibe is while still hitting great beer-fueled heights from beer shops to breweries to restaurants. The ten spots listen below represent some of the best places to start your beer-journey through the Victorian capital and, eventually, deeper into the Australian drinking scene. Strike up conversations with local brewers and beer lovers in any of these locales and they'll happily take you deeper.
This is Australia after all, drinking and making new friends is in the blood here.
The Alehouse Project
The Alehouse Project is the perfect place to dip your toes in the sudsy beer-waters of Melbourne. The red brick joint is devoted to all things local craft. The vibe is open, convivial, and offers a great chance to eat some tasty food while sampling the good stuff.
The tap list highlights 12 local brews on a rotating schedule. You'll be treated to what's fresh and new right now in the Melbourne beer scene. This is the sort of place where you can spend a whole day getting comfortable with the time zone change while gorging on some comfort food and drinking a great beer to ease the jet lag pain.

Boatrocker Barrel Room
Boatrocker Brewing is working some magic. Their range of beer covers everything from a fantastic barreling program to well-wrought straightforward easy-drinking beers. It's the best of all worlds when it comes to all things beer.
The Barrel Room in Braeside is a great spot to post up for an afternoon of tasting the best they have to offer. Start off hard and fast with a couple bottles of their barrel aged masterpieces, then hit up up the funky fruit-forward sours before taking tipsy-to-drunk on their finely brewed pilsner. It'll be a blast and you'll be sure to make new beer-loving friends in a hurry.
Penny Young
Penny Young is pure Aussie fun. The bottle-shop-slash-bar-slash-pizza-joint hits a lot of sweet spots. You can belly up to the bar and nosh on quality pizza while downing serious beer from all over Australia. If you find a beer you love, you can take some home to keep the party going.
There's a really spectacular wine selection and well-thought-out cocktail list at Penny Young, but it's the beer that's the big draw here. The bottle shop stocks some of the best bottles from some of the best brewers in Australia. This is where you start to go deep on the beer Down Under.
The Nest Tasting Room at Two Birds Brewing
A lot of breweries rely on concepts to sell themselves. This one started out as the brainchild of two friends who saw a male-dominated scene and decided to change that bullshit. Two Birds is Australia's first female-owned brewery and we're definitely here for it.
The tap room has 12 taps of great beer from the brewing floor. This is quality beer in a quality setting where the food satisfies that comfort food itch. The beer ranges from classic pours to inventive takes on trending styles. This is a great place to go local and try something new.
The Royston Hotel
Great food and delicious beer go hand-in-hand in Melbourne and The Royston Hotel is the perfect example of that ethos. The gastropub has a killer food menu that goes beyond just a good burger and decent steak. There's a refinement here that feels local — from the salt & pepper calamari to the pepper-crusted kangaroo filets.
The beer list at The Royston pairs shining examples of the Melbourne craft scene with their locally-inspired eats. You can feel the thought that went into the 13 taps and how well they work with the food and vice versa. This is as great a food and beer experience as you'd ever hope to find Down Under.

Dainton Family Brewing
Dainton Family Brewing is a beer nerd's paradise. The tap room is in the brewhouse, giving you a hands-on beer experience. Food trucks line up to keep everyone full while the beer flows from the masterminds working the mash tanks and fermenters.
There are 12 taps at any given time. The bulk of those taps are devoted to Dainton's expertly brewed suds. But they're not selfish here. A few taps are always reserved for their friend's brews. Classics pilsners shine next to their seasonals, like the Juniper IPA. This is a great place to spend a day really digging into good beer. Though be warned, they're only open Thursday through Sunday.
The Otter's Promise
The Otter's Promise is the ideal place to take a break from all that touristy sight-seeing you'll end up doing around Melbourne. The shop has a super chill vibe and beer is at the center of it all. This is the sort of place that you'll just "drop in" to and then end up spending hours hanging.
There are six local craft brews on tap. Then there's a bottle list of the best of the best being brewed in Australia right now. This is the place you go to sample beers from breweries around town so that you can plot a brewery tour for a long weekend. The staff is super helpful and will totally be your beer guide through the scene. Don't be surprised if you end up dipping back into this spot again and again while you're in town.
The Park Werribee
The Park Werribee is where all the best aspects of the food and beer scene in Melbourne come together in one perfect package. The food hits a balance of seasonal and fresh alongside pure comfort — there's a whole section of the menu devoted to fried chicken.
Then there's the beer. There are 23 taps that rotate Melbourne's best. Beside the taps, there's a massive fridge stocked with American craft beer and another fridge stocked with European masterpieces. Add in an amazing selection of Australian bottles and cans and you have over 250 options to pair with their legit fried chicken. You might end up spending a long time eating and drinking here.
3 Ravens
3 Ravens is a young, hip brewery that's adept at putting out innovative sips and creating a dope scene. The Bar has a backstreet basement dive bar feel to it that draws you in and grips your tightly. You will lose all sense of time in this place as one great glass of beer always seems to invite the next.
There are ten taps at the bar which feature 3 Ravens' classic brews, crazy one-off concoctions, and tasty seasonals. This is the sort of place the cool kids hang right alongside the beer nerds, both bonded by their love of good suds. Strike up a convo with another beer lover and let the night take you on a beer-fueled journey.

Fox in The Corn
By this point, you're probably a bit hungover from all that beer-trekking. That's where Fox in The Corn comes into to save the day. There's nothing better than tucking into some Italian-Australian food paired with the perfect beer. Some gnocchi in a nice ragu goes a long way to curing that hangover with a strong dose of the hair of the dog.
The beer list here is well-curated. This is food and beer pairing at its best. The eight taps offer a wide-ranging selection of great local craft alongside the best-of-the-best from around the world. The bottle list carries on with that mentality while highlighting seriously great beers from near and far. And, if you find a bottle you really love, you can take it home with you as they sell all their bottles for takeaway. Cheers!