Summer may (technically) be coming to a close, but you can still suck a whole lot more marrow out of the season. While this summer certainly didn't disappoint when it comes to the endless music festivals, National Park adventures, and exploring new American cities… have you gotten wet yet? Running barefoot along a muddy path on the way to a swimming hole is one of the most iconic summer activities on earth. And definitely one of the most fun.
With that said, there are so many swimming holes scattered across our vast country that it's hard to be authoritative when covering them. Still, we keep right on trying — because that's a whole lot cooler than throwing our hands up in despair. This time around, we asked the Uproxx team and some of our fellow travel writers where their favorite natural swim settings are across the country — so you can savor the last weeks of summer in style.
Oh, and don't forget to bring one of these milkshakes along with you for the ultimate summer double up!
STEVE BRAMUCCI (@steve_bramucci): DEEP CREEK HOT SPRINGS, CALIFORNIA
The WGA/ SAG-AFTRA strikes, the psychedelic boom, and Instagram's affection for hot springs have put this lesser-known spot on the freaking map this summer. It's the LA cool kids hang out and if Lisa Rosen doesn't post about it by October, I'll be shocked. With that said, this spot is worth the hype. In part, because it's on the Pacific Crest Trail, so there's a steady rotation of interesting folks, and in part because it's beautiful, and in part because it's accessed via a private campground (Bowen Ranch) that is folksy and scruffy and where the staff looks the other way when people get loud or run around naked or take mushrooms or whatever (seriously, this place is 97% people on mushrooms at all times).
Plus, unlike California's parks — which seem to fill up decades in advance — this campground is literally never full. They pride themselves on not turning people away. So you can be a half-assed planner (like me!) and still get a spot.
As for the swimming hole itself: It's an oasis. Multiple hot springs. A river swirling with deep, cold water. Plenty of shade. It's pretty magical to find that combination in Southern California. To find it at a spot where camping is affordable and easy is beyond amazing. To find those qualities ensconced in this level of beauty? Well, that's a discovery for the ages.
— Steve Bramucci
CLAIRE RAMSDELL (@thedetoureffect): COLCHUCK LAKE, WASHINGTON
Washington is known for its beautiful alpine lakes, so you'll join many other swimmers by following popular day hiking trails to Lake Colchuck, Blue Lake, or Lake Serene. Those looking for more solitude should consider visiting Stehekin, Washington, a small village on Lake Chelan in North Cascades National Park that is only accessible by hiking or taking a ferry. While this is a resupply spot for thru-hikers on the Pacific Crest Trail, it's managed to remain pristine and largely undeveloped since it's not accessible by car.
While visiting, you might find yourself the only swimmer taking a dip in Lake Chelan while others hike or relax by the lodge. From the main lodge area, you can walk right off the boat dock and swim into a picturesque mountain scene.
MELANIE GORDON(@livinginflowco): STRAWBERRY PARK HOT SPRINGS, COLORADO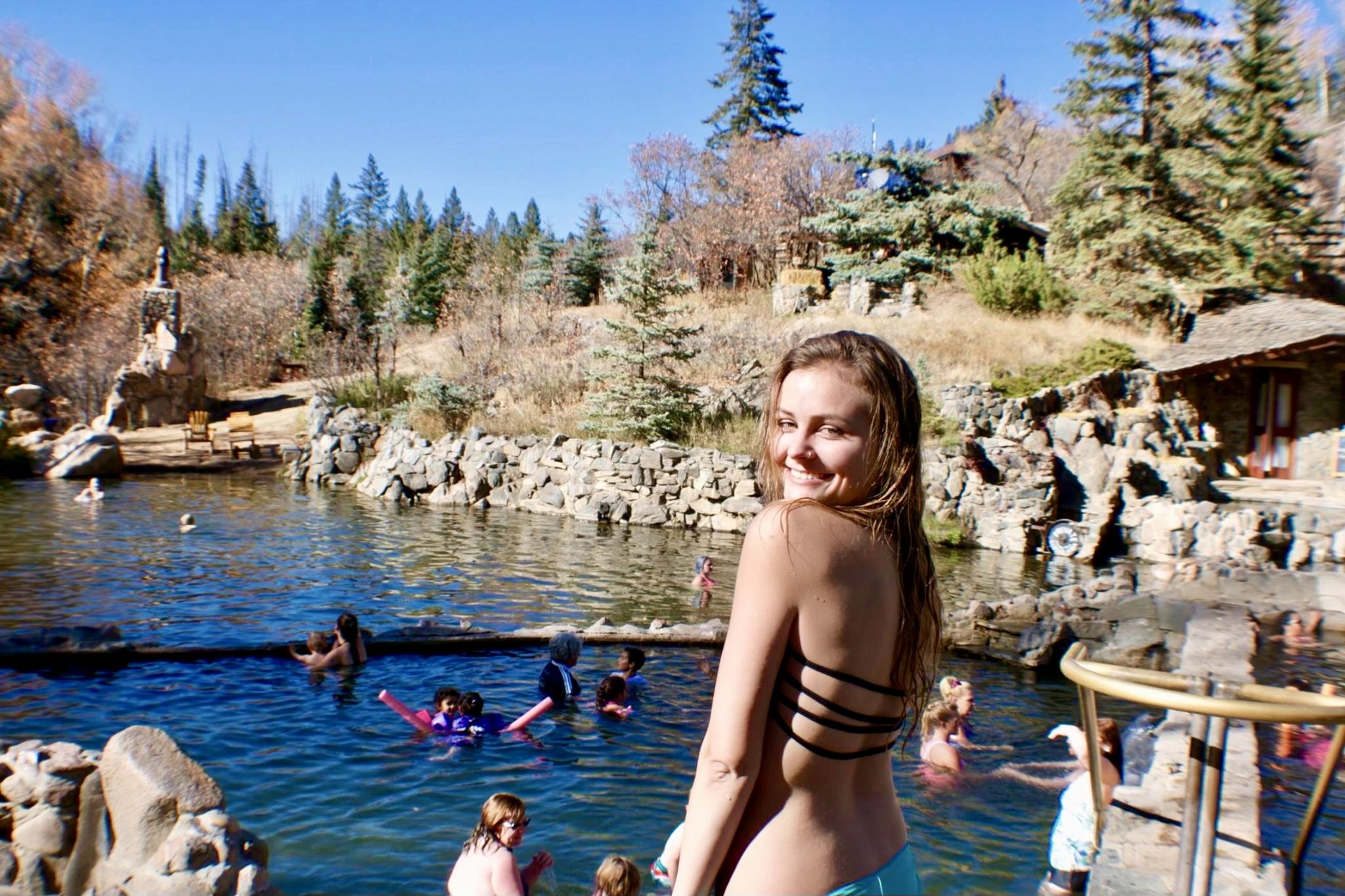 Tucked away in the Rocky Mountains of Colorado you'll find one of my favorite natural swimming holes in the country, Strawberry Park Hot Springs. This forest-bathed therapeutic oasis is just 15 minutes from downtown Steamboat and offers camping, massage, and a clothing-optional after-hours vibe.
Hot, mineral-rich spring water mixes with the crisp Elk River and flows into the naturally occurring stone pools below. Since the water cools as it cascades down, you get to select your ideal temperature. The hottest pool at the top is perfect for your post-ski decompression, at over 103℉. The lowest pool provides a cold immersion experience.
A visit to Strawberry Park Hot Springs in the winter is like being inside a snow globe. And in the autumn, an enchanted forest sanctuary. Though the scent of summertime blooms at Strawberry Park is hard to beat… I guess the best time to visit this geothermic natural wonder is year-round!
EMILY HART (@emilyventures): JACKSON LAKE, GRAND TETON NATIONAL PARK, WYOMING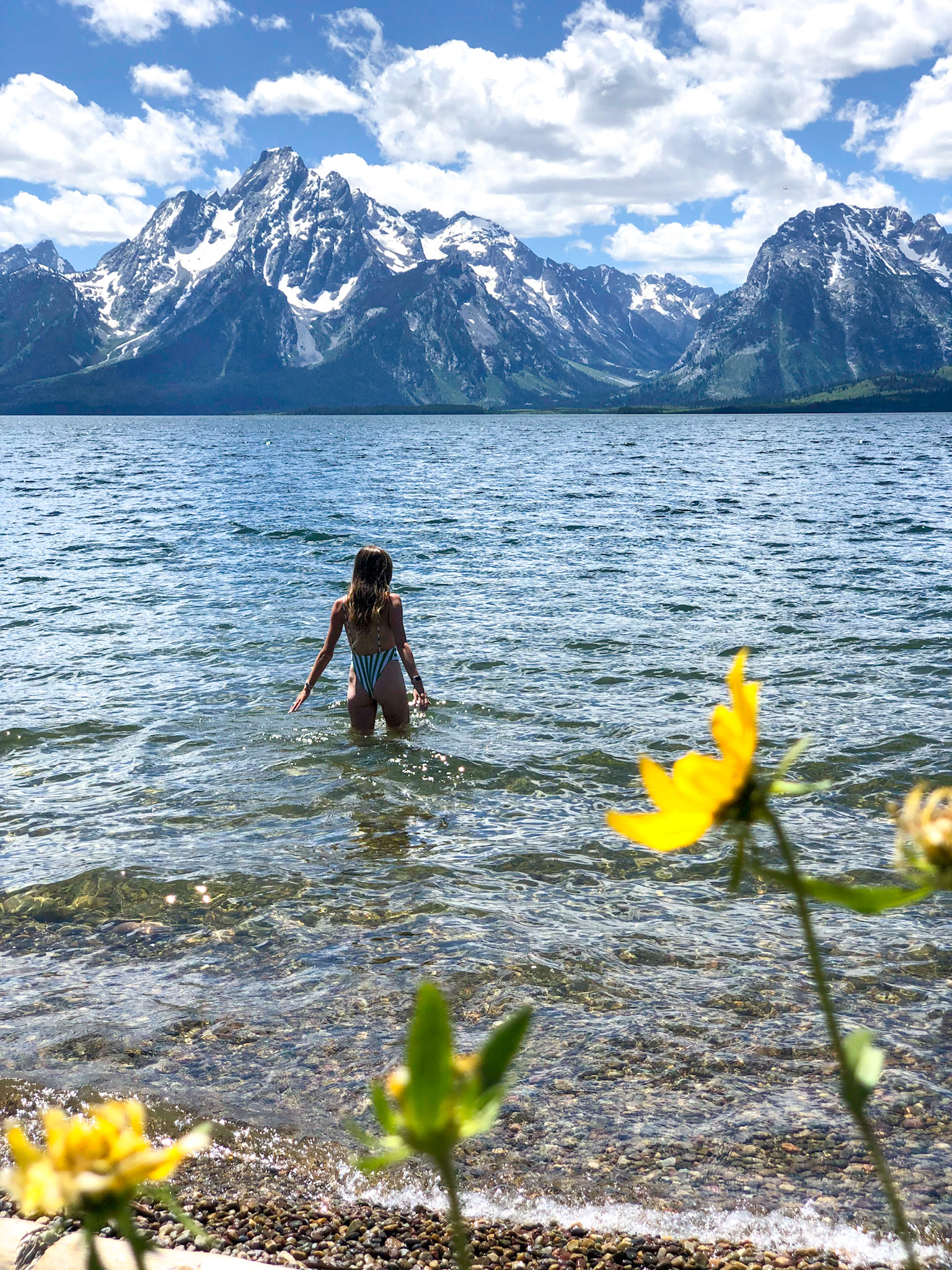 Over the past several years, I've spent all my summers traveling around the United States to National Parks. I love to hike, of course, but what I really love is finding a beautiful body of water to jump in afterward. There is nothing as joyful, to me, as jumping in a frigid lake with mountains surrounding me. And after visiting 59 of the 63 major US National Parks, I've found more than my fair share of swimming holes. Still, one always stands out among them: Jackson Lake in Grand Teton National Park.
Right off Colter Bay Campground – my favorite campground in the park – is the expansive Jackson Lake, marina, and swim beach. Despite its tendency to become slightly more crowded than other slightly more hidden bodies of water in the park, the accessibility is part of the fun for me. The water is generally frigid, to be sure, but there's just nothing like that backdrop.
Pro-tip: walk to the Colter Bay General Store and grab a box of wine and snacks to bring to the rocky coastline.
MIKALA LUGEN (@mikalalugen): NELSON LEDGES QUARRY PARK, GARRETTSVILLE, OHIO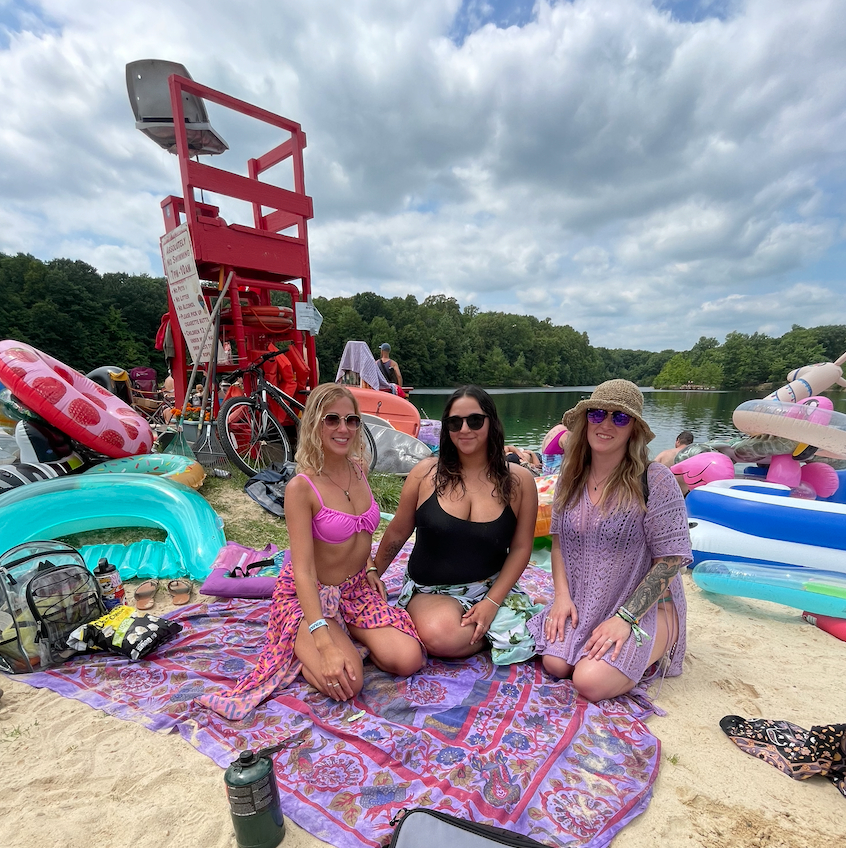 I studied public relations and journalism at Kent State University and this magical place was a short 30 minutes away. Nelson Ledges Quarry Park started as a local gem but has quickly gained national recognition due to its hosted music festivals throughout the spring, summer, and fall seasons. The location is built up by beautiful quartz and sandstone cliffs surrounded by a wooded forest. In the '40s and '50s, Nelson Ledges was an operating rock quarry. After digging a little too deep, the machinery hit one of the many springs and a 30-acre quarry filled within days, leaving peninsulas, rock shelves, and an island.
Since then, it's become one of the best places to camp and swim in Ohio. What can be better than a beach in the middle of the woods? You can camp out here in the shaded woods with plenty of trees to hang and lounge in a hammock under the summer sun. Many weekends in the summer are reserved for music festivals but there are plenty of days during the week and on off weekends to come here with friends to cliff jump, lounge on floaties, and sun tan. There are also plenty of hiking trails throughout the park so once you're done swimming you can go out and explore the beauty of Ohio's beech-maple forest.
ZACH JOHNSTON (@ztpwhiskey): RED RIVER GORGE, KENTUCKY
After living in Kentucky for a year, there's one place that every local insists you have to go — Red River Gorge. The hikes! The caves! The pizza! The waterfalls! That last element makes for a good place to both get your IG on but also cool down during the incredibly hot and humid summers here in Kentucky.
Kentucky is full of amazing outdoor adventures. It's home to the largest known cave system in the world, which is centered around one of the best free National Parks in the country. There's also just a shitton of wild forests, lakes, rivers, and swimming holes all over the state. What sets Red River Gorge apart is access. The canyon lands run through the Daniel Boone National Forest, which means that you can go pretty easily without too much planning ahead. There are tons of campgrounds, cabins, and hotels around to lay your head.
Moreover, the food is on point. Miguel's Pizza is the center of the universe if you're in the know.
Then there are places to dip into cool water pools along rivers, under cliffs, and below waterfalls all over. Trust me, when it's 90 degrees with 60% humidity, a dip in a cool pool under a cliffside waterfall is the perfect way to cool down on a hike or after rock climbing. Make your way to Friday Falls (pictured above) for the most idyllic version of this summer fantasy.
VERA HOLROYD (@passportsandspice): Hanakāpīʻai Falls, Kauai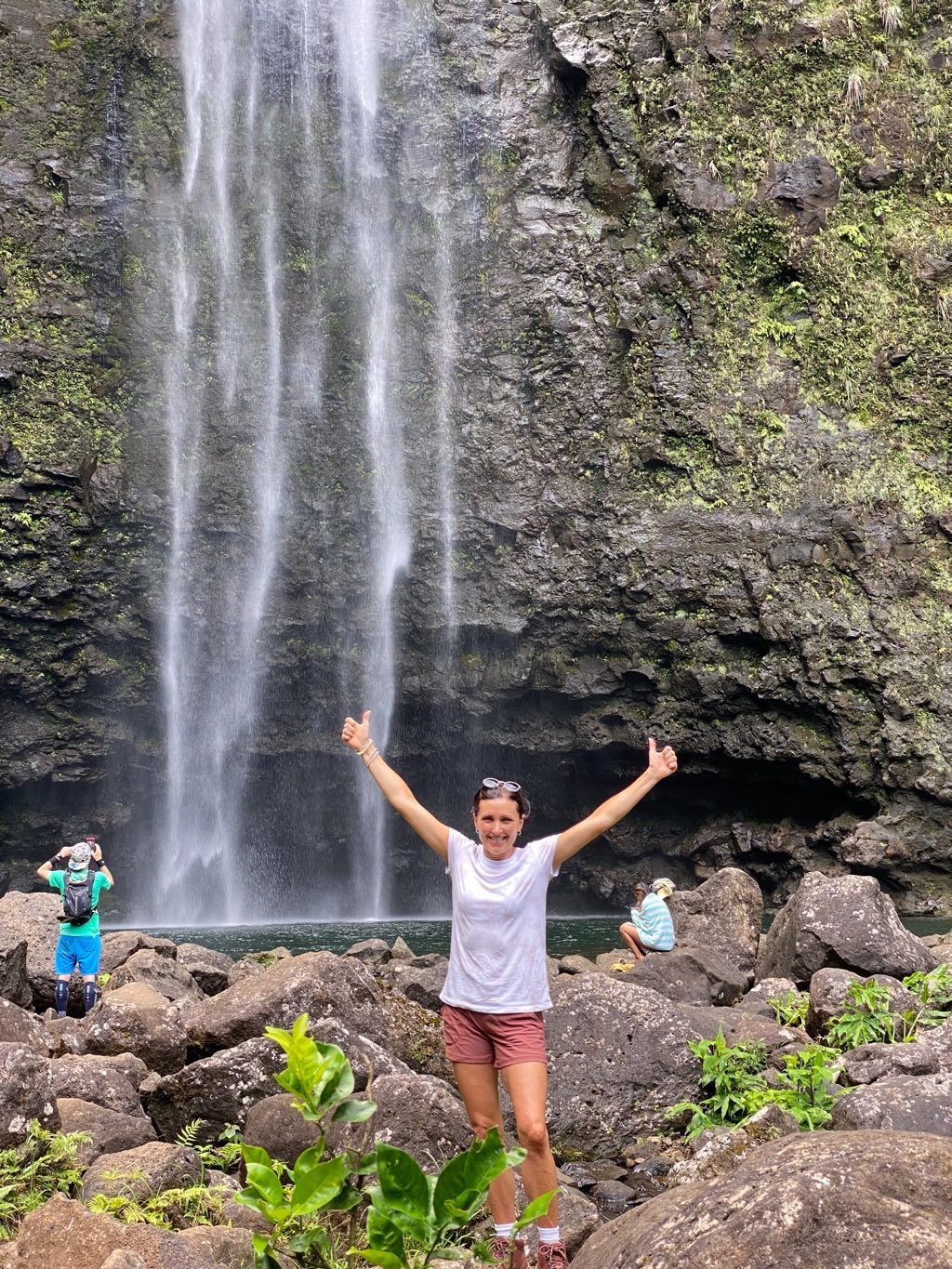 I just returned from Hawaii and must say that the natural pool created by the Hanakāpīʻai Falls on the island of Kauai is one of the coolest swimming holes I have ever swam in. There are several reasons. It is at the bottom of a spectacular 300-foot-tall waterfall which leaves one speechless once you finally reach it. I write "finally" because it requires an approximate four-hour hike from Ke'e Beach in Hā'ena State Park (which is also the beginning of the famous Kalalau trail). The hike is not easy: lots of ups and downs over rocks, roots, stairs, hot sun with heat and humidity, or pouring rain with water gushing on the trail from everywhere and thick sticky mud. Add several creek crossings (water level depending on the weather) over giant slippery boulders and you have quite the adventure.
One has to earn a chance to visit these falls and the exclusive swimming spot, but it is definitely worth it: crystal clear, deliciously refreshing water (so welcome after a strenuous hike) and relative seclusion (especially if you come early in the morning). Pro Tip: Don't forget to pack a swimsuit and keep in mind that it takes another four hours to get back to where you started the hike.