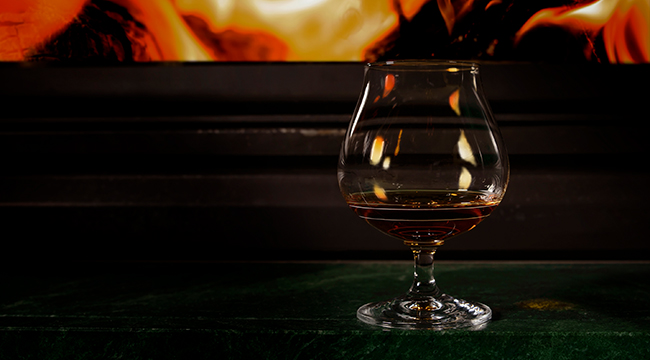 If you've never been camping then you've never experienced the full potential of summer. There's something truly special about getting out of the big city, heading into the mountains, and wandering for a weekend. Obviously, even though you might be hiking around in the woods, there should be planning involved. In order to fully enjoy this immersive, natural, pollution and skyrise-free experience you'll need to pack properly. Most important is a tent because even though sleeping under the stars sounds great, a sudden rainstorm can put a literal damper on your weekend expedition. You also need a warm, sturdy sleeping bag in case the weather grows colder in the night. Then comes the hiking boots, raincoat, compass, and all the food you'll need to sustain your trip.
But most of all, you need a great bottle of booze to enjoy by the fire with your friends and family after a long day of trekking. Since tomorrow is National Scotch Day, we vote that if you're "going out bush" tomorrow, that bottle should be Scotch. Not just any bottle will do, of course. That's why we made a list of our favorite Scotches to imbibe as we sit around a roaring campfire.
Oban Little Bay
This offering from Oban is simply its originally single malt that's just left to age a little longer in small oak casks. This gives it an added level of rich, smooth, balanced sweetness with just the right amount of smoke, spice, and dryness.
Johnnie Walker Black
https://www.instagram.com/p/Bk1Z6v7l7Iv/?tagged=johnniewalkerblack
If you're a fan of Scotch, or even if you're new to the spirit, you've heard the name Johnnie Walker. This blended whisky is a staple of Scotch enthusiasts all over the world. One of the brand's most popular offerings is Johnnie Walker Black. It's smooth, rich, and perfect for sipping on a summer night.
Ardbeg 10 Year Old
Ardbeg is located on Islay, an island just off the coast of mainland Scotland. The island is known for its smoky whiskies. One of the best is Ardbeg 10. The flagship whisky for the famous brand, Ardbeg 10 is sweet, peaty, and well-rounded.
If you like smoke on smoke, sip this one next to your campfire.
The Macallan 12 Year Old
If Ardbeg 10 is smoky and robust, The Macallan 12 is smooth, sweet, and sophisticated. The reason for this is because, instead of getting much of its flavor from American oak cask aging, The Macallan 12 gets its unique, sweet, rich flavor from maturing in Oloroso sherry seasoned casks from Jerez, Spain. Pass a bottle of this around the fire and you're sure to be the most popular camper.
Laphroaig 10 Year Old
Laphroaig is another distillery located on Islay. Just like with Ardbeg, you can expect a heavy dose of peat smoke when you sip on Laphroaig 10 Year Old. But, on top of that, you can also expect a rich, sweet, malty, and subtle medicinal (trust is it's a good thing) flavor. It's a great gateway Islay whisky and one you'll never grow tired of.
Highland Park 12: Viking Honour
Highland Park and it's Viking heritage is a rather mysterious distillery. The northernmost distillery in Scotland, Highland Park is located on the far north island of Orkney. Its flagship offering is Highland Park 12. This smoky, rich, whisky has hints of Christmas spices and citrus and is a great sipper for an evening under the stars.
The Glenrothes: Vintage Reserve
The winner of Whisky Advocates 'Speyside Single Malt of the Year' back in 2016, this is a great whisky to put in your backpack before you head off into the woods. This offering from The Glenrothes is creamy, smooth, and subtly spicy with hints of vanilla and toffee. Share this with your fellow campers or hide it away for yourself.
Aberfeldy 12 Year Old
Fans of Dewar's should be very well acquainted with Aberfeldy. That's because Dewar's whisky (and the 12 year old in particular) is the base. It's smooth, rich, and sweet and is perfectly suited as a lakeside sipper or used in mixed drinks at the campsite.