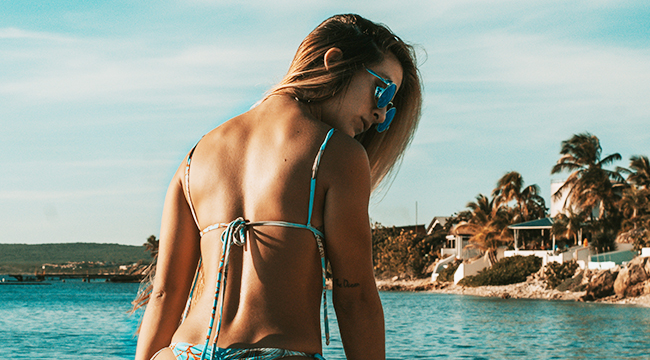 Spring Break is nearly upon us. If you haven't already booked a trip, the time is now. Thing is, there are a lot of choices out there. Do you hit the ski slopes? The beach? A tiny, secluded island that no one has heard of? Vegas, baby? There's so much world to see and you don't want to waste a coveted week off on a bad choice.
To help you make a great call for Spraaaaaaaang Breeeeeeaaaaak this year, we thought we'd ask the party people themselves where they love to revel. We popped over to Ranker to check out the top ten spots adored by the masses. There are a few classic "Spring Break" destinations in the mix, for sure. There are also a few low-key spots that might be worth the extra effort to get to this month.
Check out the peoples' picks and let us know where you're going in the comments!
10. Montego Bay, Jamaica
Paradise only four hours from New York? Sounds good to us. Jamaica is a great destination for anyone looking to party yet still go all-in on a tropical paradise with dope waterfalls, idyllic beaches, great food, plenty of cannabis, and space for a few lazy days in between all the partying.
GET THERE: You can score a roundtrip from New York to Montego Bay (nonstop) for around $400 right now.

9. Cabo San Lucas, Mexico
It's hard to argue with a trip to Baja California. The arid peninsula along Mexico's northwestern coast is a nature lover's paradise with an amazing food culture (that goes way beyond fish tacos). This is fun-in-the-sun, endless watersports, and all the tequila.
GET THERE: You can score a roundtrip from Portland to Cabo San Lucas for around $280 (with a short layover in Los Angeles).
8. Mykonos, Greece
Mykonos is a little further afield but totally worth the 12-hour plane journey. The Greek isle is freakin' paradise spiked with a Mediterranean vibe. The volcanic islands are full of beautiful buildings, food, drink, and people. This is where you go to live the good life for a couple of weeks.
GET THERE: Roundtrip flights are not cheap, but shop hard and you can score a trip in late April for as little as $540 roundtrip from Boston to Mykonos (with a layover in London). Otherwise, expect to pay closer to $800.
7. Las Vegas, Nevada
This is one of the easiest and cheapest choices for a great Spring Break. Vegas is a destination built for you to have an amazing time. The hotels are resorts stocked with installations of some of the world's best bars and restaurants. The clubs are some of the wildest in the world. Oh, yeah, and then there's gambling, legal weed, and legal sex work. You will have a good time.
GET THERE: Getting to Las Vegas shouldn't set you back more than $100-$150. Right now, roundtrip flights from O'Hare in Chicago to Vegas are $146 on Spirit.
6. Nassau, Bahamas
Nassau is only an hour from Miami by plane. That's close enough to hit both South Beach and the Caribbean paradise in one trip. Nassau is the sort of place where you can go all-inclusive at a massive resort or kick back on the beach and DIY your whole trip. It's really up to you how you choose to party. Either way, you'll have a great time.
Flights from Miami to Nassau are running $235 roundtrip for March.

5. South Padre Island, Texas
South Padre Island is a strip of sand in the Gulf of Mexico that exists, largely, to let you party on a sunny beach for a week. The strip is all hotels, restaurants, and bars with a very Texan vibe.
GET THERE: Flights to South Padre Island generally go through Harlingen (about 30 minutes away by car). You can snag flights from Baltimore-Washington to Harlingen for around $399 this month.
4. Amsterdam, Netherlands
Amsterdam is the sort of city you can get a bit lost in and everything's going to be okay. The famous party city has an amazing bar scene, well-stocked cannabis shop culture, and a killer local food scene (to help cure those hangovers). It's also a stunning city to walk around in, with a unique look that'll stick with you long after you've left.
GET THERE: Roundtrip flights to Amsterdam from New York are $340-$350 this March on Wowair (one-stop) or Norwegian (nonstop).
3. Miami Beach, Florida
Miami Beach is worth the trip for the Cuban food scene alone. Add in one of the best beach cultures and party scenes in the country, and you've got the perfect balance for a great Spring Break destination. This is the sort of spot that's easy to get to, always affordable, and you'll have to try really hard not to have a good time.
GET THERE: Roundtrip flights from San Francisco to Miami are $277 this month.
2. Ibiza, Spain
Ibiza has been a party destination for a long, long time. So much so that the island is synonymous with the word "party." It's also a Spanish paradise with a rich food culture, fascinating history, and stunning natural setting. This is worth the long layover in Madrid (where the bar and food scene also rocks).
GET THERE: Flights to Ibiza (via Madrid) from Philadelphia are running $600 roundtrip this month.

1. Cancún, Mexico
We're not surprised to see Cancun ranked at number one. The capital of the Mayan Riviera has been entertaining throngs of American Spring Breakers for decades now. The clubs, beaches, pyramids, and beauty of the place draws a lot of people this time of year. It's another spot where you'll really have to try to have a bad time.
Flights from Atlanta to Cancun are running $294 roundtrip this month.