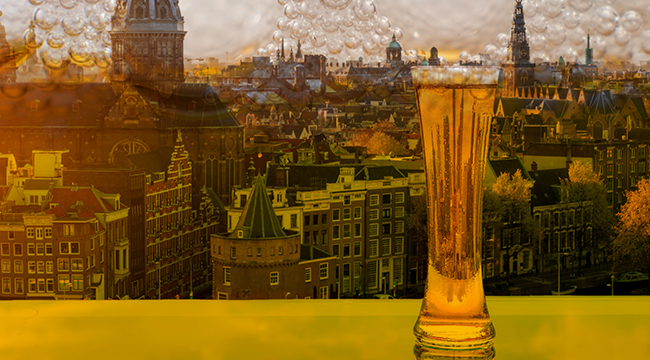 Amsterdam is a hell of a city. Travelers have been dropping in to party on its bike-friendly backstreets and maze-like canals for eons. Cannabis, molly, gin, absinthe, cocaine, and pretty much every other inebriant you might crave is easily found on the cobbled lanes of the ol' burg.
What's often missed in all this revelry is the beer scene. Truth be told, Amsterdam has a deeply cool beer bar culture that goes way back. Cozy wooden paneled pubs, old granite bar tops, and ancient men in corners (reading actual newspapers!) are in abundance. The city also has plenty of tattooed and bearded brewers boiling up serious suds for the masses and the nerds alike. There are uber-hip microbreweries a stone's throw from old-school cafes with brass tube taps and mustachioed barmen in white shirts and black ties.
On the travel tip, it's never been cheaper or easier to get to the city. WowAir and Norwegian can get you there for $150 from the east coast pretty much year round these days. So if you do decide to jump on a plane next week, this fall, or even anytime in the next year, let this guide lead the way to new friends, new beers, some great food, and a head full of new (fuzzy) Amsterdam memories. Proost!
PROEFLOKAAL ARENDSNEST, GRACHTENGORDEL-WEST
Arendsnet is an easy place to start your beer-themed journey through the 'Dam (don't call it that). The bar is located as centrally as you can possibly get. There's a super classic interior with wood panels, a big old bar, and two rows of some serious taps. Then there's the outdoor sidewalk seating. This is where you want to post up. The views of the canal, bridge, and city are pure Amsterdam and precisely what you came all this way for.
Every Monday, Arendsnet holds a Dutch beer tasting from six to seven in the evening. This is a good place to get a sense of what the Dutch do when it comes to beer. There are 50 Dutch beers on tap here, so start slow and talk to the pourers about what you should be drinking. They're always happy to help you find just the right beer.
CRAFT & DRAFT, OVERTOOMSE SLUIS
Craft & Draft is a little more modernist. The beer bar is also a beer shop, where you can grab bottles and growlers to take back to wherever staying. You're going to get an amazing selection here. There are 40 taps of some of the best beer from Amsterdam, the Netherlands, and the rest of the world.
This trendy beer stop has a succinctly and lovingly curated tap list that'll keep you stuck on a bar stool or at a table curbside for the better part of the day. Our recommendation is to not visit a coffee shop first. If you show up at this place stoned, you'll end up spending the whole day at Craft & Draft drinking fun beer and eating nutty cheese.
We're not saying that's a bad thing, mind you. We're just saying there's a lot to see and getting stuck at one place inhibits hitting everywhere else on this list!
BUTCHER'S TEAR, SCHINKELBUURT
https://www.instagram.com/p/BT6v9DKBuA8/
Butcher's Tears is at the forefront of the innovative Amsterdam beer scene. The space is one of those places that leans heavily into minimalism with sterile white tiles and, of course, there's a turntable. Their warehouse location in an old industrial area is a little out of the way but 100 percent worth the trek. Think of it like an Amsterdam treasure hunt with some of the best beer being brewed in western Europe at the end.
The beer list is always rotating as Butcher Tear's brewing alchemists are cooking up unique and delicious beers. Right now, they're releasing a "true-to-style Old England IPA" which sounds goddamn delightful. This is the brewery where the cool kids hang and drink the best beer. If you stay past sunset, a band might set up and a party will surely break out as the beer continues to flow through the night.
DE PILSENER CLUB, BINNENSTAD
Back in the center of Amsterdam, try your hardest to stumble upon De Pilsener Club. This is a great wood-paneled pub with killer beer, chill vibes, and a staff who truly care about what beer you drink. It's a lot of fun to sit in the tiny pub and strike up a convo with a local or another tourist. The real draw here is the seating outside in the small alleyway. You'll get in some good people watching and, again, invariably end up talking to fellow (beer) travelers.
The beer list is a nicely curated selection of Dutch standards and craft alongside some of the better offerings from Belgium and further afield. Seriously though, talk to the servers and figure out what's the best beer to drink right now. Everyone speaks English and they really are that friendly about the beer. Just don't forget the plate of cheese cubes and mustard. Never forget the cheese and mustard!
CAFE CHRIS, JORDAAN
Posting up in Cafe Chris is a must. There are few places where you'll feel more "Dutch" than sipping beers than here, amongst the dark wood, pool table, an old lady behind the bar, and leaded glass. This place is fairly central so it gets a decent mix of tourists and locals alongside the beer nerds looking for a great glass. Don't miss out on a chance to take a few shots of genever (Dutch pre-gin basically) to really get the night going.
If you're headed to Cafe Chris, be sure to order some balls. Bitterballen tends to be bechamel balls that are coated on panko and then deep-fried to crispy perfection. At Cafe Chris, they're served with some pickle and a little tube of mustard (there's always mustard). If you haven't tried bechamel croquettes, there's a pretty good argument that you haven't truly lived. They're the perfect beer snack with a rich and creamy interior and a salty and crunchy fried exterior.
Prediction: You'll be jonesing for these balls within a day of getting home.
DE ZOTTE, JORDAAN
De Zotte is a Belgian style bar that goes beyond just Belgian beers. This is the perfect place to grab a nice dinner while sampling the beers from the Dutch-Belgian region. The menu is fairly varied and very local. You can get bowls of thick cut fries with a big dollop of mayonnaise, boards with huge chunks of local cheese and mini loaves of freshly baked bread, plenty of ballen, and a long list of seasonal classics from the region.
Then there's the beer. The tap and bottle list at De Zotte is huge. You can start in the south around Pajottenland in Belgium and work your way north towards Amsterdam as you pick delicious beer after delicious beer. After the dinner rush, this place transforms into a rollicking local pub where great beer is constantly poured and loved. Go! Have a great time, make new friends, and drink all the beer.
CAFE GOLLEM RAAMSTEEG, BINNENSTAD
Right in the center of Amsterdam, you'll find Gollem. This place feels local (and gets crowded with locals). Don't get us wrong, there are still tourists around: they're inescapable in Amsterdam. Still, Gollem is a great little spot for beer lovers and revelers who just want a nice, cold glass of suds and not a ton of rowdy visitors.
The Raamsteeg installation of Golem is a cozy joint with a relatively small 14 tap beer list and a gargantuan bottle list of 200 beers. There are three other locations around Amsterdam with varying taps and bottle lists but this is the one we dig the most. This is the perfect mid-day stop for a killer beer — try their Gollem Precious IPA — and a big platter of local cheese, salami, bread, and, yes, mustard. You're sure to make new friends over a beautiful pint and plate of cheese in this place.
OEDIPUS BREWING, NOORD
Oedipus is brewing some of the best beer in Amsterdam. Like Butcher's Tear, they opened up shop in an old industrial area and started slinging beers. It's worked wonders. Their on-site taproom is only open Thursday through Sundays, so you'll have to plan a good time to go over a weekend. We'd also suggest aiming for a sunny day since their beer garden area is the perfect place to while away the day while sipping well-crafted ales and lagers.
Oedipus has about six or seven year-round beers always on tap. Then they'll have a seasonal, a collab or two, and some specials also available — so there's always a deep roster of beers to choose from that lean innovative and bold. If you make it this summer, make sure to snag their Polyamorie sour ale and lager called Lager Lager Lager. They're both excellent examples of the precise craftsmanship of Oedipus.
DE FOODHALLEN, KINKERBUURT
A trip to De Foodhallen is necessary if you're in Amsterdam. There's a large street market around a huge indoor hall. Outside, you'll find everything from down-and-dirty Indonesian dishes to vacuum cleaners. Inside, you'll find a trendy food hall with a great beer bar. Actually, there are two great bars inside. One has a nice selection of local Amsterdam standards and the other is a small altar to the best of craft beer.
The Beer Bar is off to the righthand side of the food hall near the middle. The barmen are experts in their field and pour from six perfectly curated craft taps and a long list of bottles. What's essential about this place is that you can grab a delicious beer and a huge array of great food from one of the many stalls surrounding it. You can mix and match beer styles and food. Grab some fresh, briny oysters of the half-shell and killer stout. Or indulge in a huge Dutch hot dog slathered in sauces and pickles in a pretzel roll and drink a big, bold saison. The world is your beer-loving oyster at De Foodhallen.
BAR JOOST, INDISCHE BUURT
Bar Joost is all about local brews. A stop at Joost is a chance to celebrate some of the most beautiful beers being brewed in Amsterdam and the region by the latest generation. The bar has a very "local corner pub" feel that balances trendy craft beer bar and cozy pub without falling into pretention. That's a very thin tightrope to walk in the craft beer world. Be warned, this place gets packed. So be patient and the good stuff will flow.
The beer is the real highlight here. There's a long tap list that rotates regularly with whatever the masters are brewing up. Don't expect to see the same thing twice. Expect the unexpected and the interesting with a nice dose of experimentation. Basically, if you can't make to every brewery in Amsterdam, hitting up Joost will allow you to tour the beers you don't have time to make it to.