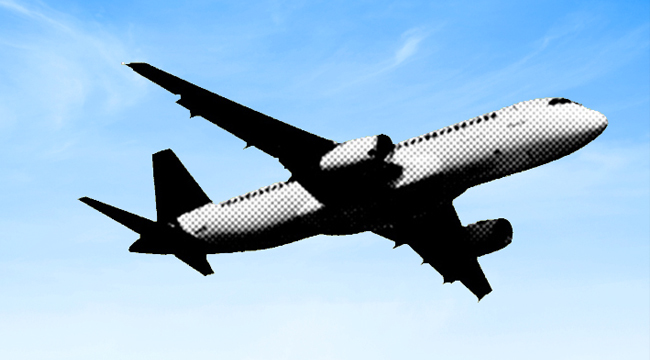 Time is ticking to book a great summer adventure. As May quickly approaches, the spring shoulder season wanes and the best cheap flights will become fewer and farther between. Right now is the time to book if you want to score great deals before prices spike over the summer.
Below are some of the best deals on cheap flights and travel packages right now. These are the sites and Twitter feeds that you should be following and setting up alerts for. Prices will vary. Sales will pass quickly. You've gotta shop hard and act fast. Good luck out there and happy travels!
SECRET FLYING DEALS OF THE WEEK
The best place to start your cheap flight search is at Secret Flying. Granted this will be hit and miss. Still, the deals are often the absolute best deals to be found across the industry.
This week's deals include a dirt cheap flight from San Francisco to paradise (Tahiti) for only $621 roundtrip. The kicker? It's a nonstop flight, making it a lot easier on you physically and mentally.
If you're in the LA area and want to check out the wonders of Vancouver, you're in luck. Right now you can snag a roundtrip from LAX to Vancity for only $214. Don't forget to check out Vancouver Island while you're up there. It's dope, we promise.
Lastly, flights from Florida to Ecuador are running $278 roundtrip with a layover or $463 for a direct flight — which is just over four hours long. Four hours and 400 bucks to get to South America? Sign us up.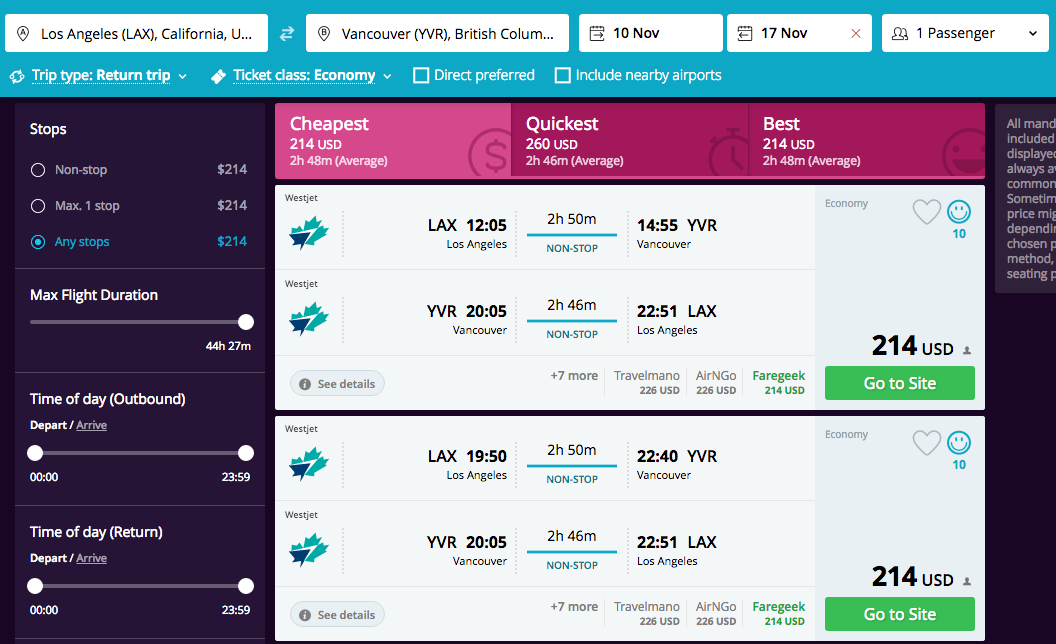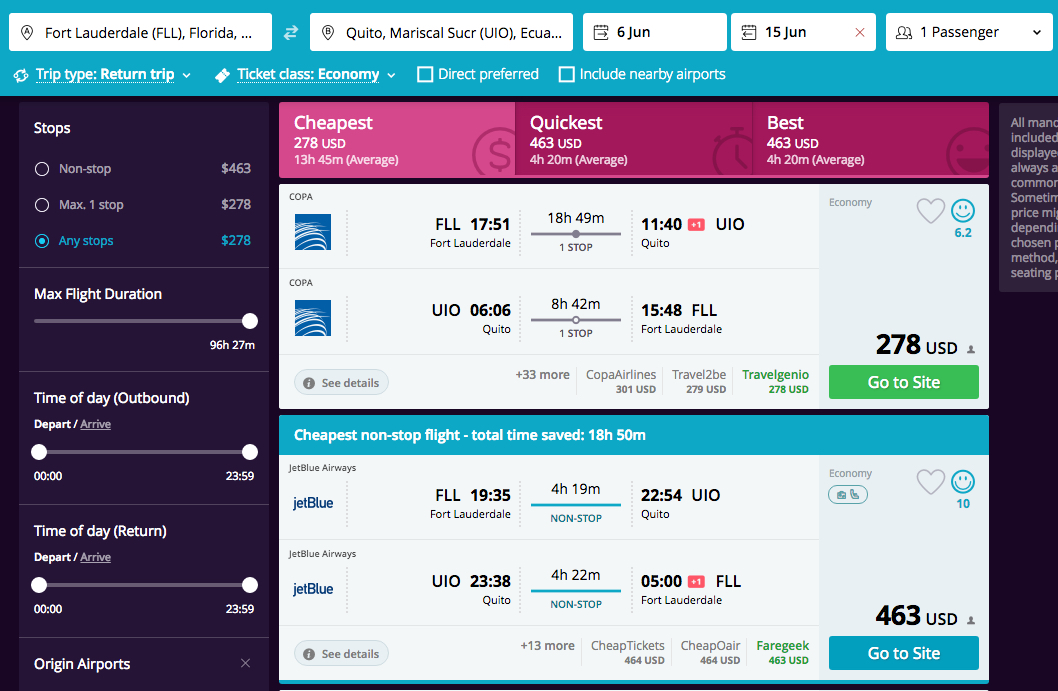 WOWAIR $99 FLIGHTS
If you're looking into last minute travel, or just need to get out, then check out offers from WowAir. You can snag a quick flight to Iceland for as little as $99 if you're flying from the East Coast and Midwest this April and May. Glaciers, Game of Thrones, and hot springs all await.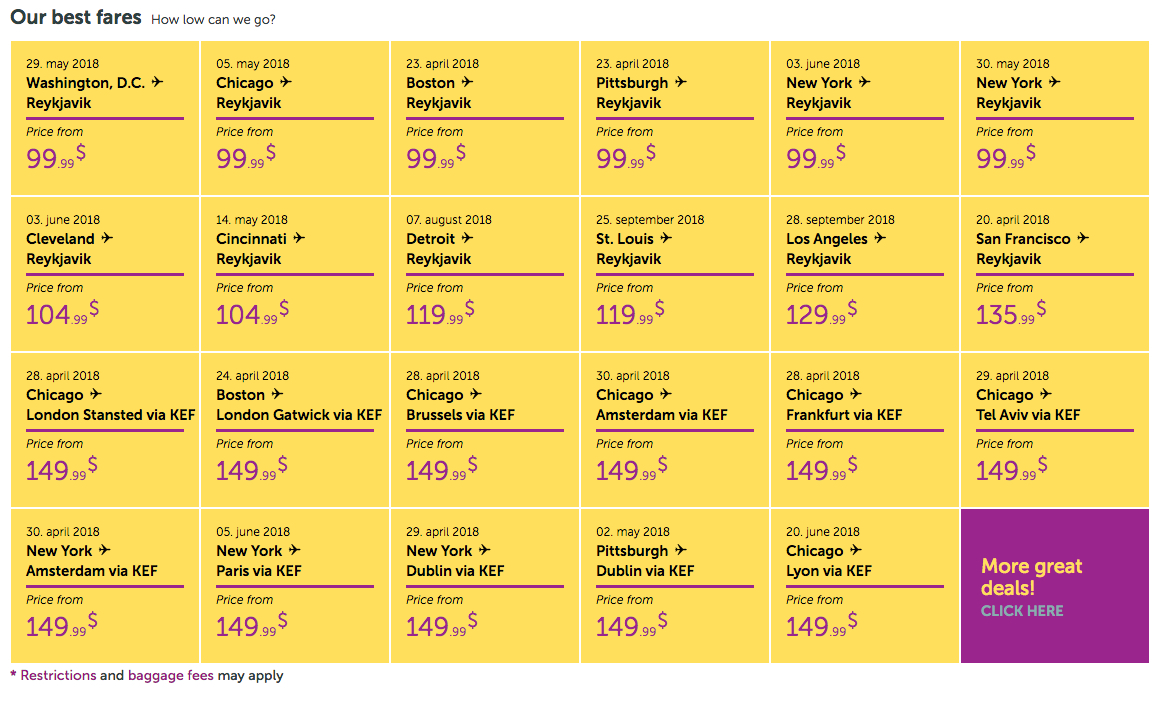 FLY SCOOT $199 DEALS TO ASIA
On the other side of the globe, Scoot is still selling flights from Honolulu all the way to Singapore for only $199 each way (with a layover in Osaka). That's an incredibly cheap airfare that'll get you to Southeast Asia where the airfares are also crazy cheap and getting around is easy. Adventure awaits.
FRONTIER'S $20 DEALS AROUND AMERICA
Frontier is offering their bargain basement fares right now. Their Online Deals are only $20 each way for flights all over America between now and June. There is no way you can beat these prices. There's just not. But remember: Don't expect any frills.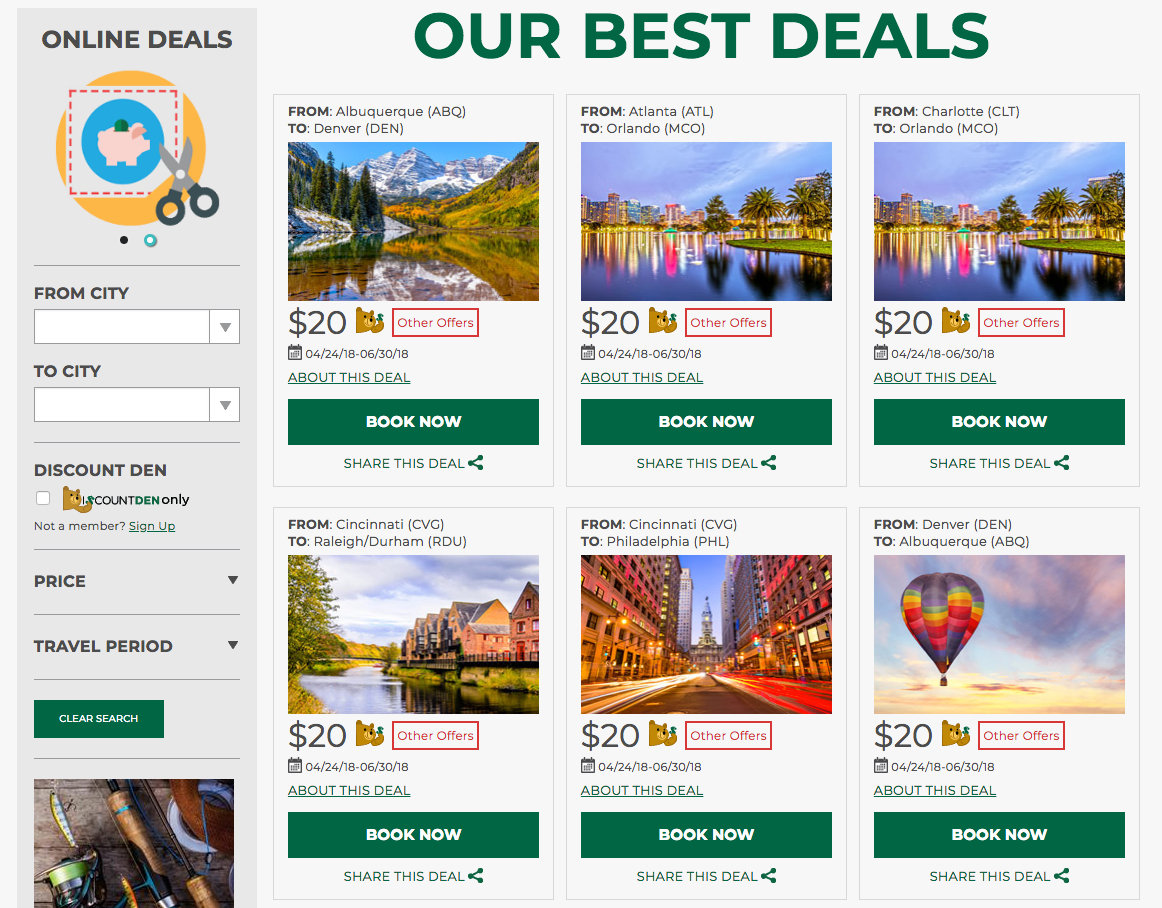 SOUTHWEST $49 DEALS
A notch up by airline comfort from Frontier is Southwest. They're offering $49 flights until Thursday this week. Granted, you'll have to do some shopping here to find the best prices. Still, $49 flights across America are a steal.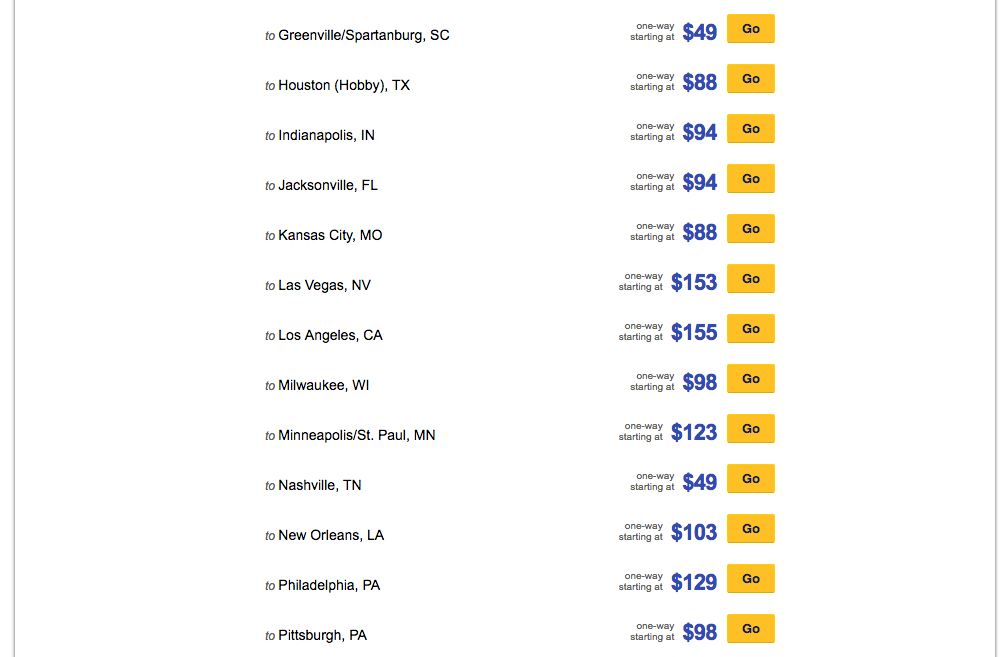 HOTEL OF THE WEEK: HOTEL EDEN ROME
This week we're going full baller with our hotel selection. Hotel Eden in Rome is a fabulous property. From the moment you walk in, you're greeted with warmth, professionalism, and comfort. It'll be hard to get past the lobby library, which is hiding one of the coolest bars in all of Rome.
Once you make it to the rooms you'll be in the legit lap of luxury. The thread counts are crazy. The white marble bathrooms are fitted with the best. The rooftop bar has stunning views of Rome. And the kitchen is, you guessed it, absolutely on point.
Obviously, this is a baller option. Expect to pay around $500 per night with breakfast included. But here's the good news: Hotel Eden is about to start a sale between May and the end of December where you get the fourth night of any stay free. That's an average of $500 savings on four nights in the Eternal City. That's 500 in your pocket to enjoy all the amazing corners of one of the dopest cities on the planet.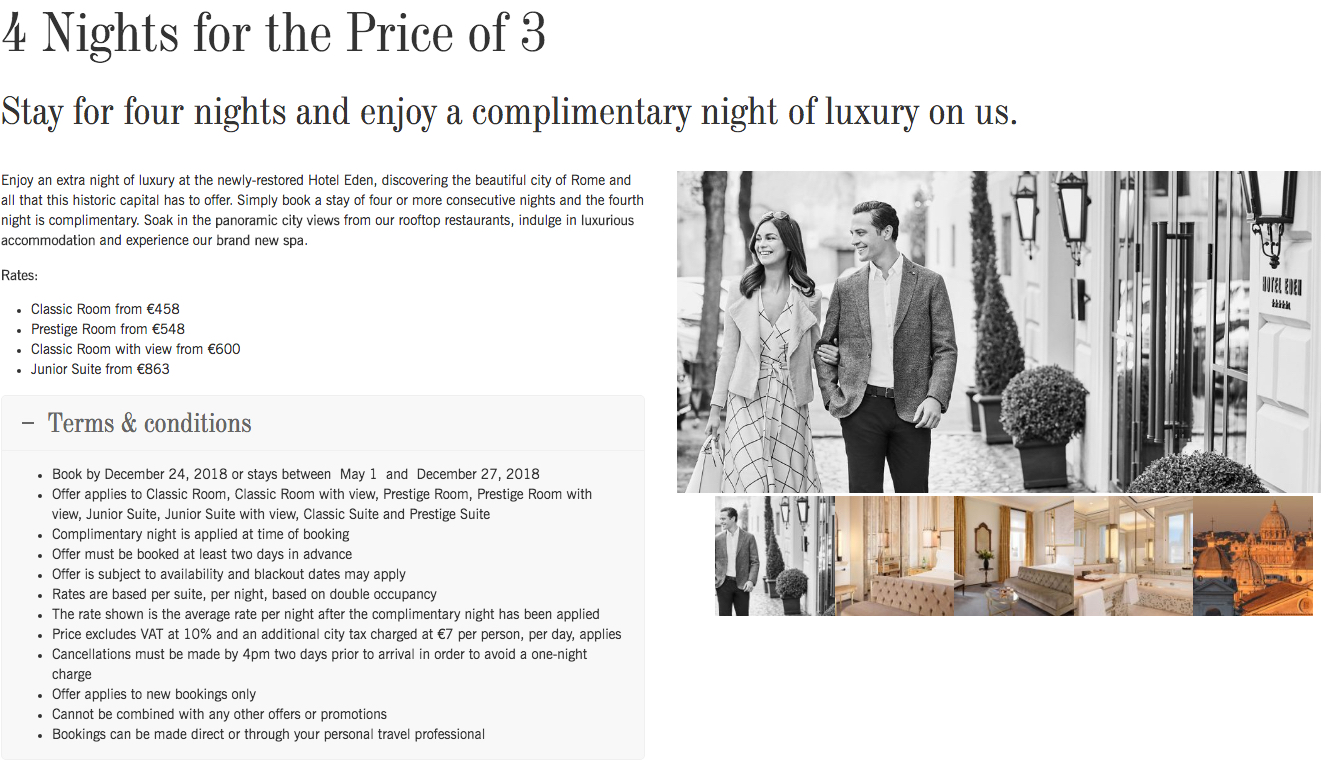 CITY WONDERS SALES
If you're planning a trip to Europe, City Wonders is the play for expertly guided tours of the biggest spots. It's really easy to dismiss tour guides these days with smartphones and AI. But City Wonders is upping the game. You can get a Ph.D. in archaeology as a tour guide of the Colosseum, an art doctorate student on a tour of the Louvre, and an advanced sommelier to guide you through a Tuscan vineyard. The guides really are that exemplary and add a depth and humanity to every tour.
And, hey, they're on sale right now! You can save some cash and put that cash towards an extra bottle of vino.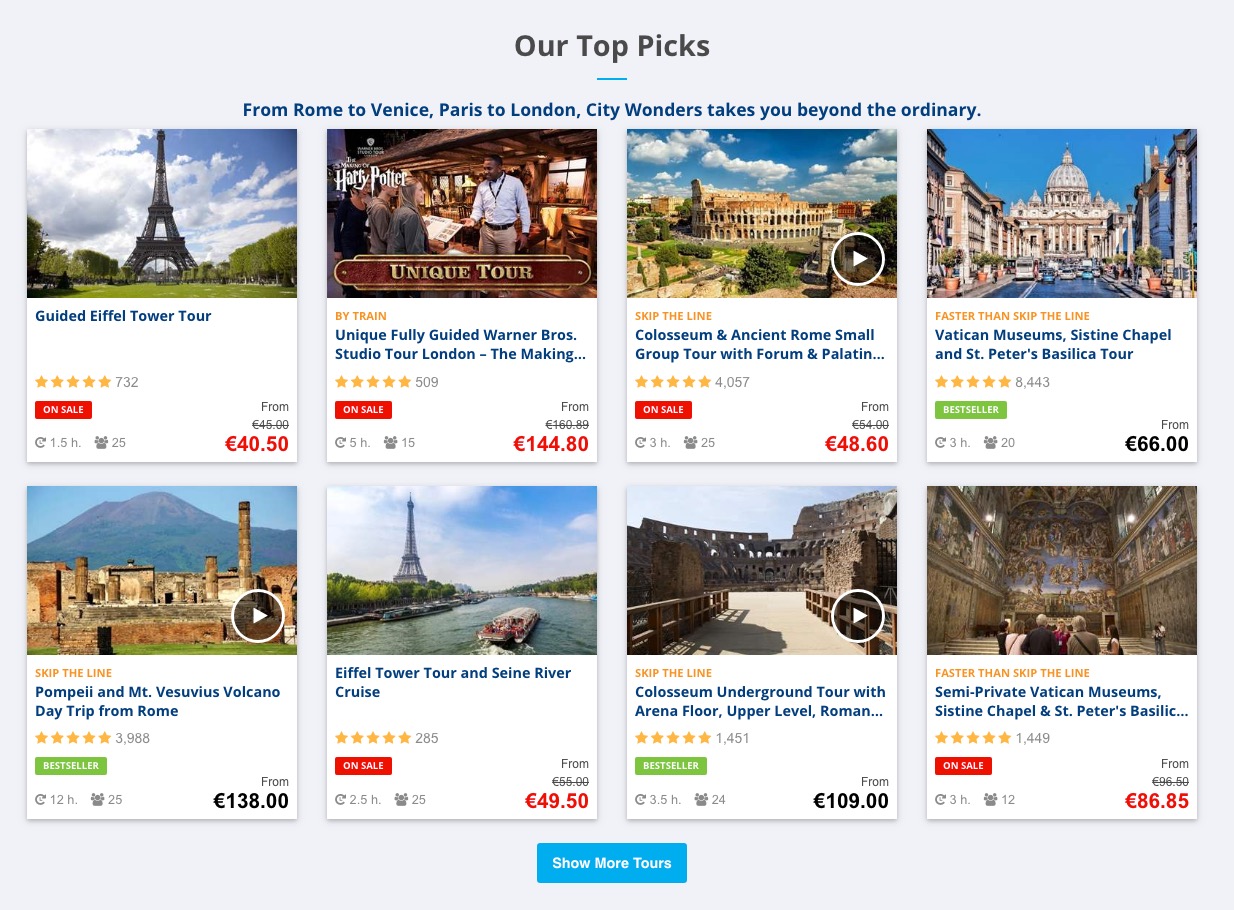 TOUR OF THE WEEK: ROADIES COACH
There are few cooler ways to tour America than with Roadies. It's a tricked-out tour bus that lets you live our your rockstar touring dreams while seeing some of the best corners of the American Southwest with your crew. Instead of guides, Roadies have "tour managers" to assure you're having the best time at every stop (and in between every stop).
If you're looking for a wholly unique way to spend a few days on the road, this is it. And with the code ROADIES100, they're taking a $100 off the list price for all Uproxx readers. Let's get you traveling!