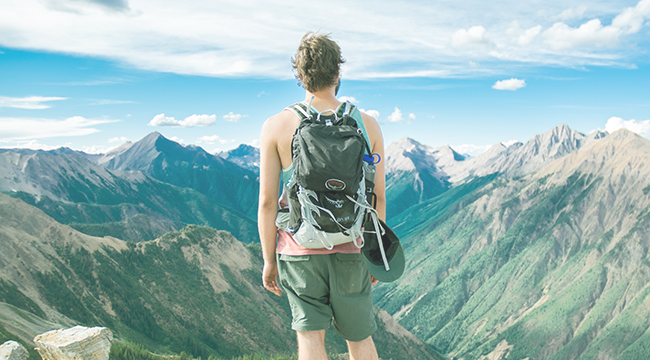 As a child, the start of summer was marked by a freezer full of Otter Pops, the sensation of your skin simultaneously being scorched and cooled by the Slip 'n Slide, and the joyous knowledge that you had months before you had to go back to school. Now that we're all older, the Otter Pops are still a given, but the rest of the list is more likely to include sampling a wide variety of session beers, hitting up a party lake, and doing some tubing.
It should also include going on some legit hikes. Both for the scenery and the workout.
Provided you have an adequate amount of water and sunscreen, few things are as gratifying as spending a day in nature, hiking a trail. A summer hike is a great time to leave the pressing daily grind behind and get in tune with the natural world. It helps that few state or national parks have wifi. Spend the day taking photos, checking in with yourself (rather than work), and feeling the burn as you get your cardio on.
We gathered ten of the most essential summer hikes in America. We encourage you to try them all as soon as you get a chance. It will absolutely be worth it.
The Narrows: Zion National Park, Utah (Zion National Park)
Utah's first National Park, Zion, is renowned for its massive sandstone cliffs in shades of red, pink, and cream. They are absolutely stunning and a solid reason why this is one of the most visited parks in the nation. Visitors never forget the sunlight bouncing off of the slot canyons, the graceful architecture of the cliffs, or the roar of the rushing Virgin River. It's considered one of the best places in the world for canyoneering — where adventurers have opportunities to drop into watery slots and river-filled chasms. The sandstone cliffs also tempt climbers from all over to jump on big wall routes, take shorter crack climbs, and do some peak-bagging.
The Narrows is generally considered one of the best slot canyon hikes in the world. In fairness, there aren't a lot of other chances to get deep in a canyon and take in 18 million years of aged rock walls that flow like colorful, striped taffy. The Narrows doesn't refer to a single trail. There are actually two hikes. The bottom-up hike from the Temple of Sinawava to Big Springs is 3.6 miles, and the top-down hike from Chamberlain's Ranch back to the Temple of Sinawava is 16 miles. Start with the bottom-up route for an awesome day hike. It's especially great in the summer because a large portion of the trek goes through the river. Because water levels change throughout the year, most hikers will have to wade through waist-deep water, but there can be sections that require full on swimming as well.
Be warned that flash floods are no joke here. They rush through slot canyons and take lives. Check the forecast before hitting the trail, and if rain is predicted, make other plans for your day.

The Loop: Runyon Canyon, California
Unlike the other hikes on this list, The Loop at Runyon Canyon isn't a trek through a majestic wilderness. Nor is it an adventure that will involve much in the way of solitude. Instead, what you have is one of the most popular trails in Los Angeles and one that is great for meeting dogs, spotting celebs, and scoping out the fancy ass homes in this part of the city. This little patch of parkland nestled in Hollywood is super accessible for people in the area looking to get outside and move. You will see hikers, runners, weightlifters getting in some cardio, and yoga enthusiasts taking a break from their zen. Plus, there are dope views of the Sunset Strip, the Hollywood sign, and the L.A. Basin, so this is a legit spot for an Instagram shoot.
The Loop is accessible from both the west and east side of the canyon. Start at North Vista Street or Fuller Avenue depending on which side suits best. It is a fairly easy ascent; although, once you reach Inspiration Point, the trail shrinks to a wide single-track that climbs steeply up the ridgeline. Over the next third of a mile, you gain another 340 feet as you mount some wooden stairs, and you want to continue up the ridge until you reach Cloud's Rest, a viewpoint that sits 1,040 feet above the city. Also up for viewing will be some of the best physiques in the country, so be prepared for a lot of taut muscled bodies clad in the most fashionable fitness wear.
There are a few places to get water along the trail, but it would be wise to bring a water bottle. Some people overlook hydration when they're walking so close to home, but it really is something worth addressing.
Ewoldsen Trail: Julia Pfeiffer Burns State Park, California
Julia Pfeiffer Burns State Park rolls from 3,000-foot cliffs down onto the Big Sur coastline of California. Visitors hike among chaparral, madrone, redwood, and tan oak while breathing lungfuls of bracing sea air. One of the highlights of the park is the 80-foot waterfall that descends from granite ridges into the ocean from the Overlook Trail. Trails sitting on higher elevations provide sweeping views of the rugged coastline and miles of ocean. Though we're advocating a simple day hike here, should you want to make more of your trip, consider one of the two environmental hike-in camping areas, which were named one of the "four best places to pitch a tent on the Pacific Coast" by Sunset Magazine. The park's Underwater Area is super popular among scuba divers, too — creating yet another option for adventure.
If you're the sort of person who likes sampler packs, Ewoldsen Trail is a perfect way to get a real feel for the topography of Big Sur. It's scenic as hell and includes sweeping canyon and ocean views, the calm McWay Creek, old growth redwood forest, and grassy valleys. There are even coastal mountain peaks with panoramic views of the Pacific. If you do the full loop, it's only a little over five miles round trip, making it a breeze to do in one day. About halfway through, you will see a turn off for a viewpoint. We beg you to take the detour as the path isn't very long and it ends at a coastal vantage point where California condors occasionally roost. The rainy season often leads to trail closures, so this is likely to be a better bet later in the season. Regardless, check with the parks department before you head out to make sure it is open.
One note: be sure you know what poison oak looks like before hiking this trail in particular. It is very common in this area and a real bummer to stumble through.
Makapu'u Lighthouse Trail: Kaiwi State Scenic Shoreline, Hawaii
One of the most stunning state parks in the state, the Kaiwi State Scenic Shoreline features sweeping seaside panoramas that attract a lot of visitors. Also appealing are the Makapu'u Lighthouse and the chance to spot migrating humpback whales. Unfortunately, whale watching season is between November and March, so summer hikers won't spot one of the ten thousand giants that swim near the shoreline each year to mate, give birth, and nurse their calves. But if you find the summer hike as legit as we think you will, plan to return during whale season. During your summer visit, make sure to visit the lighthouse built in 1909 on a 600-foot cliff overlooking one of the best bodysurfing beaches on Oahu and the Sea Life Park so popular with families.
Makapu'u Lighthouse Trail is a moderately easy 2-mile hike with a 647-foot incline. Renovations were recently made to the lighthouse; at the same time, additional lookout points were added, and the trail was repaved. The big payoff here are the breathtaking views of Oahu's windward coast, Koko Head, Makapu'u Beach, and neighboring islands Molokai and Lanai. Along the trail, hikers can look forward to a hidden blowhole and giant tide pools, as well. But these should only be approached by experienced hikers, as you have to traverse a lot of loose gravel on the hillside to get to them. The trail isn't shaded, so it gets very hot during the summer despite the breezes coming off of the water. Arrive early to avoid the full brunt of the afternoon sun. The park opens at seven in the morning, which is a good time to get started.
There isn't a parking lot close to the Scenic Shoreline, so be prepared to park along the side of the road at the trail's entrance. It's not too far to the trail, so you shouldn't be worn out by the lack of parking spaces.

Slot Canyon Trail: Kasha-Katuwe Tent Rocks National Monument, New Mexico
Just 40 miles southwest of the city of Santa Fe, Kasha-Katuwe Tent Rocks National Monument contains cone-shaped tent rock formations that are the result of volcanic eruptions from six to seven million years ago. The distinctive rocks measure between a few feet and 90 feet in height. You'll take a ton of pictures because the white rocks appear to shift in color from pink to grey to white to tan as the light shifts. There are two trails here: The Cave Loop Trail and the Slot Canyon Trail. The latter is a bit more challenging and comes with more visual impact.
Considered one of the best short hikes in the state, this 3-mile roundtrip trail takes adventurers through a proper slot canyon. After a quarter of a mile, the ravine opens into a narrow gorge with lofty trees stretching upward from the streambed before it begins to ascend more sharply (there is a gain of 640 feet) up to a plateau. Several paths branch out at this point and lead to a group of viewpoints over the Tent Rock formations.
Between April and September, the monument is quite popular, and entrance delays can begin as early as nine in the morning. If you have to wait for people to leave the parking lot before you can have a spot, the wait can last from 30 to 90 minutes.
Highline Trail: Glacier National Park, Montana
Glacier National Park is huge. It encompasses over one million acres and within that space, there are parts of two different mountain ranges, 130 named lakes, over one thousand species of plants, and hundreds of animal species. It has almost the entirety of its original native animal and plant species. And given that there are over 700 miles of trails, it isn't an exaggeration to say that the park is a bit of a hiker's paradise. More than half of the visitors each year report taking a trek on at least one trail during their time in the park.
Looking for a hike that includes sweeping views straight out of a film, large game in the wild, glaciers, waterfalls, and backcountry chateaus? What about one that runs along the Continental Divide? Highline Trail does all of this and more. The trailhead is a conservation area that is often populated by mountain goats and bighorn sheep. It isn't long before you are on an elevated trail holding onto a rope on your right to avoid pitching down the sheer drop-off on your left. The remainder of the trail hugs mountains and climbs amazing passes.
Warning: the trail is fairly long at 38 miles, so most people only walk one way for about 11 miles then grab a ride back to the start.
Ocean Path: Acadia National Park, Maine
Often termed the first eastern national park, Acadia National Park is fairly popular, hosting more than 3.3 million people a year. Visitors come from across the globe to experience the rocky headlands along the Atlantic coastline. The park also includes 158 miles of hiking trails, 16 stone bridges, 45 miles of carriage roads, mountain peaks, deciduous and coniferous woodlands, wetlands, lakes, and ponds. Cadillac Mountain, one of the sites on Mount Desert Island, is also one of the first places in the country where a person can watch the sunrise. The park protects the habitats of 37 mammalian species, 33 fish species, and 331 birds. It goes without saying: the nature watching is first-rate.
Acadia National Park has multiple trails, but we like Ocean Path because it is mostly flat and accessible and passes some of the coolest parts of the park. These are landmarks. The trail is 2.2 miles long and is generaly leisurely. You'll pass Thunder Hole, a spot where the sound of the waves is magnified to mirror thunder. There is Monument Cove, a tiny beach cove with a granite formation protecting it from above. Boulder Beach with its bowling ball-sized rocks is awesome for photographers. When you get to Otter Cliff, you may see people rappelling down to the ocean level and climbing back up. And Otter Point is perfect for tide pool enthusiasts. Who doesn't like tide pools?
Ocean Path can be quite crowded between 9 am and 3 pm during July and August, so try to plan your trip outside of those hours. We recommend hitting it early in the day in order to take in the sunrise, which can make for some killer photos.
Hoh River Trail: Olympic National Park, Washington
Olympic National Park is diverse in a way that many other national parks aren't. It is nearly a million acres, and that includes over 70 miles of wild coast. There are three distinct ecosystems (wildflower meadow and subalpine forest, temperate forest, and rugged coast). The temperate forest includes the Hoh Rainforest and gets roughly 150 inches of rain each year, making this the wettest place in the continental United States. The Hoh Rainforest is one four rainforests on the Olympic Peninsula, but it is the only one designated both a Biosphere Reserve and a World Heritage Site by UNESCO.
The length of the Hoh River Trail from the visitor center to the start of the Mount Olympus Blue Glacier measures 17.4 miles making it unlikely that most people are going to power through the thing and back in a single day. The wealth of campgrounds along the trail help with that — making it easy to break the trek up over a few days. Alternately, just make it a day trip and don't challenge yourself to do more than a few miles. The trail remains fairly flat and easy for the first 13 miles but be prepared for things to get steep near Glacier Meadows. There is an elevation change from 600 to 4,300 feet, and more than 3,000 of which happens in the last five miles. Also, around eight-mile, you will also need to cross a braid of the river, and there are a couple of stream crossings, so you may get a bit wet.
Walking among the mosses and ferns in this lush, green dream landscape will seem cooling, but all the precipitation can make a summer hike a bit sweatier than it would be in a dry locale at the same temp. However, it isn't unbearable. Just something for which to plan.
Teton Crest Trail: Grand Teton National Park, Wyoming
Grand Teton National Park is obviously about the Grand Tetons, which rise proudly into rugged snowcapped peaks above the beautiful Jackson Hole Valley. But the nearly 500-square-mile park isn't just a place to engage with the 13,770-foot Grand Teton. There are also the clear waters of Jenny and Jackson lakes in which the mountains are reflected in glittering relief. It's the perfect natural setting for photography enthusiasts and Instagram influencers who want to capture breathtaking images. The Snake River attracts people looking to kayak, raft, and float. History buffs come to areas like Mormon Row and Menors Ferry to learn about the 19th-century on the western frontier. And hikers love walking the trails to discover secret waterfalls and fresh views of the mountains. There really is a bit of something for everyone (assuming you love the outdoors).
If you're up for a multi-day adventure, then the signature Teton Crest Trail is a good pick. At 35 to 45 miles in length depending on the route, it can take six days to get from start to finish, but only traversing a portion of it as part of a day trip is always an option. The trail moves along the interior curve of the Teton range and crosses ridges from which you can see panoramic views of lofty granite peaks, glacier-chiseled canyons, sparkling lakes, and wildflower punctuated meadows. The hiking season literally overlaps with wildflower season, which means that you'll trek through carpets of paintbrush, lupine, penstemon, monkshood, mountain bluebells, and western coneflower. When you get to Fox Creek Pass, the views of Jackson Hole and Teton Valley are incredible. And every view after Hurricane Pass frames the Tetons majestically.
Remain aware while hiking this trail and don't get lulled into complacency by all the natural beauty. Black bears and grizzlies also love this area and you don't want to go head to head with one.

Sunset Ridge Trail: Mount Mansfield, Vermont
Mount Mansfield is noteworthy for several reasons. It's the highest mountain in Vermont, and it is one of two places in the state where arctic tundra can be found. Plus, it's the most frequently visited mountain in the state — drawing nearly 40,000 visitors to its upper reaches each year. Unfortunately, all of that traffic is impacting its fragile ecosystem, so though we do think hiking its trail is thrilling, we caution you to stick to the trail and be as respectful of the area as possible. Named because the view of it from the east looks like the elongated profile of a human face, Mount Mansfield has named landmarks after various features. Expect to stop at the Adams Apple, Chin, Nose, and Forehead.
We love that the Sunset Ridge Trail allows you to cover a pretty good portion of the 4,393-foot mountain in a single day. Roundtrip, the trail is 6.6 miles and is considered a classic hike with some amazing scenery. Of the multiple trails on the peak, this is the one with the best views because the bulk of it is above the tree line. It's also the most popular, so expect to run into other hikers during your adventure. You'll start on the CCC road and walk for a mile before you hit the trailhead, at which point you get to walk through quiet woods and over picturesque bridges. Next, you hit an exposed craggy ridge that provides never-ending views as you move to the summit cone (known as The Chin). Keep an eye out for the Adirondacks over Lake Champlain and the Green Mountains.
This is a moderately strenuous hike, so though it won't eat up a whole day, it may sap your energy reserves. Be sure to rest when you need to and drink lots of water. An energy bar or two wouldn't kill you either.