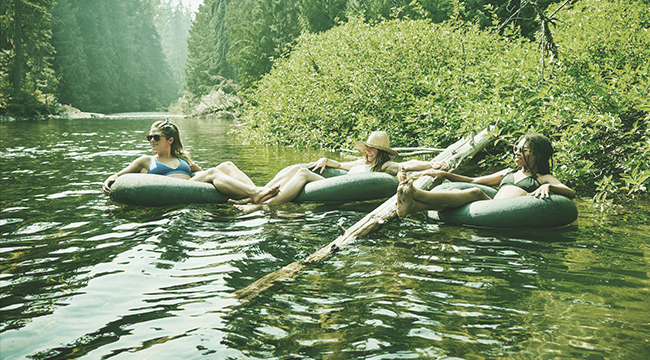 When it gets scorching hot during the summer, there are only three tried and true escapes: cold beers, movie theaters, and hopping in the water. While all three work for beating the heat, getting wet is usually the most fun. And though we would never speak poorly of a day spent by the pool, cooling off in the great outdoors beats a tub full o' chlorine in every way (check that: almost every way, cabana boys are all too rare at swimming holes and hot springs). Just try cliff diving, white water rafting, or surfing in your buddy's pool (unless your buddy is Kelly Slater).
Ready for another classic summer-spent-soaking-outside adventure? Try tubing. There isn't much else on earth better at combing scenic views and sipping brews. Add a few dozen friends and you're making priceless memories, pal. Given the abundance of great rivers that traverse our country, we asked travel writers for their favorite floats and then hand-picked the best in the country. Some of these rivers are naturally beautiful, others bring the party, and others still are just plain old relaxing as hell.
Go get your float on.

Russian River — Guerneville, California
Sonoma Country sits in the heart of California's wine country. When the weather turns warm, visitors and residents alike love nothing more than to cool off on a tubing adventure down the Russian River. It's a fairly shallow river in which currents are rather mild — making it perfect for tubing. Plus, there are a lot of chill beaches along the shore that make for perfect pitstops to break out a picnic or lie out in the sun. While you are off the river, look for rock walls to jump from and rope swings to take for a ride.
The multiple beaches also mean that you can plan a variety of routes for your ideal trip length and time. If you opt to go from Sunset Beach to Johnson's Beach, you can be on the water for more than six hours. But a trip from Mother's Beach to Sunset Beach only takes a little more than an hour. It's best to start early in the day to make sure that you have parking, but you can also grab a Monte Rio Taxi or an Uber back to town at the end of the day if you don't want to wrangle parking with your crew.
If you just want a tube or other inflatable for the day, score a rental from King's Sport & Tackle, or hit up Soar Inflatables & Russian River Adventures. Or commit to being a full tube person and snap up your own personal inflatable at Guerneville 5 & 10. They'll even inflate it for you.
San Marcos River — San Marcos, Texas
The Austin area is ripe with tubing opportunities. The Comal River offers an urban float through New Braunfels. The Guadalupe River is the party river, with lots of beer and co-eds. But our fav is the San Marcos River, which offers two kinds of floats: a family-friendly version and a grown-up good time. A lot of people say that the tiny hippie college town of San Marcos reminds them of Austin before it became super popular, which means it has all the weird appeal and none of the crowds and gentrification. It also offers a spring-fed, cold and clear river that is 10 times cleaner than the EPA standards for drinking water. It also sits at a constant 72 degrees, making it perfect in the Texas summer sun. No wonder college kids love to load up inflatables and coolers and hit the water.
Start tubing in City Park, where you can rent tubes from Lions Club Tube Rental or use your own. It's an hour from City Park to Rio Vista Park. But there are other sections of the 15-mile stretch of river you can also hop in. For instance, Texas State Tubes offers a pick-up package that uses a less crowded part of the river — one which tends to attract young adults and college kids.