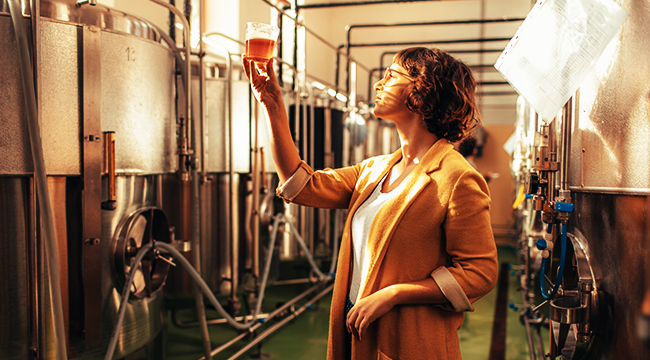 This summer, when you grab for a classic Mexican (or Mexican-style) lager, you might be surprised to learn that the flavors you're enjoying with your feet in the sand didn't originate in the Americas. Many of the Mexican-style lagers we love are actually Vienna Lagers. The dark amber or copper-colored, slightly malty, sweet beer style didn't originate in Mexico City or Guadalajara, it actually originated in – you guessed it –Austria.
Vienna Lager has been around since the 1840s and found its way to Mexico when Austrian and German brewers settled in the nation in the late 1800s. The style shares a lot of traits with an Amber Lager and has been a summer staple for drinkers ever since its inception. It's also a summer staple — savored by drinkers and brewers alike. That's why we asked some of our favorite brewers to tell us their go-to Vienna Lagers for summer drinking.
Great Lakes Eliot Ness
Mark Safarik, brewmaster at Dogfish Head
What's my favorite Vienna Lager? Eliot Ness from Great Lakes Brewing. It has the classic, true-to-style features. Nice toasty malt flavors, crisp hoppiness and a wonderful sense of balance.

Atwater Michigan Lager
Shawn Steele, director of brewing operations at Coronado Brewing Company
My go-to Vienna Lager? I'd have to go with Atwater's Michigan Lager. I worked there for a year and have great memories. It's where I got my start in brewing.
Devils Backbone Vienna Lager
Rhett Dougherty, head brewer at Veza Sur Brewing Co.
Devil's Backbone Vienna Lager. These guys are setting the standard in this country on how to make the best lagers. The malt character in this beer is incredibly delicate yet refined and is perfectly balanced by classic German hops. So refreshing!
Figueroa Mountain Danish Style Red Lager
Joe Peach, head brewer at Kairoa Brewing Company
Danish Style Red Lager by Figueroa Mountain. Slightly darker than a traditional Vienna Lager, this beer packs plenty of flavor in the form of liquid, toasted bread. This rich, malt forward lager is the perfect session beer, as the temperatures slowly dip, while the sun sets in the west.
Eppig Brewing Natural Bridges
Doug Pominville Jr., head brewer at Thorn Brewing Co.
My go-to Vienna Lager? Natural Bridges by Eppig Brewing, those guys are making some of the best lagers in the country. Malty, sweet, perfect.

Fort Point Westfalia
Cameron Compton, brewer and co-owner of Midwest Coast Brewing
I love Westfalia by Fort Point in San Francisco (I think it's a Vienna). Most of my favorite beers are situational, and I remember having a lovely day in Northern California's Gold Country (Murphys, CA, to be exact) enjoying time with good friends and family and a couple six-packs of Westfalia. Was perfect for a chilly fall Saturday with nothing but fresh mountain air and time on our hands.
Dos Equis Amber
Brad Manske vice president and beverage director at Viewhouse VH Beer
What's my favorite Vienna Lager to drink in the summer? I have to give this one to Dos Equis Amber Vienna Lager beer for its outstanding flavor profile.
Unlawful Assembly The Antagonist
Brian Morris, innovation brewer at Deep Ellum Brewing Company
The Antagonist from Unlawful Assembly Brewing Company was a go-to for me while I was designing our most recent Vienna Lager. Its beautiful malt character shines without being overwhelming or coming across as sweet.
Snake River Jenny Lake Lager
Adam Curfew, chief operating officer at Wasatch Brewery
What's my favorite Vienna Lager for summer drinking? Snake River Brewing Jenny Lake Lager – it's a clean, malty lager beer and a great example of the style.

Oskar Blues Beerito
Eric Hernandez, brewmaster at Concrete Beach Brewery
Vienna Lager is a surprisingly hard style to find in the craft beer market these days (except our own Havana Lager of course). However, I really enjoyed the Beerito from Oskar Blues and their take on the style. They use Mexican lager yeast in their interpretation and it really dries out the beer giving it a great finish, while still presenting the richness of the roasted malts.