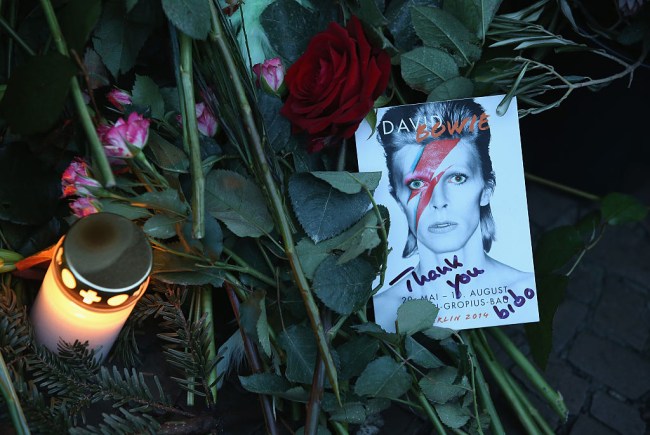 For me, David Bowie's death never really hit home until I attended the Tilda Swinton hosted memorial at this year's Berlinale and watched Nicolas Roeg's bizarrely brilliant The Man Who Fell to Earth unspool in all its 35mm glory. Bowie and Roeg premiered The Man Who Fell to Earth at the 1976 Berlinale, and shortly afterward Bowie moved to Berlin. As the last reel of film flickered into darkness, I sat alone for a few minutes, letting the theater empty, then decided to go for a walk. It was cold, but I had a coat and I felt like seeing a few of Bowie's old hangouts.
First, I headed to Hauptstrasse 155 — where Bowie and Iggy Pop lived. As I walked down the Hauptstrasse, I passed a construction site. The smell of burning metal took me back to my dad's workshop in Port Townsend, Washington. This is where I first heard Bowie, in the '80s.
One day, on a trip to the library, I'd checked out a cassette tape of Peter and the Wolf as narrated by that dude in that funny pose on one of my old man's vinyls. As my dad sharpened a chainsaw — the smell of oil and steel wafting towards me with every swish of the file against the chain — we listened to David Bowie talk about a kid capturing a wolf. That voice. So British. So entrancing. I was spellbound. From there we'd listen to Heroes, Aladdin Sane, Man Who Sold the World, and so on. That first tape in the workshop started something — me and my dad, listening to Bowie together.
As I grew up, I didn't really think about Bowie too much again. He was just another powerful musician my dad introduced me to (along with Freddie Mercury, Jimmy Page, Roger Waters, Lemmy Kilmister, and so, so many others), that is, until I moved to Berlin. In Berlin, Bowie and I were fellow expatriates and I felt connected in some odd way.

With the construction site behind me, I arrived at Hauptstrasse 155. There were a dozen or so people gathered: some standing in silence, some crying, most taking photos with their phones. Mounds of flowers, candles and hastily processed fan art littered the sidewalk.
Bowie moved to a crumbling and still bullet-riddled Berlin in 1976. He'd just finished Station to Station, and had officially hung up the neon leotards of Ziggy. He wanted to get off the cocaine and put his life back together and West Berlin seemed like the perfect place to do so. In what was probably the most badass roommate situation of all time, Bowie moved in with Iggy Pop in the West Berlin district of Schoenberg. Let that sink in a moment — the same time Bowie was making the Berlin Trilogy, Iggy Pop was making The Idiot and Lust for Life. That's five iconic albums made by a couple guys living together in one rundown flat in Berlin. If you believe in magic, then there is some serious magic in that building.
The same year Bowie decided to call West Berlin home, he started painting and drawing. He opened up a new side to his artistry that would carry him throughout his career. But it was the music that would become the true calling card of his time in Berlin. It was during these years that Bowie, Brian Eno, and Tony Visconti would create the mystical and profound Berlin Trilogy. Berlin also allowed Bowie a sort of anonymity that he needed after the whirlwind of mass stardom he achieved with Ziggy.
Lou Reed had been in Berlin for awhile by the time Bowie co-produced Reed's amazingly dark and poignant Berlin album, and Reed sold Berlin to Bowie as a place to reset without the gaze of the media. He promised Bowie that you could ride down the street on a bike to the shop, or go to a disco without being mobbed. Bowie was sold.

I paid my respects to Bowie at his and Iggy's door and carried on up the Hauptstrasse towards Potsdamer Platz. I wanted to go to Hansa Ton Studios where Bowie recorded. Every morning, he would ride his bike along the same route I was traveling. Without a bike, it took 20 minutes before I got close, but zeroing in on the studio wasn't easy. I walked beneath the glass towers that loom over Potsdamer Platz, and got lost on the backstreets. Hansa Ton is about as innocuous a building you can imagine — just a single shingle hanging above the door.
Low is a somber album. A-side is lyrical. B-side is mostly instrumental and conceptual. Bowie had written a lot of music for The Man Who Fell to Earth that, in the end, was left unused. A lot of that music would becomeLow. Though recorded in Bowie's home in France, it was mixed at the famous Hansa Ton Studios in West Berlin, which at the time was set against the Berlin Wall. Bowie and Visconti recount how East German soldiers would watch them work through high-powered binoculars day and night and write down what they were doing. Low set Bowie on a new path musically and visually. Just look at that cover (Bowie as The Man Who Fell to Earth no less).
During those early days in Berlin, Bowie discovered that his art could be pop, personal, political, and innovative all at the same time. Sometimes the act didn't have to just be an act. Sometimes the act could be you, your surroundings and life as it happens. Low was a success and the following album,Heroes, was even bigger. The record was conceived, recorded and mixed in West Berlin — it was the sum total of his new life, his new views, his new career.
It was also a hit machine that managed to touch on what Bowie was witnessing in Berlin. In 1977, while Bowie, Visconti, and Eno were being spied on in Hansa Ton Studios, two people were killed trying to cross the wall. One of them was shot dead, the other drowned trying to swim the River Spree. With that context, Bowie's lyrics seem even more potent.
"I, I can remember
Standing by the wall
And the guns, shot above our heads
And we kissed, as though nothing could fall
And the shame was on the other side
Oh we can beat them, forever and ever
Then we could be heroes, just for one day"

WithHeroes, Bowie had fully reinvented himself and added to the growing list of great albums influenced by life in Berlin: from Lou Reed's drugy epic Berlin to Iggy's Lust for Life, and even later in the '80s to Nick Cave & The Bad Seeds' The Firstborn Is Dead and U2'sZoo Station.
After standing outside of the studio, I wandered toward theParis Bar where Bowie got so drunk during a Rolling Stone interview, he ended it by rolling around in the ice outside in an absinthe fit. These days, the restaurant bar feels too trendy for my taste — I opted to carry on back to Kreuzberg. I ended up drinking at Luzia instead — where Iggy, Reed and Bowie drank, too. Of course Bowie's records were spinning while I sipped my Sazerac. The crowd was pretty small and quiet for a Friday night. And then Lodger started to play. I sat and listened to the album from start to finish for the first time in my life. We all sat there, sipping our drinks, just listening. It was eerie and comforting at the same time and I decided it was time for a dram of absinthe.
Lodger would signal the end of this iteration of Bowie's rebirth, and his collaborations with Eno (for a time). Lodger was mostly written and recorded while on the road during the Isolar II World Tour. Though it wasn't made in Berlin, it was inspired by the events having led up to that point because of Berlin. Lodger failed commercially and critically. Though it has received a resurgence and reassessment, it will forever be considered the weakest of Bowie's triptych. But it's evident in Lodger that a new era of Bowie was emerging. His music and style would become political and inclusive and lead to a whole new era of Bowie that we got in the '80s. When Bowie left Berlin, he left a new man and a wholly changed artist.
In 1987, Bowie gathered his band for a concert at the Berlin Wall in front of the still burned and bombed out Reichstag. He turned as many speakers towards the east as the west. On the other side of the Wall, hundreds gathered to try and catch a few notes of the concert. Hundreds turned to thousands. As Bowie launched into Heroes, riots broke out as the thousands of East Berliners gathered started to chant, "Tear down the Wall!" Police brutalized and arrested them; East Berliners raged back. Many think it was Rocky Balboa that ended the Cold War. But I like to think Bowie had a hand in it, too, pointing his speakers at the disenfranchised and isolated East Berliners and giving them something to fight for.

In the days since Bowie's death, vinyls of his immense discography spin in every corner of Berlin. Memorials and street art continue to pop up. Even the Mayor has chimed in, calling Bowie "one of us." There's a petition to change one block of Hauptstrasse to David-Bowie-Strasse. Berliners love their freaks.
The city weeps for losing their adopted son. I didn't go to the places Lou Reed lived and worked in Berlin when he died. But I did with Bowie. And as I was walking the streets, with Heroes echoing in my ears, I realized that Bowie represented what I had moved to Berlin to chase — reinvention — whereas Reed represented a place I didn't want to go back to, the darkness of drugs, failed relationships and anger. Bowie had some of that edge, too, but he was weird enough and bold enough to infuse it with a bright future.
As I shuffled home, the absinthe provided a nice buffer between me and the biting Berlin cold. My mind drifted back to a hot summer in Berlin a few years past. The streets were muggy and smelled of tobacco smoke, car exhaust and dust. The neo-classic apartment with high ceilings I loved when I moved to the city was seeming less and less like a good idea, and more like a blast furnace. I was sitting in my apartment, sweating and trying to get a 1-year-old baby boy to sleep in the unbearable heat. My heart started to race as the cries got louder and more shrill. Like any desperate parent, I raced to find something to soothe him, scanning playlist after playlist.
And there it was, Bowie narrating Peter and the Wolf. I put it on and heard Bowie's voice, so refined, so British, explaining all the instruments. It was the cool breeze my son needed — the cries stopped almost immediately (almost magically). Ten minutes later, he was asleep.
As I keyed into my door, memory and walk complete, I smiled — thinking of that day and the day in my dad's workshop decades earlier. I thought of how Berlin changed Bowie and Bowie changed me and how, even in death, that cycle can continue as long as there is art to poke holes in the darkness.
If you are in Berlin, and interested in Bowie, you can take an organized tour or follow the links in this article and do it for free!