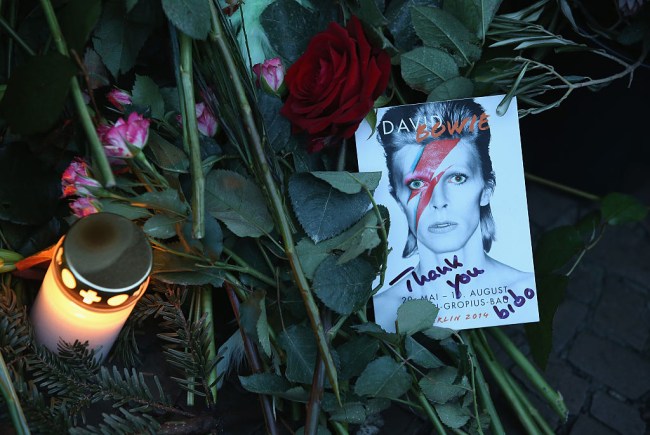 For me, David Bowie's death never really hit home until I attended the Tilda Swinton hosted memorial at this year's Berlinale and watched Nicolas Roeg's bizarrely brilliant The Man Who Fell to Earth unspool in all its 35mm glory. Bowie and Roeg premiered The Man Who Fell to Earth at the 1976 Berlinale, and shortly afterward Bowie moved to Berlin. As the last reel of film flickered into darkness, I sat alone for a few minutes, letting the theater empty, then decided to go for a walk. It was cold, but I had a coat and I felt like seeing a few of Bowie's old hangouts.
First, I headed to Hauptstrasse 155 — where Bowie and Iggy Pop lived. As I walked down the Hauptstrasse, I passed a construction site. The smell of burning metal took me back to my dad's workshop in Port Townsend, Washington. This is where I first heard Bowie, in the '80s.
One day, on a trip to the library, I'd checked out a cassette tape of Peter and the Wolf as narrated by that dude in that funny pose on one of my old man's vinyls. As my dad sharpened a chainsaw — the smell of oil and steel wafting towards me with every swish of the file against the chain — we listened to David Bowie talk about a kid capturing a wolf. That voice. So British. So entrancing. I was spellbound. From there we'd listen to Heroes, Aladdin Sane, Man Who Sold the World, and so on. That first tape in the workshop started something — me and my dad, listening to Bowie together.
As I grew up, I didn't really think about Bowie too much again. He was just another powerful musician my dad introduced me to (along with Freddie Mercury, Jimmy Page, Roger Waters, Lemmy Kilmister, and so, so many others), that is, until I moved to Berlin. In Berlin, Bowie and I were fellow expatriates and I felt connected in some odd way.

With the construction site behind me, I arrived at Hauptstrasse 155. There were a dozen or so people gathered: some standing in silence, some crying, most taking photos with their phones. Mounds of flowers, candles and hastily processed fan art littered the sidewalk.
Bowie moved to a crumbling and still bullet-riddled Berlin in 1976. He'd just finished Station to Station, and had officially hung up the neon leotards of Ziggy. He wanted to get off the cocaine and put his life back together and West Berlin seemed like the perfect place to do so. In what was probably the most badass roommate situation of all time, Bowie moved in with Iggy Pop in the West Berlin district of Schoenberg. Let that sink in a moment — the same time Bowie was making the Berlin Trilogy, Iggy Pop was making The Idiot and Lust for Life. That's five iconic albums made by a couple guys living together in one rundown flat in Berlin. If you believe in magic, then there is some serious magic in that building.
The same year Bowie decided to call West Berlin home, he started painting and drawing. He opened up a new side to his artistry that would carry him throughout his career. But it was the music that would become the true calling card of his time in Berlin. It was during these years that Bowie, Brian Eno, and Tony Visconti would create the mystical and profound Berlin Trilogy. Berlin also allowed Bowie a sort of anonymity that he needed after the whirlwind of mass stardom he achieved with Ziggy.