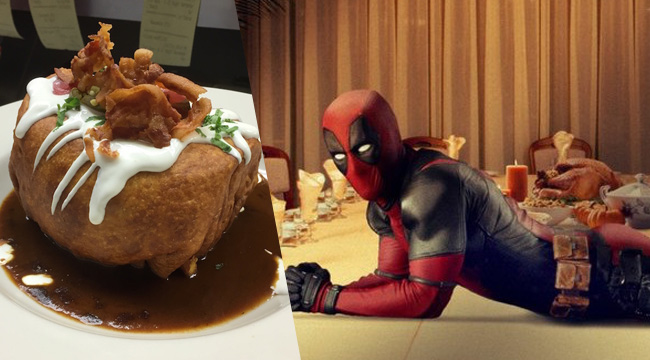 Philadelphia's Cantina Dos Segundos is hardly a secret. With more than 500 glowing reviews on Yelp, an extensive and creative menu, and some of the best margaritas in the city, it's already tough to get a table. But if the restaurant was popular before, it's about to become slammed due to a special new item that celebrates both the release of Deadpool and America's love of cuisine that's both delicious and offensively-sized. World, meet the "Deadpool Poutine Chimichanga," a dish so monstrously dense (in a good way!) that you could use it in place of a brick (provided you were building a house and ran out of bricks, which is actually pretty bad planning).
The dish–inspired by Deadpool's love for chimichangas–was unveiled in early February and just the description is enough to make you feel full. (Source: personal experience; I was starving and still didn't know whether I could climb to the top of this fried dough mountain and survive.) (Also, I didn't.)
Read all the magic that's inside in this Instagram post:
Now, feast your eyes upon what the chimichanga looked like raw, uncut, and, most importantly, about to go right the hell into my face:
Don't feel too left out if you're a vegetarian: You can have the spare rib subbed out with tofu and seitan and ask for the meat sauce and bacon on top to be held altogether. Our server pointed out that this might alter the authentic Deadpool experience, but even if the world's favorite anti-hero would mock you for your resistance to meat products, he'd still probably congratulate you on the fact that you chose to go with a menu item his name is all over. Especially when its size and weight puts all other menu items to shame.
Here's the vegetarian version. Note that the lack of bacon is compensated by the huge amounts of cream all over everything:
As someone with access to a lot of excellent Mexican food–San Francisco represent!–I wasn't certain how impressed I'd be by the dish. Sure, it's big, but could it compare to the many taquerias on Mission Street? Could it stand up to the smug scrutiny of someone who eats at least three burritos a week and is proud enough to talk about it to others?
The answer is yes. Real talk: This is the best chimichanga I've ever had. Were someone to invite me to eat it again tonight, tomorrow night, and for the rest of my life, I would quickly agree. Should you consider moving to Philadelphia just to eat this thing until they take it off the menu? Yes. Is it so good that you should at least plan a visit immediately, whether or not you live more than six hours away by plane? Absolutely.