If you're someone who travels the world chasing a good party, you've most likely heard of Punta Cana. The easternmost tip of the Dominican Republic, Punta Cana is where you go to sip umbrella drinks, snorkel in the clear Caribbean sea, and party your f*cking ass off.
I ventured to Punta Cana to attend Electric Paradise, a three-stage music festival staged right on the white sand beach of Juanillo in Cap Cana. Imagine bumping and grinding to Major Lazer, Presidente Beer in hand, looking out at a sunset over crystal blue water. That's the scene.
Electric Paradise lives up to its name: it's a destination festival done right… in paradise. Here's why:
UMM… YOU'RE ON A BEACH?
What makes someone want to pay for a flight and travel across the world for a music festival? Location, location, location. It's a chance to see some of your favorite artists, but it's also a pretty dope excuse to see the world. And with some of the most gorgeous beaches that our planet has to offer, Punta Cana is the prime location for a beach lover's ideal festival. Read: you can twerk to J Balvin while skinny dipping.
I mean, if you can rage to Cardi B, walk fifty feet, and rinse off in the ocean, why wouldn't you? I literally watched the sun come up after a night of debauchery while floating on a pink raft in 80-degree water. Can't do that shit at dusty-ass Coachella.

PUNTA CANA HAS TONS OF PRE AND POST-FESTIVAL PARTYING
If you're traveling all the way to the Dominican Republic for a festival, you'll probably want to stay a few extra days. Who needs to get on a plane when your hungover ass is throwing up festival falafel into a Jansport? Nobody. Nobody needs that.
The truth is, you will want to keep the party going, and Punta Cana has you covered. Besides the litter of beach bars and catamaran party cruises, there are scores of clubs and events lighting up every night of the week. And I'm not talking about your run of the mill discotheque. I'm saying I partied in a freakin' underground cave with a Venezuelan UFC fighter while watching the miracle of a go-go dancer shimmy without losing her nipple tassels. And it's not just one cave, Imagine Nightclub includes a chain of connected caves-turned-clubs that took thousands of years to form and are now used for tourists to fist bump to Skrillex and fend off bats. And there's plenty more where that came from.
THE LINEUP IS ECLECTIC AF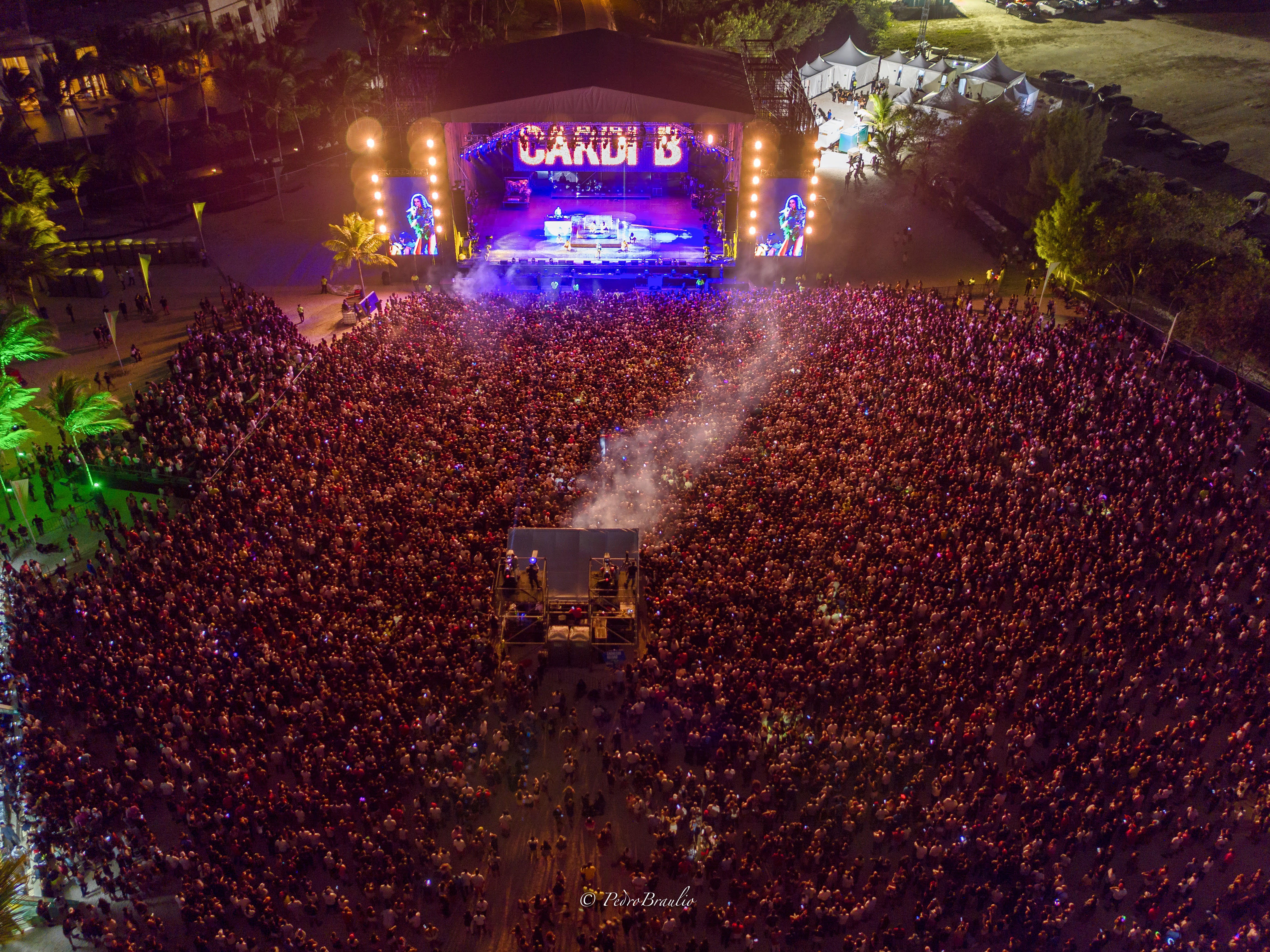 There's no real theme to Electric Paradise's lineup. This can feel weird or awesome, depending on how open you are. The artists range from hip hop legends like Wiz Khalifa to Burning Man-style deejays like Guy Gerber to EDM favorites like Diplo. If you're traveling with a group, Electric Paradise's assortment of live, dance, and electronic stages can hit the pleasure points for anyone in your posse.
I was lucky enough to talk to Pablo Pou, the founder of Pav Events (the production company behind Electric Paradise) about why the artist bill was so eclectic. "The crowd in D.R. has tons of different passions for music," he explains. "We like all sorts of music, and what I wanted to do was offer a variety of music for everyone. For all cultures. We're Latin but we're also urban, and we're also into deejays. We're trying to fulfill everyone's needs."
Point being, you'll get your money's worth. And you'll be able to find a place to park your difficult friend who invited herself but is so indecisive she takes three hours to decide which flavor of La Croix she wants.
THE FOOD AND ART ADD TO THE CULTURAL EXPERIENCE
Part of the allure of a destination festival is combining several coveted experiences into one. Not only does Electric Paradise offer a night of musical performances, but the food and art also add a cultural richness that elevates the festival experience. "All of the art was made by local artists specifically for the festival," says Pou. The artwork is scattered around the grounds, giving you the opportunity to appreciate the underground art scene of the Dominican Republic in between make-out sessions with strangers in neon bras.
Just like the eclectic lineup, the food vendors offer a variety of tastes — and the quality is legit. Dominican-style chimichurri burgers, dumplings, street tacos, shawarma — the food is reflective of the immersive cultural experience that Electric Paradise aims to create with its music. That cultural element is probably the reason you ventured to a new country to see artists you feasibly could have seen in your nearest city in the first place, right? It's about more than just the music, it's destination festival-going at its best.


This trip was hosted by Electric Paradise in conjunction with Dominican Republic Tourism. You can learn more about the Uproxx hosting/press trip policy here.