Temperatures are rising, which means it's time to pack your bikinis and start planning your spring and summer travel getaways. There's no better way to enjoy the sunshine and take a break from everyday life than with a tropical vacation to the Caribbean. Curacao, specifically, is a lesser-known destination worthy of a spot on your bucket list.
There's no one better to give us the rundown on everything you need to see and do on the island than travel couple Bram and Manon, a pair of Dutch world travelers and the founders of the Flip Flop Wanderers blog. Flip Flop Wanderers is geared towards long-term, slow travelers in a constant pursuit of happiness, with a goal to help their followers make their travel dreams come true. Out of the many incredible destinations they've traveled to, Bram and Manon chose to make Curacao their home base, which they continue to explore between trips.
"Curacao really is an island you have to feel for yourself. You just have to experience the melting pot of cultures, the most beautiful beaches in the world, colorful architecture, and impressive nature to get a feel for how life on a Caribbean island is like," the couple tells UPROXX. "With these ingredients, we feel that it is the perfect island for a vacation while still being fairly undiscovered. You just have to add it to your bucket list!"
If that's not enough to convince you to book your flight, keep reading their expert travel guide on where to stay, play, eat, party, and chill in Curacao.
ALSO READ:
WHY CURACAO?
We choose to live in Curacao because it really feels like a home for us. We had been here a few times already in the past 11 years, with 2011 being the first time when Manon did an internship on the island. For Dutch people, it's very easy to go here and a lot of students spend time on Curacao. Bram came to visit Manon after 2.5 months as well and we both immediately fell in love with the island!
The number one thing we love about Curacao is of course the climate. Every day it's around 30 degrees Celsius (86 Fahrenheit) and the sun always shines. It's also a very beautiful island, with beaches as white as snow and the water incredibly blue, but also lots of nature to explore. Lastly, the people are also amazing with their colorful culture and delicious food.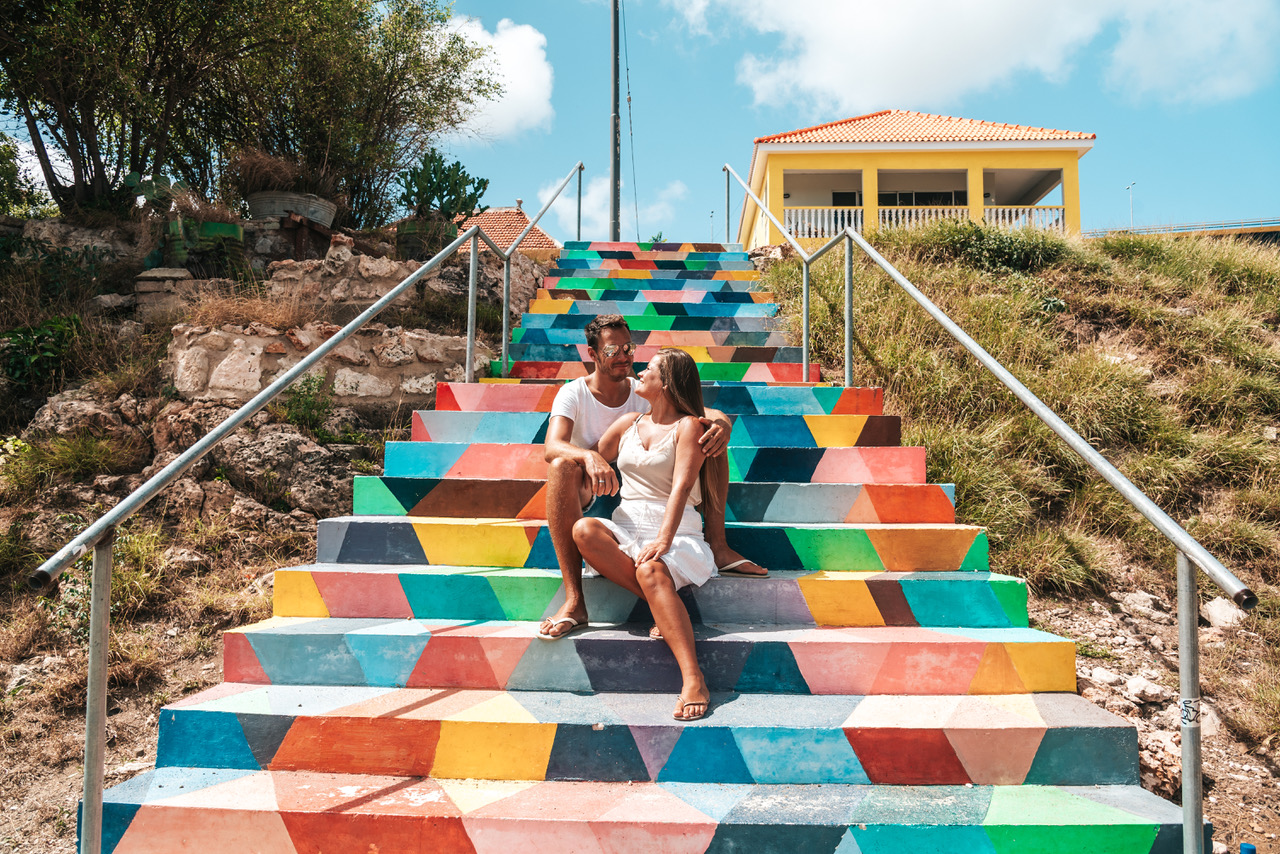 What's one thing that every first-time visitor should see or do in Curacao?
Everyone that comes here for the first time should take a road trip to Westpunt! Westpunt is where all the most beautiful beaches are located and where you'll also find the highest point on the island (Mount Christoffel) and some stunning national parks. For the rest, you should take a walk through the historic city center of Punda. The famous pontoon bridge and the Handelskade are located here with all its colorful houses.
View this post on Instagram
Where is the best place to get the absolute best Keshi Yena in Curacao?
The signature dish of Curacao is definitely Keshi Yena. This dish is a stuffed cheese casserole and tastes amazing. The best place to try this unique dish on the island is Restaurant Gouverneur in Otrobanda. A plus for this restaurant is that it also has a stunning view of the Handelskade! Other restaurant recommendations on Curacao are beach restaurants like Zanzibar, Pop's Place, and Pirate Bay, or more boutique restaurants like Mosa, Number Ten, or Kome. You should also try lunch at Marshe Bieu, a market with the best local dishes!
View this post on Instagram
What's the party and nightlife scene like in Curacao?
The party and nightlife scene in Curacao is crazy! There is literally something for everyone. From beach clubs where you can dance with your feet in the sand, like Wet & Wild, Bonita, and Zanzibar, to more intimate small cafes, like Mundo Bizarro, Obaar, and Netto Bar. We often like to mix the both, which will give the best experience in how nightlife can be experienced in Curacao.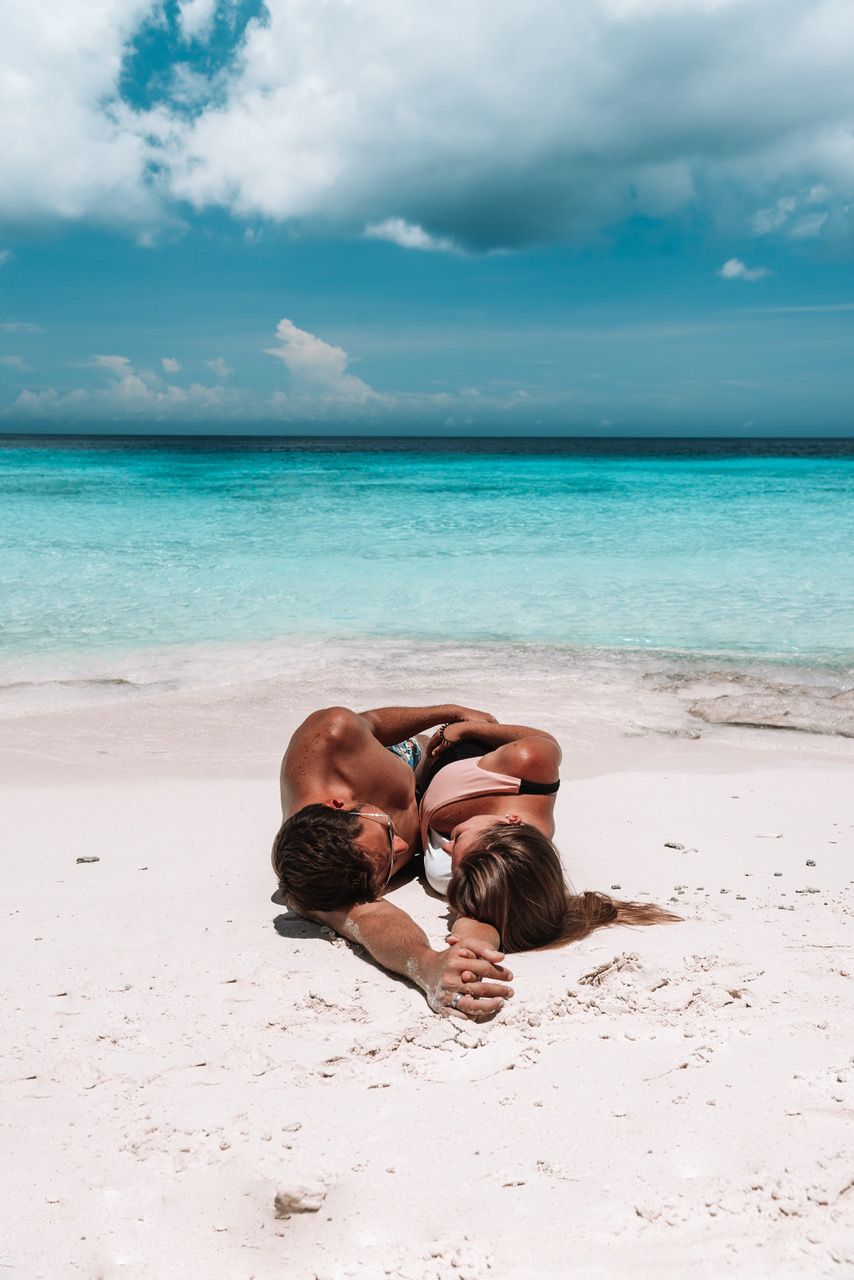 What are the best outdoor adventure activities to do while visiting Curacao?
Outdoor activities are endless in Curacao. Of course, you can do many amazing water sports and tours like diving, windsurfing, surfing, and boat tours, but there are also more adventurous activities to do like buggy driving, four-wheel driving on the Hatovlakte, and ATV driving. Curacao also lends itself perfectly for numerous hikes.
Our favorite hikes on the island are Mount Christoffel, Kabrieten Mountain, and around some of the beautiful saliñas on the island. If you want to do something a bit more relaxing, you can also paint a chi chi (which is a small statue of a typical Antillean woman) or take a guided walk to some gorgeous murals.
What is your number one must-visit beach in Curacao?
While literally every beach on Curacao is equally stunning, we think you should absolutely visit Grote Knip and Cas Abao. These are also the most popular and busy beaches but with good reason. The sand here is powder white and the water is some of the bluest on the island!
What would you say is the coolest hotel or place to stay?
Curacao has a great variety of places to stay. It all depends on what you want but there are luxury all-inclusive hotels on some of the most beautiful beaches or more intimate boutique hotels in the center of Pietermaai. We ourselves loved our stay at Avila Beach Hotel, which has its own private beach, and also our stay at Boho Boutique Hotel, which is perfect for stunning Instagram shots.
View this post on Instagram
Best time of year to visit?
Curacao is a destination that can be visited year-round. Unlike other Caribbean Islands, we don't get any hurricanes here. We do have a rainy season (from October until December) but it's still not enough to speak from a 'real' rainy season. Rain showers are very short-lived and you will still experience lots of sunshine. For the rest of the year, the sun shines almost always and it's always around 30 degrees Celsius (86 Fahrenheit).