The sweltering summer makes one ache for the coolness of the fall and everything that comes with it. Thankfully, we don't have to wait until the official start of fall (September 22nd) to enjoy the benefits of the season. We're already getting our autumnal kicks with savory pumpkin anything, full-bodied Oktoberfest beers, and warming Scotch whisky.
For me, that means drams from The GlenDronach portfolio. Tuesday, September 1st saw the limited release of The GlenDronach Kingsman Edition 1989 Vintage and I was lucky enough to give it a try.
With only 3,052 bottles available, this skillfully produced single malt Scotch whisky is the result of a collaboration with Master Blender Dr. Rachel Barrie alongside the Kingsman film franchise director Matthew Vaughn. The Kingsman franchise has a solid whiskey association — the third film has a whole bourbon subplot — though it's hard to imagine its core fans have $1299 laying around for a bottle of scotch. Still, the purchases of the rich are always sure to shock the rest of us and it's not inconceivable to think that there are three-thousand rich Kingsman/whisky lovers out there.
I count myself among a fortunate few able to obtain a dram of this rare expression. Here's what I thought:
The GlenDronach Kingsman Edition 1989 Vintage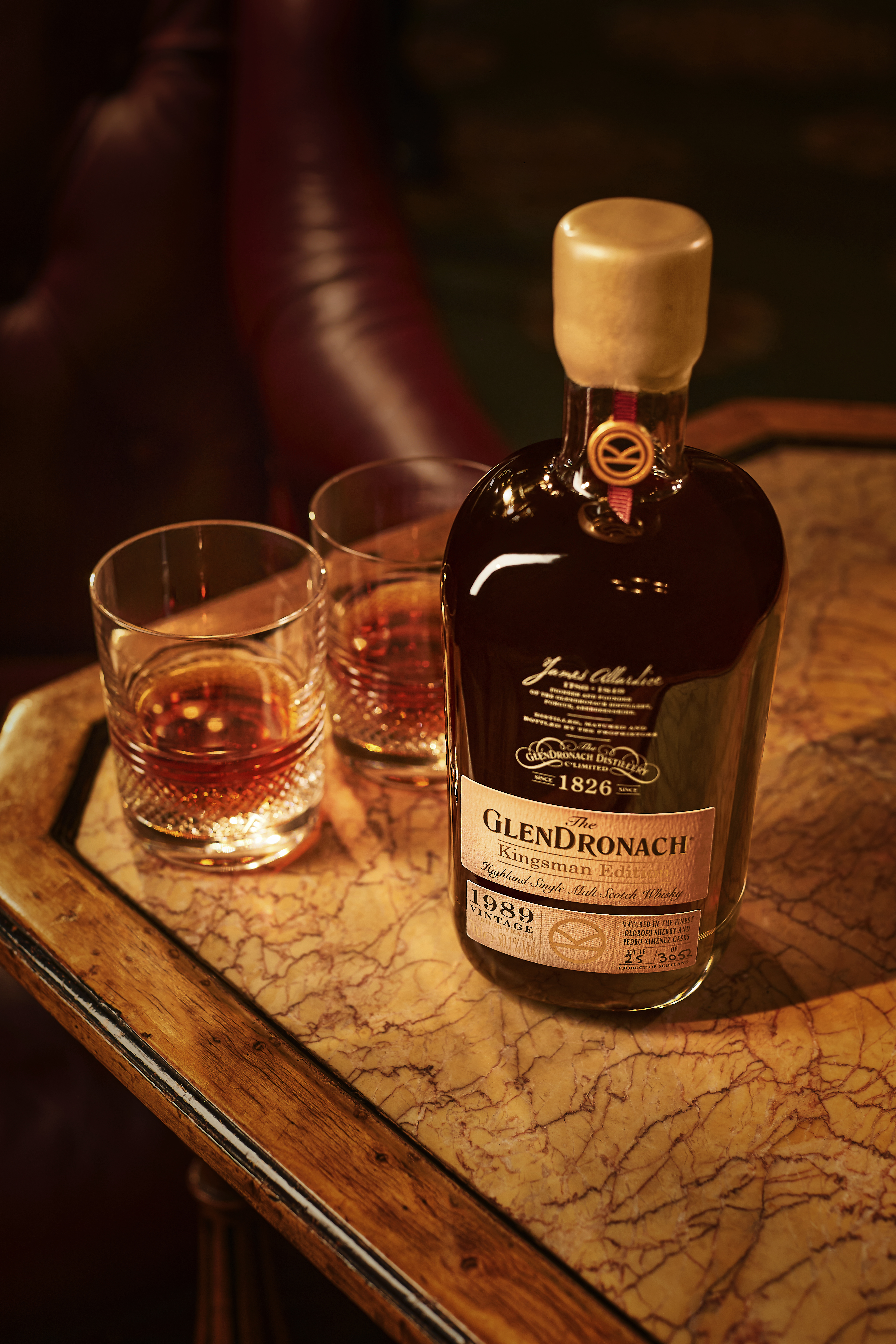 ABV: 50.1%
Distillery: The GlenDronach Distillery, Scotland (Brown-Forman)
Suggested Price: $1,299
The Whisky:
The unveiling of this whisky follows the launch of Kingsman Edition 1991 Vintage in 2017, which was in conjunction with the release of Kingsman: The Golden Circle. All 3,052 bottles of the 1989 vintage have been labeled, numbered, and wax-sealed by hand — ornamented with a "Kingsman" insignia. The bottle is held in a luxe gift box signed by both Barrie and Vaughn.
Without a doubt, this is definitely a collectible for both whisky connoisseurs and Kingsman fanatics — bonus points if you happen to be both.
Tasting Notes:
The alluring rich, red-tinged mahogany hue immediately captures your attention before you even take a whiff. That comes from the expression's 29 years of sherry cask maturation. Black currant and plum meet for a potent yet pleasant blend of aromas that draw you in for a sip. Brown sugar, nutty notes (particularly walnut), and fall fruits such as fig come to play across the palate before your senses bask in the finish. Dark molasses arrives for a subtly sweet end that's long lingering and fulfilling.
Bottom Line:
Wow, so for me this is what fall tastes like. If you're truly a Scotch whisky aficionado with no worries about money and a love of the Kingsman franchise, you'll want to get your hands on a bottle. For those of us who want to enjoy a similar dram on a budget, the rich and complex GlenDronach 12 — closer to $65 per bottle — has a velvety mouthfeel and tastes exceptional with shortbread cookies (trust me, I just tried it). I
t makes a very solid alternate if spending a $1300 on movie tie-in whisky feels a tad absurd.