The Jane Walker Edition of Johnnie Walker Black Label is an important whisky. It'd be easy to dismiss a company like Diageo re-branding one of the world's most popular whiskies ever for some social justice bonus points. But that's simply not the case here.
First, Johnnie Walker (and Diageo, in general) makes a serious matter of ensuring that its staff and leadership feature women in positions of power. That goes all the way up to Johnnie Walker's Master Blender, Emma Walker, who created this very expression. Second, this release not only celebrates women in whisky but also helps women succeed in business every time a bottle is sold.
To achieve its bold goals, the Jane Walker Edition has tied itself to three movements. The first is IFundWomen, a funding marketplace providing grants and crowdfunding for women-owned businesses; the second is First Women campaign, created, funded, and run by Johnnie Walker / Jane Walker, which celebrates trailblazing women across sports, industry, and, yes, whisky; and finally, Jane Walker is the official sponsor of Los Angeles' first National Women's Soccer League, the Angel City Football Club.
So is this expression lip service? Absolutely not. Now… let's see what's in the bottle.
Johnnie Walker Black Label: The Jane Walker Edition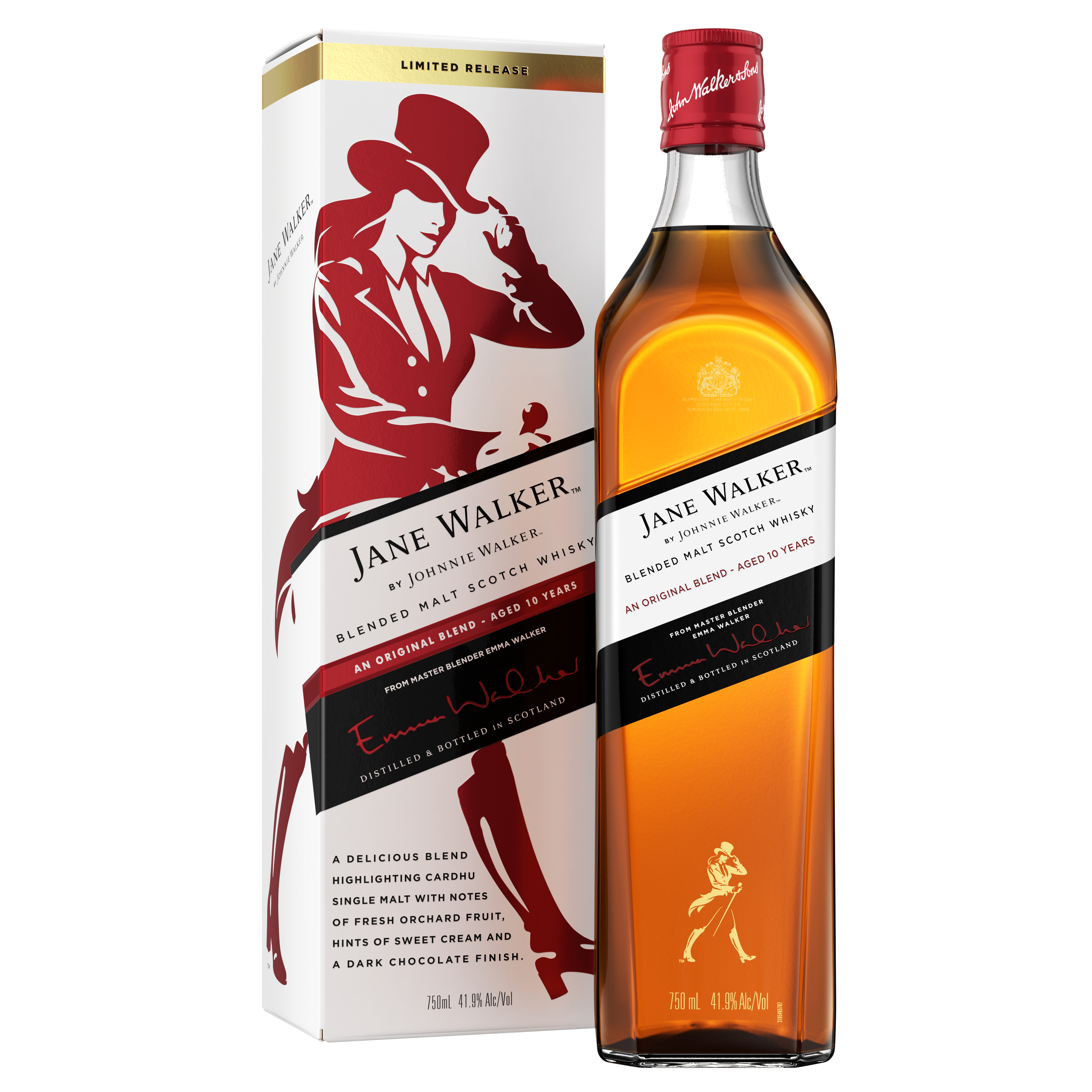 ABV: 40%
Average Price: $38
The Whisky:
Master Blender Emma Walker created this blend with Cardhu — a Speyside distillery — at its core. Cardhu was famously founded and run by another female pioneer in whisky, Elizabeth Cumming, back in the 1800s. The juice is a blend of malts that aged at least ten years from the Diageo stable of Scotch single malts.
You can get a full breakdown from Emma Walker below:
Tasting Notes:
The sip has a nose with a clean maltiness next to raisins and peach juice with a hint of leather coming in late. The palate is light, almost airy, with stewed apples floating in rich cream next to a touch of milk chocolate. The finish has a very faint hint of Johnnie Walker peat next to dry reeds, more malts, and a bitter chocolate powder.
The Bottle:
This is a classic Johnnie Walker bottle with the new "Jane Walker" logo embossed on the bottom of the bottle. It comes in that iconic black and gold, which is always a good look.
The box is a nice touch and really highlights the special nature of the limited release. That addition makes this feel like a bottle you can bring along to a dinner party or give as a nice gift.
The Bottom Line:
This is a really subtle riff on Johnnie Walker Black. The use of sweeter malts instead of peatier ones gives the whole feel a very approachable vibe.
It's sippable, mixable, and giftable.
Rating:
90/100 — this feels like a unique edition of Johnnie Walker that might well make it into the main rotation. It's finely crafted and very easy to drink.
---
As a Drizly affiliate, Uproxx may receive a commission pursuant to certain items on this list.