When someone says "Breaking Bad pop-up" a few ideas come to mind. Namely, a real-life recreation of Los Pollos Hermanos. Or maybe a methed out RV-turned-food-truck serving blue rock candy. Roof pizza? Ultra-sterile open kitchen/ laboratory? A health food joint titled, 'Jesus Christ Marie, They're (Vitamins &) Minerals!'?
West Hollywood's Breaking Bad Experience is none of those things. What it offers instead is a pop-up restaurant that takes a central element of the show — chemistry — and runs with it. Not in some haphazard Cap'n Cook way, either.
While most pop-up dining experiences centered around beloved TV franchises offer little more than set dressing for photo-ops, the Breaking Bad Experience goes a little further — offering all of that plus a bag of Funyuns (literally). There are nods to the show throughout the menu. You can order Schraderbräu, Blue Sky cocktails, or a breakfast plate featuring neatly arranged bacon. The servers are all dressed in meth-safe hazmat suits, and each table is adorned with a chemistry beaker and burette.
It's no surprise to find that the Breaking Bad Experience was created by the same team behind the Saved by the Bell and All That pop-ups. But it should be said that the brand is upping their game with each outing. Saved by the Max and Good Burger had their premises already in place. And while Saved By The Max's food was mostly the same greasy stuff you'd expect from a diner catering to high school kids, Good Burger elevated things by brining in burger master Alvin Cailan to oversee the menu.
Breaking Bad, on the other hand, has no real connection to food aside from Pollos Hermanos. So it's easy to assume that the pop-up is merely attempting to cash-in on the popularity of the show while El Camino: A Breaking Bad Movie is fresh in the cultural zeitgeist. To which the answer is… sorta, sure (it's capitalism, after all), but the place mades an effort. A pretty solid one, in fact.
What A $30 Ticket Gets You
A $30 ticket will provide you with 90 minutes of access to the restaurant, which is definitely more time than even the most rabid super-fan might possibly need. In terms of photo-ops, you'll be able to strike a pose in front of a life-sized cutout of Walt and Jesse's RV, with lawn chairs and an oversized button-down and goggles so that you can cosplay as Walt, sans the tighty whities. (You'll have to bring those on your own, and then, of course, you run the risk of a person in a hazmat suit saying, "Sir, please put your pants back on.")
In addition to the RV, you'll be able to take photos sitting at sleazeball lawyer Saul Goodman's office desk, complete with gaudy American constitution wallpaper, at a small Pollos Hermanos restaurant set, and on a stack of hundreds. Even when the restaurant is at its busiest, you'll have ample time to pose for photos at your leisure — the atmosphere is casual enough that you can do your photo rounds before, during, or after your meal.
In addition to the 90 minutes, you'll also be able to choose one of the seven food items, as well as a single "concoction" to pair with your meal. If you feel overwhelmed, the servers will offer you pairing suggestions.
The Food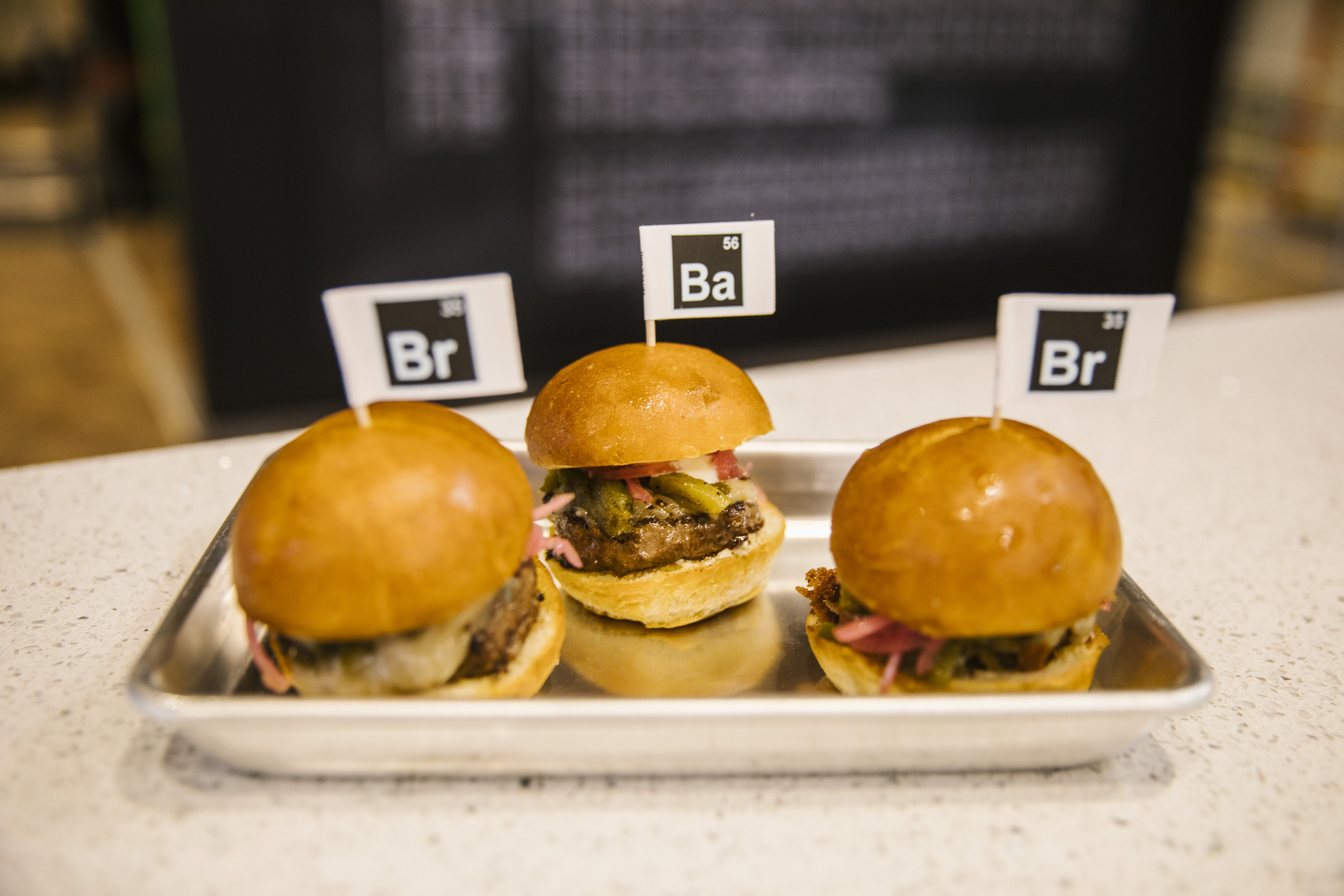 I'll be honest, the food at The Breaking Bad experience doesn't quite live up to Walter White's tireless pursuit of chemical perfection. That's not to say the menu, put together by chef Johanna Merida, isn't good — it is, but the small portions leave a lot to be desired and none of the food offered will exactly blow you away. The menu consists of Heisenberg Sliders, Funyun Pie, Loaded Saul-sa Nachos, 50/52 (a breakfast plate consisting of cheddar cheese, sausage, and bacon), The Full Measure Grilled Cheese, Salad-Manca, and Fring Chili Cheese Fries, with a few gluten-free and vegetarian substitutes for the sliders, nachos, breakfast plate, and salad.
(Fair warning: the Breaking Bad Experience does not accept any modifications to any of the dishes on the menu, aside from the vegan and vegetarian substitutes, and that applies to simple asks like "hold the sour cream" or "can I get the sauce on the side." Like Walt with his meth recipe, the kitchen really doesn't want you to make any changes.)
I tried the Heisenberg Sliders as well as the Saul-sa Nachos, which I was told were the most popular options. The Heisenberg Sliders consist of three mini patties served atop a challah bun with Anaheim chilis, pepper jack cheese, pickled red onions, and lime mayo. As far as sliders go, they're pretty solid. The patties are thick and the Anaheim chili pepper jack cheese combo adds a nice kick that isn't enough to provide a steady burn but will keep you motivated for another bite. This dish desperately calls for a side though; on its own, it just feels a little uneventful.
The Saul-sa Nachos were leagues better. Carnitas, diced red onion, guacamole, sour cream, and tomatillo cilantro salsa sitting atop a bed of blue tortilla chips and Monterey Jack cheese, delivering a burst of savory goodness with every bite. The big gripe here is in the portioning, which goes heavy on the chips and little else.
The Drinks
The real stars of the show are the cocktails, which are so good that someone needs to make a Breaking Bad-themed bar (okay, another Breaking Bad-themed bar), like, ASAP. Every single drink has a gimmick attached and they're all served in beakers rather than traditional cocktail glasses. The cocktails are fairly complex — no run of the mill margaritas or cosmos here.
This is where the chemistry aspect of the experience really shines as each cocktail is mixed up with a variety of fresh high-quality ingredients. It's always nice when you can feel like your drink is made with "meth levels" of craftsmanship and have that be a compliment.
My favorite drink was "The One Who Knocks," a mezcal-based cocktail made with Dos Hombres, Guajillo pepper, lime, blue Curaçao, Almond, Xocolatl Mole bitters, smoked salt, and chili powder. It arrives at your table emanating a deep blue glow, achieved by a blue light hidden in an ice cube. Yes, it's a gimmick. But if you have a problem with that, why exactly are you at a pop-up dining experience based on an off-the-air TV show?
Anyway, the blue light certainly makes for a cool photo, which is why you're there anyway. Let's be real.
The cocktail has a nice balance of sweetness and spice. Should you want a stronger kick, a small baggie of mixed smoked salt and chili powder dyed blue is affixed to the beaker. Yes, a small baggie full of blue stuff. While it's not crystal, it definitely resembles a gram bag of meth. Unless you've actually seen a gram bag of meth, in which case it probably just looks like a small baggie of mixed smoked salt and chili powder. Still, that's a hell of a lot closer than I ever imagined an all-ages restaurant celebrating Breaking Bad would ever get to anything actually resembling drugs.
If you're looking for this sort of meth-driven verisimilitude, a nice stiff drink, and some great photos, and unworried about portion size, The Breaking Bad Experience is your spot. If you want to eat a full meal that's Skinny Pete-approved, get yourself an un-sliced pie from Venezia's Pizzeria instead.
The Breaking Bad Experience is located at 7100 Santa Monica Blvd in West Hollywood and is open Tuesday-Sunday from 4 p.m. to 10 p.m. from now until the end of the year. Reserve a table here.