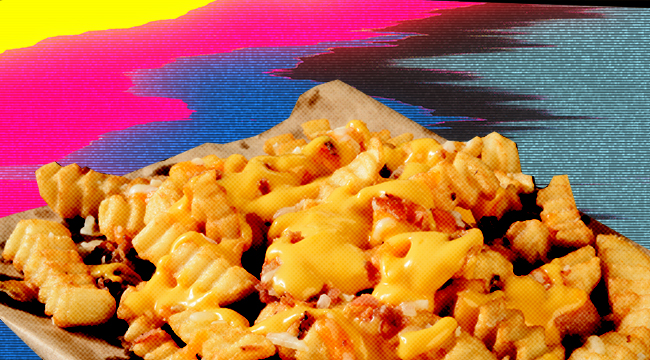 Today is National French Fry Day. The one day every year where fried food lovers all over the country get to bask in the golden glow of the starchy, crispy, potato side dish known as the French fry. Part of the reason why this handheld food is so great is that there's really no wrong way to eat them. Whether you like them on their own, with a side of ketchup, dipped in barbecue sauce, or covered in cheese curds and gravy, the French fry is a lunch and dinner (and sometimes even breakfast) staple.
It doesn't matter if you like steak fries, shoestring fries, crinkle-cut fries, waffle fries, or curly fries, there are deals to be had today (and even some freebies). Check out all of the best offers below.
The national restaurant delivery service is celebrating the holiday by offering $5 off delivery orders of $20 or more so you can get your favorite fries for cheaper than normal.
To celebrate the holiday, BurgerFi is giving away free regular fries. The best part? There's no additional purchase necessary.

If you live in the Tampa, Florida-area, stop into Burger Monger to get free Monger fries today.
Become a Flavorhood member to get a coupon for a free large order of French fries with any purchase.
Stop by Chickie's and Pete's to get crabfries for only $1 today. The money will benefit the Fraternal Order of Police Survivors Fund.
Sign up for The Counter's rewards program to get a free order of sweet potato or shoestring fries.
You might only think of this chain for donuts, but they recently began selling "Donut Fries" and the first 100 customers at 25 participating stores will get some for free from 10am-2pm.
The California-based chain is celebrating the holiday by giving customers free French fries with the purchase of a burger.
Stop by participating McDonald's today to get free medium fries. All you need to do to take advantage of this offer is download the McDonald's app and use it to make a purchase of $1 or more.
Stop by participating Meatheads locations to get bottomless fries today for only $2.

Postmates is celebrating National French Fry Day by giving away free French Fries. Just use Postmates to deliver your food and they'll pay for up to $3 worth of fries.
To celebrate the holiday, Wayback Burgers is offering customers bottomless fries with the purchase of a burger or sandwich.