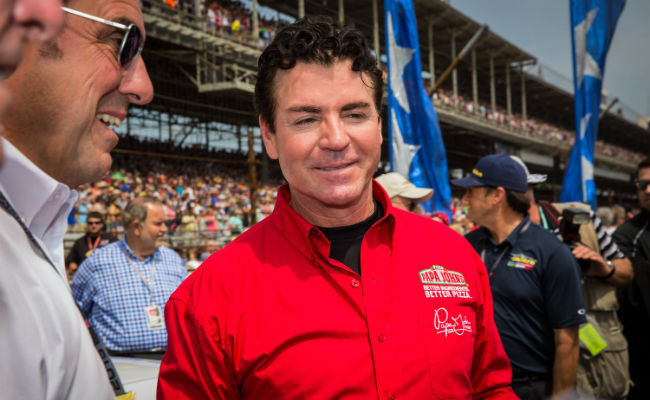 The founder and former CEO of Papa John's left the company altogether on Wednesday, hours after it was confirmed that he used a racial slur during a company conference call earlier in the year. John Schnatter, who turned his pizza place into a national chain ubiquitous with Peyton Manning and the National Football League, is no longer part of Papa John's after it was reported he used the n-word during a conference call in May.
According to Forbes, which first wrote about the conference call, Schnatter compared himself to another restaurant founder and alleged that they were treated differently despite asserting that the founder of Kentucky Fried Chicken had used racist language in the past.
Schnatter, often called Papa John, stepped down as CEO of the pizza company in December after making critical public comments about athletes of color in the National Football League conducting nonviolent protests during the National Anthem. Schnatter had claimed kneeling athletes caused a dip in his pizza sales, which made the brand popular with neo-nazis and white supremacists. Further comments on Nazis embracing his pizza and the result of the backlash from that incident also ended a longstanding sponsorship agreement between the NFL and Papa John's and ultimately ended his run as CEO.
It seems commenting on that incident is what got Schnatter into further trouble in a conference call a Forbes report described in detail. The call was reportedly arranged between Papa John's executives and a marketing agency called Laundry Service and was designed to help the company prevent any further damage to its public image. But though Schnatter he said he would "distance" himself from racists, according to Forbes he used the racial slur in an attempt to defend himself during the call.
On the May call, Schnatter was asked how he would distance himself from racist groups online. He responded by downplaying the significance of his NFL statement. "Colonel Sanders called blacks n—–s," Schnatter said, before complaining that Sanders never faced public backlash.

Schnatter also reflected on his early life in Indiana, where, he said, people used to drag African-Americans from trucks until they died. He apparently intended for the remarks to convey his antipathy to racism, but multiple individuals on the call found them to be offensive, a source familiar with the matter said. After learning about the incident, Laundry Service owner Casey Wasserman moved to terminate the company's contract with Papa John's.
Forbes reported Wednesday that Schnatter had confirmed the incident had, indeed, happened in a statement to the organization. And just hours after the initial report, Papa John's announced that Schnatter would leave the company completely.
ESPN's Darren Rovell also confirmed on Wednesday the slur was used in the conference call and reported that Schnatter had also resigned from the University of Louisville board of trustees on Wednesday. Rovell's report also included quotes from a Sanders biographer, which inconclusively studied whether the fried chicken franchisee had used such language himself. It also has a statement from Schnatter about the incident.
It's not clear that Sanders ever used racist language. In Josh Ozersky's biography of Sanders, "Colonel Sanders and the American Dream," he wrote that while Sanders referred to African-Americans as "Negros," the author said he "seems to have been utterly without racial prejudice."

After Forbes' story ran, Schnatter, through Papa John's, issued a statement confirming he used the slur. "Simply stated, racism has no place in our society," the statement read.